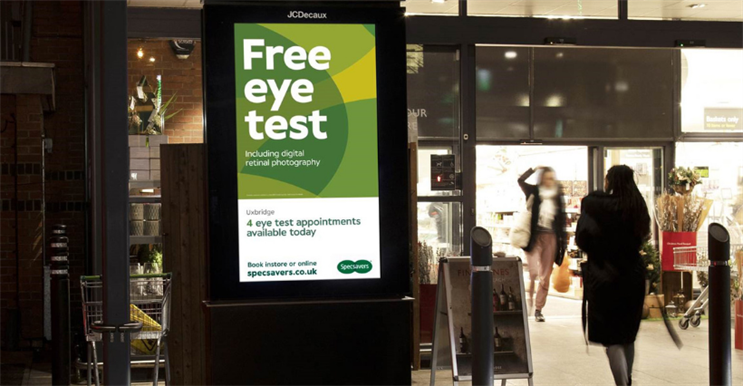 GOLD 
Manning Gottlieb OMD
Specsavers
Unlocking First Party Data to Drive Growth On the High Street
Manning Gottlieb OMD worked with Specsavers to unlock data from its stores' EPOS systems, in order to feed details on real-time eye test availability into digital out of home (DOOH) advertising. This would tell customers if their nearest store could offer them a same-day check-up when they were close to the store.
The technology involved in the campaign enabled Specsavers to know the availability of eye tests at 800 of its stores through a single application programme interface, down to the last 10 minutes. Manning Gottlieb OMD then fed this information into creative templates for the DOOH system via a dynamic content matrix.
The campaign brought together data and creativity, involving numerous departments such as marketing, creative, IT, strategy, planning, data engineering and media owners. The campaign saw a 68% increase in eye test volume growth for Specsavers, equivalent to an extra 1,000 eye tests per Specsavers store in a year, without any increase in media spend.
Judges said the campaign demonstrated a 'really interesting use of real time data, and data that is of use and of value to the consumer'. They praised it on a number of fronts, for its innovative nature and the fact that it was 'simple yet so effective'.
SILVER 
Total Media
Young's Seafood
Turning the tide: How Young's used data-led buying to deliver incremental sales
Young's Seafood supplies 40% of the UK's seafood annually but restricts itself to just four weeks linear TV air time in the first quarter of a year. To attract new customers and drive repeat purchase, it devised a TV strategy based on relevant buying signals and behaviours. This was made possible by using Sky's data partnerships with Dunnhumby Tesco Clubcard.
Viewers were reached on their shopping habits rather than their viewing ones; these learnings were applied to other channels, including display and social. The campaign drove incremental sales from households which didn't previously buy Young's products and from existing heavy brand buyers.
BRONZE
Zenith
NatWest
NatWest: a revolutionary, simple approach to Google
People use Google habitually, with search often just a shortcut to a page they would have visited anyway. Brands can therefore be paying for people that are coming to their website anyway.
Zenith built a fully automated bidding system for NatWest to ensure better paid search activation based on organic search performance. The aim was to identify when the consumer is going to buy anyway, meaning there is no need to appear twice in search engine listings.
This 'OneSearch' approach saved Natwest more than 30% of its PPC budget in just three months, with savings made reinvested into other performance channels.
FINALISTS 
Goodstuff with 59A: Quartz - Accurate to within every postcode, Pure Planet
Goodstuff with MiQ and Ozone: The Personalised Program Guide, ITV
MediaCom UK: Lifetime Value, Direct Line Group
OMD UK with Google: Barclayloan Targeting in Three dimensions, Barclayloan
PHD: Bringing Entertainment Home, Warner Bros