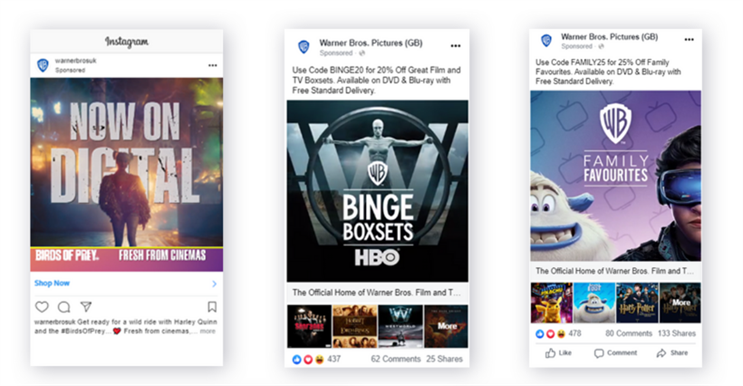 GOLD 
PHD
Warner Bros
Bringing Entertainment Home

When the UK went into lockdown in March, cinemas closed and people turned to subscription video-on-demand platforms to get their movie fix. Warner Bros needed to find new ways of driving UK fans to its content.
Its catalogue was made available in a format known as Electronic Sell Through (EST), the purchase of a permanent digital-only version. This was achieved by partnering with Amazon to directly use its Prime Video viewing data to create a first-of-its-kind targeting approach.
This data created target audience segments based on actual lockdown digital viewing behaviours, which could then be targeted across Amazon's ad inventory, Google and other social platforms. Data was used to identify macro trends like the surges in binge-watching longer series, and to promote John Wick 2, to help action movie fans bridge the gap between John Wick (which was newly available on subscription video on demand) and John Wick 3, which was available on Sky. Some of the featured titles also reflected cultural news in the wider world.
The campaign delivered new revenue and also helped grow the EST format market, bringing first-time buyers into the category. Judges said the campaign showed a 'good use of data to deliver a smart media approach and very impressive results'.
SILVER 
PHD
McCain
Making Time for Family
When lockdown began in March, eating in became the new eating out. McCain's frozen goods faced stiff competition from own-brand supermarket products, particularly as its products can cost considerably more and people were looking to spend less.
Its campaign used previously shot ad footage and a new script recorded by Ricky Tomlinson, from his living room, celebrating the diversity of families' experiences during lockdown. It focused on key workers and overtime, with grandparents doing bedtime stories over Facetime and parents homeschooling. Spots appeared alongside family entertainment, such as Jamie Oliver's Keep Cooking & Carry On, whilst family, food and lifestyle content were targeted on broadcast video-on-demand, YouTube and social channels.
BRONZE 
MediaCom UK
Tesco
Some Little Helps for Safer Shopping
When lockdown began in March, the everyday act of shopping became a stressful, potential health risk. Tesco sought to reassure shoppers by adapting its messaging to be less like a grocer and more like a public service, focusing on civic duty, which helped increase the number of shoppers.

Tesco prioritised communications centred on the collective wellbeing of society; a daily response team helped refresh media and messaging and Tesco supported news brands, switching paper partnerships to online. This, and other measures became the blueprint for Tesco communications during lockdown, leading to further executions, including "Remote Food Love Stories".
FINALISTS
Carat UK: Living your values to do business differently, Co-op
Manning Gottlieb OMD: Response to Covid-19, HM Government
Manning Gottlieb OMD: Stay Safe Stay Home Stay Connected, Virgin Media
The Guardian Labs and The Story Lab and Carat UK: Keep Connected, Vodafone
The Specialist Works: Faint heart never won fair lady: Helping the nation find love in lockdown, eHarmony