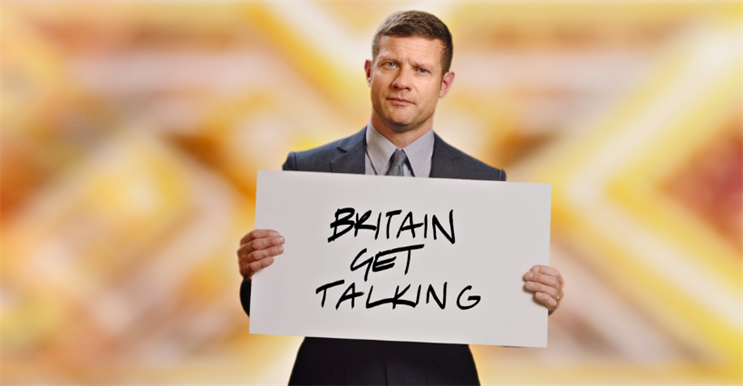 GOLD 
ITV
Britain Get Talking 2020
ITV's mental health initiative, Britain Get Talking, was launched in 2019. Supported by Mind and YoungMinds, it provides support to children suffering from anxiety by encouraging families to talk more to each other.
Britain Get Talking became even more relevant during the coronavirus pandemic; millions in lockdown and suffering from isolation could impact heavily on mental health levels. It was more important than ever for people to stay connected.
Presenters Ant and Dec, who had kicked off the original campaign, recorded a special message in the studio, sitting in empty audience seats, encouraging viewers to share messages of love and support across social media.
Celebrities also urged people to stay connected and audience messages were played out across the channel over the campaign's 10-week duration. A print campaign prompted people to pick up the phone and there were also brand partnerships with Just Eat and Talk Talk. Contextual ads were created for shows, including a "phone a friend", one during Quiz, the drama series based on an historic scandal involving Who Wants to be a Millionaire?
Two-thirds of the British public saw the campaign and a total of 6.4 million people made calls or sent texts to friends and family as a direct result of the campaign. One in four people now have a better understanding of the importance of talking and listening to help mental wellbeing.
SILVER 
Channel 4
40 different brands and 20 different agencies
#ClapForOurCarers
Channel 4 wanted to show its support for the #ClapForOurCarers movement, a national celebration for frontline workers. For the resulting full break takeover, the broadcaster brought together 40 different brands and 20 different agencies in tight timescales - with under 48 hours to move from concept to transmission.
The three-minute break saw client logos added to all 40 applause clips, the #ClapForOurCarers hashtag imposed throughout and a Channel 4 "thank you" message bookended. Campaign research showed that 62% rated the special ad takeover four or five stars and 72% were reminded that we are all in this together.
BRONZE
Zenith
Carling
Carling and CALM Save Lives in Lockdown
Every hour, a young man takes his own life in the UK. But only 25% of troubled men speak out and even fewer seek professional support. While there is one place where men tend to discuss their feelings - the pub - this was out of bounds during the UK's lockdown.
Carling teamed up with Calm, a movement against suicide, to launch "Team Talks", an idea inspired from football, where players can open up during team talks with their manager. In this version, football legends including Terry Butcher, Stuart Pearce and Jimmy Floyd Hasselbaink spoke about their battles on and off the pitch and provided tips on how to stay motivated during the pandemic.

FINALISTS
Craft Media and Goodstuff: Which? A Foundation of Support, Which
Essence with ITV and Saatchi & Saatchi: Helping everyone stay connected in a crisis, BT
Ocean Outdoor: Piccadilly Lights - The Nation's Noticeboard, Landsec's Piccadilly Lights
Republic of Media: Code Red, The Scottish Government
Talon Outdoor, Plexus, Grand Visual + over 70 Media Owners and Partners around the world: #SendingLove, World Out of Home Organisation