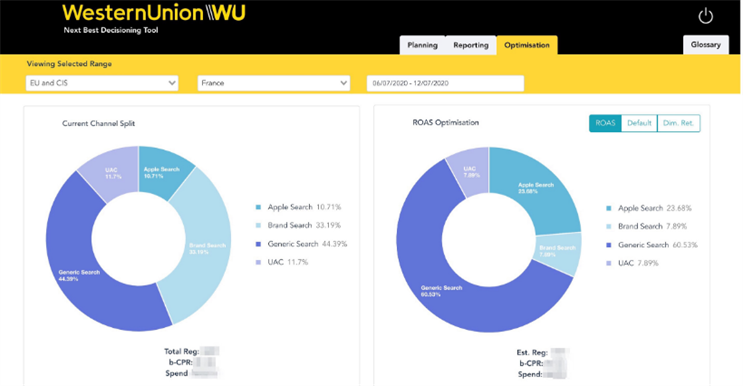 GOLD
Mediahub UK
Western Union
Bridging the gap between econometrics and real-time marketing
Mediahub is the global media agency of record for consumer money transfer provider Western Union. Technology has had a significant impact on the industry, with many brands now competing for a share of the digital money transfer market.
WU has six core media channels in 90 countries, translating to a global portfolio comprising 540 cells. Each one of those cells possesses a uniquely shaped diminishing returns curve, an observation that led to the genesis for the whole project.
Next Best Decisioning, an investment optimisation platform, was launched earlier this year. It uses proprietary algorithms, machine learning and an array of historic and real-time data sets to optimise allocation of spend across WU channels and markets.
It works by predicting the shape of every curve in the portfolio relative to all other curves in the portfolio, simultaneously and for any given moment in time. This makes it possible to spend every dollar in the most incremental way. It knows exactly how and where to invest $1, or $100m, in order to maximise ROI.
Delivered during lockdown, NBD is constantly fine-tuned and is outputting a MAPE (mean-absolute percentage error) of 3.5% across all cells.
SILVER 
Manning Gottlieb OMD
Estée Lauder Companies
Transforming Econometrics with MG OMD and Annalect Marketing Science
AMS is Omnicom's data, technology and marketing solutions team. This project spanned 12 brands, 41 models, more than 100 data points, a team of 20 and one unbreakable process, with each one of these things integral to the project's success.
Data has allowed brands across the Estée Lauder companies' portfolio to safeguard their budgets, as well as pitch for and win incremental investment, with complete confidence in the ability for that spend to deliver. Judges said the project demonstrated how data science can be incorporated into decision making and that it provided insights that clearly unlocked commercial advantage.