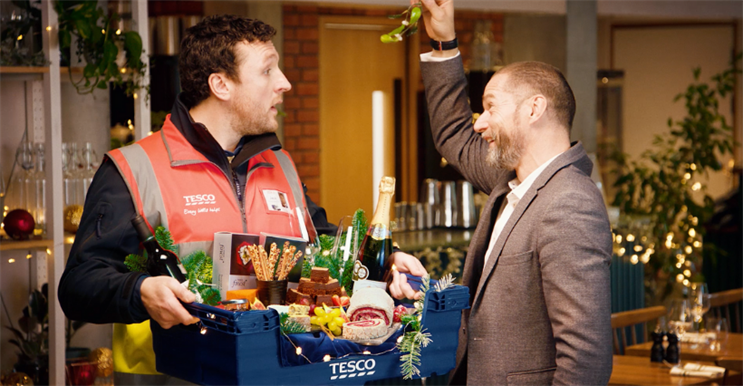 GOLD 
Channel 4, ITV, Sky and MediaCom
Tesco
The TV Family Delivers a Festive First for Tesco
Christmas is traditionally a time when supermarkets battle it out for consumers' attention. In 2019, Tesco's 100th year in business, the supermarket partnered with Sky, ITV and Channel 4 to create the most entertaining celebration of Christmas, get people talking about Tesco and increase like-for-like sales.
Tesco's Christmas ad featured a time-traveling driver, reflecting the supermarket's 100-year history. This concept underpinned the campaign: Tesco's delivery driver wouldn't just time hop in the ads, he would channel hop through programming in a way that had never been done before in advertising. This would take viewers on a fantastical journey while delivering Christmas food to shows and characters across ITV, Channel 4 & Sky.
Tesco's delivery driver visited a number of TV stars including Fred from First Dates, Sky Sports broadcasters Chris Kamara and Jamie Redknapp, Channel 4 comedian Alex Brooker, and the Loose Women.
This complex and ambitious media-led campaign, which was six months in the making, generated substantial incremental sales for Tesco, contributing to its most successful third quarter and Christmas ever. Judges praised the campaign's "impressive results" and the creative and collaborative aspects.
SILVER
Goodstuff and Uncommon Creative Studio
ITV
ITV Britain Get Talking
ITV has been encouraging people to improve their mental and physical health through a number of initiatives. It's "Britain get talking" campaign focuses on encouraging people to connect with others; while people may be physically together, they are often distracted and remote.
"Britain get talking" used ITV's biggest broadcast properties to close the gap between families and aid their mental health by reconnecting. During the 2019 final of Britain's Got Talent, Ant and Dec paused the show for a minute of silence, asking people to reconnect with their family instead. The campaign also included similar pauses in other ITV shows and the UK's first silent ad break.
BRONZE
Channel 4, MediaCom, John Lewis, Marks & Spencer, Duracell, Moonpig and Smyths Toys
Save The Children
Save The Children's Christmas Jumper Day
Save The Children's Christmas Jumper Day encourages people to wear a festive-themed knit. Brand attribution was low however – only 42% of people knew the day was charitable and only 13% could accredit the charity.
An ad takeover to persuade more people to visit the website and sign up featured five advertisers: John Lewis, Marks & Spencer, Duracell, Moonpig and Symths Toys. They placed their ads in the break, with bespoke creative featuring the Duracell bunny, Edgar the Dragon and Smyths Toys' Oscar, all wearing their best Christmas jumpers. Myleen Klass and Dom Joly introduced the special break, which reached three million people.
FINALISTS
Essence, DCM Studios and Recipe: Flexible BT TV Launch - Cinema Activation - "You wouldn't want to pay for something you don't want to watch in the cinema, so don't put up with it at home", BT
ISBA + 15 prestigious advertisers, AOP + 12 premium publishers, 8 media agencies, 10 adtech vendors, ISBA / AOP / PwC Programmatic Supply Chain Transparency Study
Manning Gottlieb OMD and Wavemaker: Every Mind Matters, HM Government
MediaCom UK with Direct Line Group and Film on 4: Films on 4, Direct Line Group
Sky Media, MediaCom, McCann and Diagonal View: Retail Revival, Brought to you by eBay, eBay