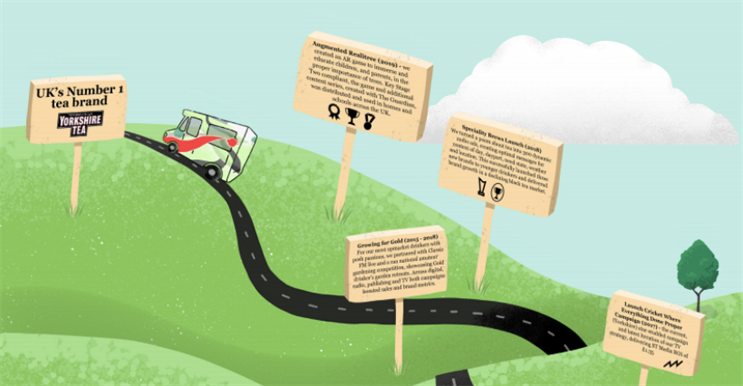 GOLD 
Goodstuff with Lucky Generals, Ebiquity, The Nursery
Yorkshire Tea
The Proper Road to No. 1
A seven-year strategy has helped cement Yorkshire Tea's position as Britain's best-selling 'cuppa'. Using media to turn Yorkshire's finest product into the nation's favourite meant the brand had to attract and retain a valuable customer base, increase penetration and grow value sales.
Yorkshire Tea has used TV for the precise targeting of a specific, but sizeable, audience, evolving from fewer, heavier bursts to a year-round presence, helping to maintain effectiveness levels. While TV has proved a successful medium, a series of activations have helped elevate Yorkshire Tea's authenticity and personality and reaffirm its 'properness'.
Media campaigns have included the Great Cricket Tea Challenge, a competition aimed at finding the UK's best cricket tea and King of the Mornings, a cycling time trial themed around the Tour de France's 'Grand Depart' in Yorkshire.
Other initiatives include 2018's Growing for Gold, designed around Yorkshire Tea's upmarket product, which saw the brand partner with Classic FM live and a national amateur gardening competition, showcasing its Gold drinkers' garden retreats. In 2019, Yorkshire Tea's "Augmented realitree" campaign featured an augmented reality game to immerse and educate children and parents in the importance of trees, raising awareness of the brand's mission to plant one million trees.
All these campaigns complemented television activity, increasing Yorkshire Tea's penetration and value sales and attracting new customers that have remained loyal.
SILVER 
PHD
Confused.com
From Confused to Clarity
Confused.com founded the price comparison market but by 2018, it was no longer the market leader. Its media strategy re-asserted its original challenger purpose: to be the consumer champion that brings clarity to a world of confusion.
A new creative platform – "Confusion to clarity" - was created, which saw the brand lower its investment in TV and move into other channels such as outdoor, radio and sponsorship. Over the last two years, Confused.com has also created a series of media partnerships that delivered value beyond price. Re-focussing on adding value and reducing confusion has had a transformative long-term effect on the brand, with increased return on investment from TV and campaigns and growth in market share.
BRONZE 
Hearts & Science
Center Parcs
This is Family
In 2017, Center Parcs set out to attract families willing to pay more for the recognised quality of a Center Parcs holiday. It wanted to appeal to their emotional side and change perceptions.
Its media strategy was themed around 'freedom', highlighting the effect it can have on a whole family. Three years of media data, CRM data, pricing modelling and business results created thousands of models. Insight included how family cinema outings triggered the same positive feelings as a trip to Center Parcs, prompting the brand to prioritise TV afternoon family films over big Christmas peak spots.
By pivoting from traditional media to business-focussed metrics, booking values and occupancy rates increased and cinema proved to be a successful medium.
FINALISTS 
Goodstuff with Uncommon Creative Studio: Media That Creates Drama, ITV
Vizeum with Mother London: Ikea - The Wonderful Everyday, Ikea
Zenith: What's Advertising Got to Do with the Price of Fish (Fingers)?, Bird's Eye