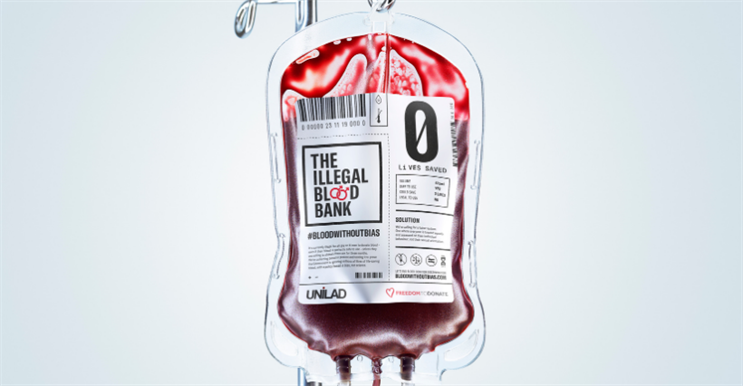 GOLD 
LadBible Group and Elvis
FreedomToDonate
Unilad: The Illegal Blood Bank
Every year, millions of pints of life-saving blood goes to waste, due to UK legislation that prevents gay and bisexual men from giving blood unless they abstain from sex for three days, even if their blood is safe.
Pressure group FreedomToDonate wanted not only to raise awareness of this issue but also to persuade the government to consider changing the legislation. The resulting campaign, dubbed "The illegal blood bank", was done in partnership with youth publisher Unilad and was based around a new screening process, using an 'individualised risk assessment'.
The Illegal Blood Bank was staged in a secret London location for one day, and acted as a proof of concept for this new risk assessment questionnaire. Blood was donated and those who couldn't do so on the day pledged a digital pint and also signed a petition on Change.org.
Physical pints of real blood were displayed around Westminster on the day of the opening of Parliament. The campaign substantially increased levels of awareness of blood donation discrimination. More than 5,000 pints of blood were pledged and the petition secured 61,000 signatures. The NHS has pledged to investigate 'individual risk assessment' further.
SILVER 
OMD UK with 4Creative and Dennis
Channel 4
Channel 4 End of the F***ing World
Channel 4 drama End of The F***ing World returned for a second series in November 2019. The broadcaster wanted to get as many people to watch it before it aired on Netflix - as a co-funder of the series, Netflix was due to air the show after Channel 4.
The campaign hinged on 'fan theories'. The show had an existing fan base from the graphic novel that the series was devised from, all of whom were socially-active and meme-ready. Fan theories on the characters' fates and the storyline were used in advertising and online, creating levels of anticipation and excitement to attract a wider audience.
BRONZE 
ITV
Honda, Aldi, Haribo, Walkers and Weetabix
The People's Ad Break
ITV invited people to submit their own homemade versions of classic ads, to provide escapism and light relief during the Covid-19 lockdown, with the best submissions broadcast as part of 'The people's ad break".
Five advertisers willing to revisit past creative included forward Honda's legendary Cog, Aldi's gin-loving granny, Haribo's boardroom kids, Walkers' secret stash and Weetabix's submarine. Viewers were directed to a competition site and given 10 days to submit their versions of the classic ads. Testing by Unruly saw the remakes score 73% to 84% on brand recall versus the UK average of 65%.
FINALISTS 
Carat UK: Donate Your Words, Mondelez | Cadbury Dairy Milk
Channel 4: #ClapForOurCarers, 40 different brands and 20 different agencies
Goodstuff and Channel 4: Sunday Night Sleep, eve Sleep
OMD UK: Frontline Spotify for Dogs, Boehringer Ingelheim