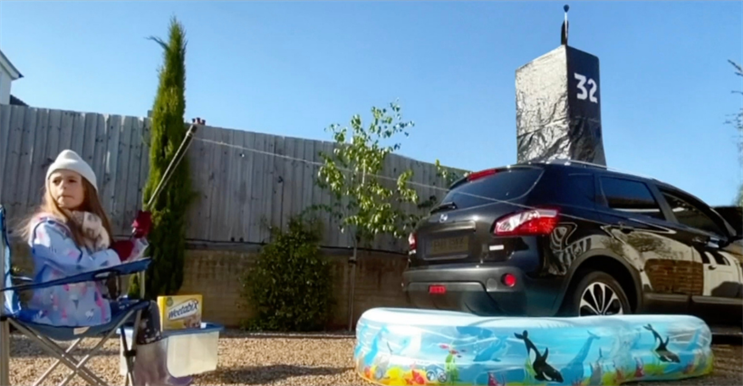 GOLD 
ITV
Honda, Aldi, Haribo, Walkers and Weetabix
The People's Ad Break
During lockdown, ITV set the British public a creative challenge - to recreate five iconic television ads at home. The idea was sparked by seeing what people got up to during lockdown - from families' renditions of songs from Les Miserables to people recreating famous paintings using everyday household props. ITV also wanted to provide escapism and light relief at a time when it was most needed.
The People's Ad Break invited viewers to film, edit and submit entirely homemade versions of classic TV ads, based on the following: Honda, with its legendary Cog, Aldi's gin-loving granny, Haribo's boardroom kids, Walkers' secret stash and Weetabix's submarine. Viewers had 10 days in which to submit their creative takes, with the five winning ads played out in the first centre break of Britain's Got Talent, broadcast at the end of May.
All five brands and ITV's social accounts encouraged entries and celebrated the winners. Testing by Unruly showed that the remakes scored 73% to 84% on brand recall versus a UK average of 65%. Judges said the campaign was 'really well executed', and 'a great way to celebrate real people at a time when this was needed the most'.
SILVER 
British Red Cross
Using TikTok during Covid-19
The British Red Cross wanted to reach out to a younger generation of supporters. It turned to TikTok, whose audience is mostly made up of 13-24 year olds.
In February, British Red Cross supported TikTok's coronavirus campaign by sharing simple and informative content on its channel, featuring videos around handwashing, how to greet your colleagues and credible sites to check for the latest virus information.
When the Olympic Games were cancelled, British Red Cross teamed up with TikTok to create the #IsolationGames challenge. TikTok users were invited to take on Team GB athletes by recreating Olympic sporting events in their own homes, as creatively or comically as possible. British Red Cross was also part of the TikTok Donate Campaign, which featured live streams with TikTok.

BRONZE 
Time Out
Time Out pivots to Time In
Time Out had to adapt its business model during lockdown. The company was rebranded to Time In. It guided its millions of readers through an unprecedented time with the best things to do, learn, order in and stream at home, and to stand in solidarity with local businesses and communities.
Time Out ceased printing the magazine and focused on things to do at home, while editorial campaigns called 'Love Local' and 'Time In Awards' supported local businesses. The brand recorded month-on-month audience growth in spite of its usual relevant search interest being down and an increase in monthly Instagram users.
FINALISTS
Manning Gottlieb OMD: Response to Covid-19, HM Government
PHD: Bringing Entertainment Home, Warner Bros
Spotify with Vizeum, The Story Lab and SendMeASample: Ask for Nars, Nars