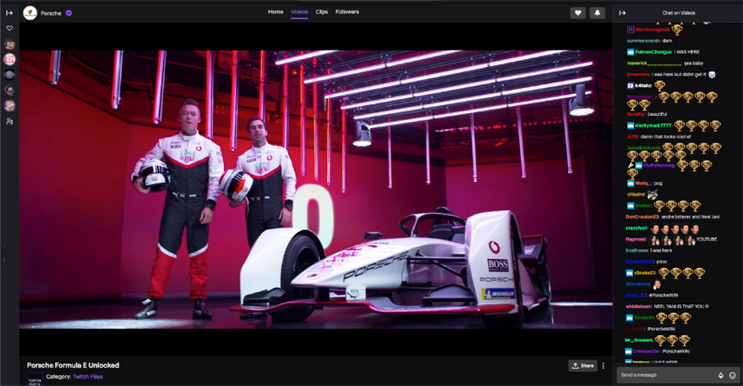 GOLD 
Twitch
Porsche
Formula E: Unlocked
For the launch of Porsche's 99X electric vehicle, the car manufacturer wanted to tap into a 16-34 year old tech savvy, digital audience, and develop awareness of Porsche further whilst maintaining the car's premium brand position.
The campaign, devised by Twitch, hinged on turning the car reveal into a live action video game, entirely controlled by the viewers. The experience was immersive and viewer-led; it featured familiar gaming techniques and nods to classic video games, with the driver's every move decided by the audience through voting options that appeared on screen.
Teaser ads on Twitch heightened anticipation levels ahead of the launch; when the channel went live, it featured an intricately planned narrative, with role player games, escape rooms and choose your own adventure games. For viewer control and for automatic generation of the next set of options, Twitch had to build new livestream extensions and a vast database of story trees, covering every option possible.
Twitch also built a live set at the Porsche headquarters and museum. When the game was over, famous Porsche Formula E drivers emerged to congratulate the viewers and announce a brand-new global PorscheWin emote, similar to an emoji.
The launch received more than 1.3 million views, while the live stream reached influencers from the US, UK, Germany and France.
SILVER
ITV
Honda , Aldi, Haribo, Walkers and Weetabix
The People's Ad Break
During lockdown, ITV wanted to provide escapism and light relief to UK households. It invited viewers to film, edit and submit homemade versions of classic TV ads from brands including Honda, Aldi, Haribo, Walkers and Weetabix.
Viewers had 10 days to create the ads, with five winning ones chosen and shown during the first centre break of an episode of Britain's Got Talent. All five brands and ITV's social accounts encouraged entries, promoted the final and celebrated the winners. The homemade TV ads proved to be more engaging than the original classics, and testing by Unruly saw the remakes score 73% to 84% on brand recall versus the UK average of 65%.
BRONZE 
Reach Solutions
Mantis
Using AI to Unlock and Industry Challenge
Brand safety has been a hot topic in the digital advertising industry with keyword blocking tools frustrating advertisers, publishers and media agencies. Most of the current technology simply looks for keywords, overlooking the content. If it matches a word with a "block list", then ads are stopped.
With help from IBM's Watson AI and machine learning platform, Reach Solutions built Mantis, software that allows for highly advanced natural language processing to analyse meaning and emotion from text. This can provide the most accurate and nuanced brand safety technology to its partners. There has been universal acclaim from all sides of the industry and Mantis has supported campaigns from the likes of J&J, the Government and EE.
FINALISTS
Hearts & Science with Talon: How TikTok turned the Red Carpet at The Brits into the main event, TikTok
ITV: Sounds of Love Island, Spotify and Universal Music
OMD UK with easyJet: Barclaycard Travelsmart easyJet Partnership, Barclaycard and easyJet