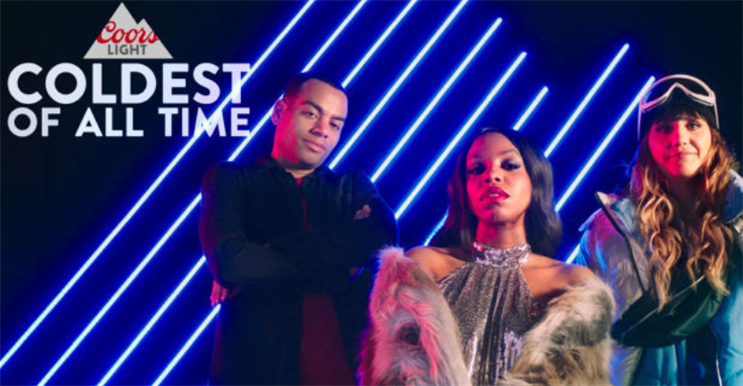 GOLD 
Channel 4
Zenith and Molson Coors
Coors Light Rap Battle: That's Cold
Coors wanted to increase its brand awareness among 18-34 year olds and establish Coors Light as a top beer brand. Its campaign was themed around comedy, an area Coors was familiar with as it had sponsored Comedy on 4 since 2018.
Using comedy, a rap battle and the popular hashtag #GOAT (Greatest of All Time), but tweaking it to reflect Coors' positioning of "cold" and "refreshing", the campaign offered the target audience the chance to vote for the comedian with the "Coldest Of All Time" comedy put-downs.The prestigious accolade of #COAT would then go to the UK's favourite comedian rap battler.
The "That's cold'' campaign premiered in April 2019 in an ad break within Gogglebox. Introduced by Channel 4 continuity, the co-branded spot introduced viewers to the three comedians battling against each with the 'coldest burns' to determine who would be the Coldest Of All Time.
The campaign featured a call-to-action to vote and was promoted on Coors' social channels as well as those of the comedians featured. In a first for Channel 4, real-time updates on who was in the lead were provided via an on-screen overlay, played out during the broadcast of the content. Sales, brand awareness and consideration all significantly increased.
SILVER 
ITV
I Saw It First
I Saw It First and Love Island
Fashion brand I Saw It First (ISAW) became the official and exclusive partner of ITV2's show Love Island. It built a particularly close partnership around "villa dates": those emotional candlelit dinners and day trips that are key moments in the show, creating social media debate and audience engagement.
ITV worked with ISAW to create and curate a bespoke clothing range for female islanders and made it easy for viewers to buy the clothes featured in the show, integrating them into the official show app. TV spots also featured ISAW. Its first month's sales rose significantly compared to the previous month and featured products saw a 600% sales uplift.