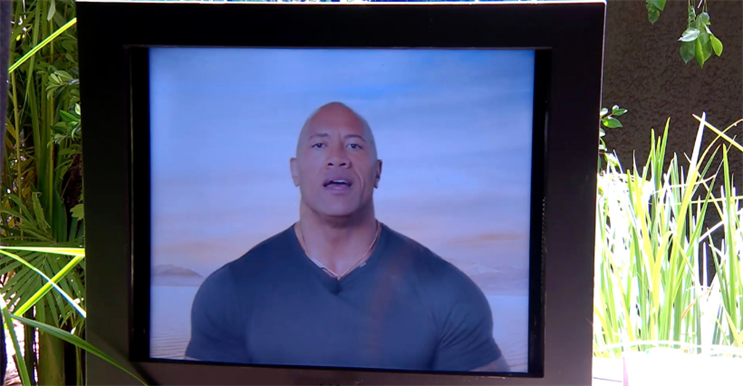 GOLD
ITV
Sony Pictures Entertainment
The Next Level
Movie sequel Jumanji: The Next Level opened in cinemas in December 2019. ITV was tasked with not only making it a bigger hit than its predecessor (2017's Jumanji: Welcome to the Jungle), but also making it the leading box office movie for the month, all with a smaller budget than for the first movie.
Targeting a 16-34 year-old audience was crucial - they like to be the first to see movies; they were also a big part of the social fanbase of the movie's lead actors Dwayne 'The Rock' Johnson and Kevin Hart.
Jumanji became part of ITV's hit show, I'm a Celebrity... Get Me Out of Here!, with the creation of the Jumanji Dingo Dollar Challenge. This involved Johnson and Hart setting a challenge for celebrity campmates in the show via video link, themed around three movie-inspired levels, jungle, desert and ice, leading them to the Jewel of Jumanji.
A first-in-break spot ran in the ad break that followed, showing more film content. The challenge was also teased on social media with a message from Johnson and Hart and promoted on I'm a Celebrity's web pages and the launch was further supported with TV airtime, digital and out-of-home.
SILVER 
Disney
IBM
Girls Who Change the World
Girls and young women are a critical missing part of Science, Technology, Engineering and Maths studies and careers. IBM UK wanted to close the gender gap and inspire girls to pursue STEM studies and careers and to raise awareness of its artificial intelligence STEM programme.
IBM, STEM learning and Disney's Marvel Studios joined forces to launch a competition to empower girls to think of ways they could change the world with AI, structured around action videos showcasing girls becoming real-life heroes. It was fast-paced and produced with the same values of a Marvel movie trailer. The videos received more than 11.5 million video impressions.
BRONZE
ITV
Age UK
Age UK and Coronation Street: Tackling Loneliness
Age UK needed to raise awareness of the services available to lonely elderly people at Christmas while also driving donations.
Rita Tanner, one of Coronation Street's characters, would suffer from chronic loneliness in the run up to Christmas. ITV created a series of contextual, reactive spots around this storyline.
Age UK selected the most emotive moments in Rita's story and created four bespoke TV creatives, featuring elderly people reflecting on how aspects of Rita's fictional storyline related to their own experiences, and how Age UK helped them. Ads were placed first in break during the show's transmission, to seamlessly and contextually link Rita's experience to each of the real-life stories.
FINALISTS 
Channel 4: Disability Works, Harry Specters, Ignition Brewery, Beco, Funded by Natwest, Nationwide and Sainsbury's
Spotify and Havas: The Seven Worlds, One Planet Experience, BBC
Twitter UK and Stack: #HiddenAbuse - Discovering the hidden truth about domestic abuse on Twitter, Solace Women's Aid
Verizon Media: Closing the Dream Gap, Barbie