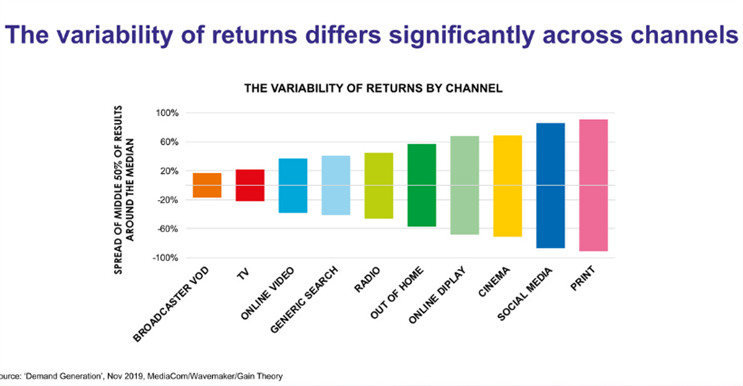 GOLD 
Thinkbox with MediaCom, Wavemaker and Gain Theory
Demand Generation: How we made econometrics free to all
Not every brand can afford rigorous econometric analysis. Thinkbox set out to give everyone their own econometrics, in the form of an online, self-serve planning tool, which was simple to use and which gave immediate recommendations.
The solution was Demand Generation, a meta-analysis of econometric models conducted by WPP's Wavemaker, MediaCom and Gain Theory. The study analysed £1.4bn of media spend by 50 brands across 10 forms of advertising over three years, covering six different categories: FMCG, finance, retail, online retail, automotive and travel.
The study also analysed channel risk and channel variability, based on the variance of ROI within the middle 50% of all campaigns analysed, excluding the worst performing and best performing 25%.
Findings were used to build the Demand Generator optimisation tool. This has enabled individual brands to determine the optimal media mix for their specific business, generate 'what if' scenarios for varying budgets over three years and understand the impact of different budgets on immediate returns and longer-term base level sales.
While this was a study carried out by WPP agencies, it has been welcomed across the industry. Demand Generator launched in November 2019 and became the most popular download on the Thinkbox website.
SILVER 
AOP + 12 premium publishers
ISBA + 15 prestigious advertisers
ISBA / AOP / PwC Programmatic Supply Chain Transparency Study
This study marked the first time programmatic advertising supply chains have been mapped from end-to-end, all the way from advertiser to publisher, and anywhere in the world.
Data was collected for January 2020 to March 2020 from 15 advertisers, eight agencies, five demand side platforms, six supply side platforms and 12 publishers. Collectively, they represent approximately £100m of annual UK programmatic media spend.
The study uncovered industry-changing issues, such as deep challenges with data access and data formatting. Worldwide reaction to the study has been hugely positive, and an industry taskforce has been convened to take the study recommendations forward.
BRONZE
Radiocentre with Shoppercentric
Building shelf awareness
Building Shelf Awareness set out to understand how using radio advertising to reach grocery shoppers on the journey to the supermarket influences their behaviour and choices when standing at a fixture and purchasing in-store.

The research focused on the power of radio's last-minute influence over FMCG shoppers in-car, showing how audio ads heard during the car journey have a significant effect.
Shopper insight experts Shoppercentric carried out the research; in the two months since launch, more than 2,000 people have seen the research, presented via a Radiocentre webinar and it has been positively received by agencies.
FINALIST 
MTM: Consumer perceptions and attitudes towards digital advertising post-GDPR, EDAA