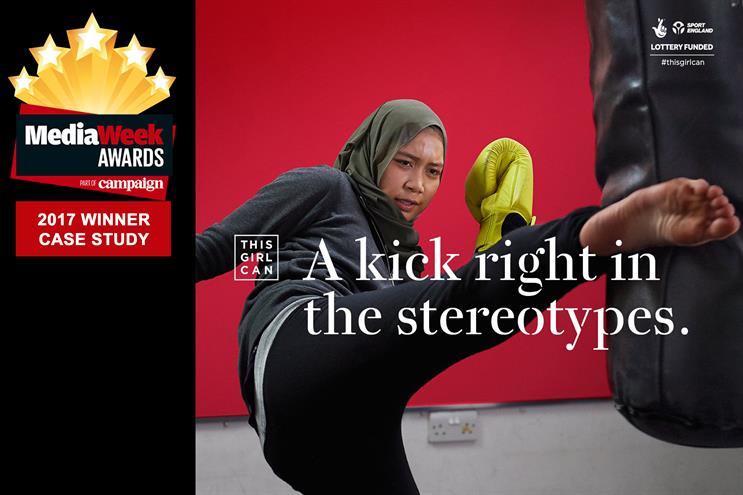 Sport England and MediaCom won gold for Best Use of Data for Audience Buying category with "This Girl Can: Phenomenal Women".
The government body that promotes sport identified and inspired those women who were struggling to maintain exercise routines in this second iteration of the "This girl can" activity.
Kate Dale, head of campaign strategy at Sport England said: "'This girl can' is a campaign founded on, and fuelled by, data. It was born because the stubborn gap between the number of men and women exercising wasn't shifting, despite investment. Yet, 75% of women were telling us they wanted to be more active. Something was holding them back."
Sport England used data to make its media the non-confrontational, non-guilt-tripping training partner for every woman whose willpower was waning.
With MediaCom, it identified a simple behaviour that showed which women were continuing to exercise, and which ones weren't: how recently they'd listened to a workout playlist.
The women who were putting their headphones on less often were far more likely to be having a confidence lull.
Partnering with one of the world's biggest music providers, Spotify, meant Sport England could take action and precisely target women that were experiencing exercise fatigue.
Spotify can determine a workout playlist, whether created by the individual, Spotify or another brand. By isolating Spotify users that were female and who had been listening to these playlists but had lapsed for 30 days or longer, Sport England was able to target and support women that needed a hand in overcoming any exercise anxiety.
For these Spotify users, MediaCom served messages that normalised breaks in the exercise routine, inspiring women to strap their trainers back on and get in the zone.
Dale says that to date, the campaign has encouraged over 3.9m women to engage with physical activity.
"This girl can: phenomenal women" won gold in the Best Use of Data for Audience Buying category at the 2017 Campaign Media Week Awards.
To enter the 2018 Media Week Awards - deadline 6 July - click here.