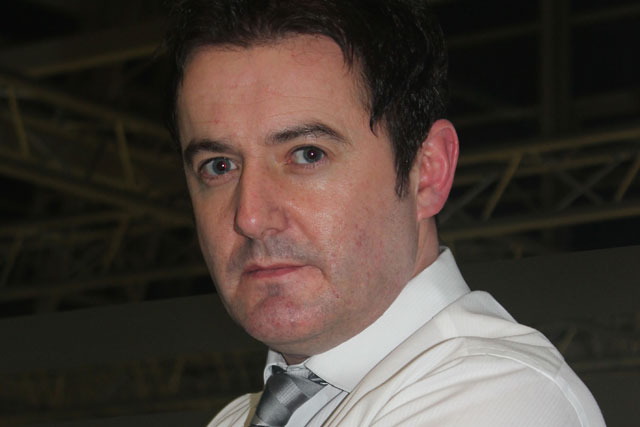 Monday
I've been on my extended Christmas holidays for three weeks and today is my first day back in the office, so the 6.20am alarm is not greeted with my customary good humour and zeal. After 10 minutes of hitting snooze, I accept reality and get up.
I'm always very organised on a Monday morning (clothes, laptop, shoes, etc., all laid out and ready) so I can glide around the house noiselessly without waking anyone else up. Oddly, after only five minutes of noiseless gliding, the entire house is awake, so before I feel the full wrath of my wife and two young children, I scarper. I pick up The Sun and The Times and start the long commute in analogue mode, before moving onto the iPad to quickly scan Huff Post, BBC and Sky Sports. By the time I'm on the Tube to Tower Hill, I'm on the Kindle.
I quickly look at my diary and see – as usual – about twice as many meetings as I was expecting. First up is 15 minutes with our Insight team to talk about our latest wave of consumer research, then a discussion about developing a training programme for our graduate recruit into commercial with Abba Newbery (director of advertising strategy). She reminds me that I can't just give our new team member "all the stuff you can't be bothered doing".
Then it's off to the monolithic Aegis building for a meeting with Steve Hobbs (director of media operations, Aegis) and Dan Hagen (head of planning, Carat). I'm with Karin Seymour (sales director) and Dylan Wyn-Pugh (head of strategy, TNL) and we talk Steve and Dan through some of the transformation work we are doing with our structure, business and how we are segmenting clients based on behaviours across our product portfolio. As ever, it is all about how we can work more effectively together and bright, forward-thinking people like Dan and Hobbo make meetings like this a pleasure.
Tuesday
I realise I have been reading the same book on my Kindle for about three months ('The Dog Stars' by Peter Heller) and resolve to read more and watch less TV. Unlikely, but the New Year is a time for resolutions, however laughable. In the office, I send some electronic congratulations to Paul Gilshan about his new marketing job at FreeSat, and Robert Ray, who has a new global role at PHD, looking after Unilever. Robert gave me my first job in media as a trainee media planner at MediaVest (when it was still known as The Media Centre), which I've always been grateful for (even though he blatantly doesn't remember).
I brave public transport and travel into Fitzrovia for a meeting with Bruce Daisley at Twitter. I've known Bruce since his Emap days and he's always great to catch up with. Part of the role we have in the strategy department at NI is to "bring the outside in", to ensure that we are keeping apace with the accelerating change in media and advertising, and people like Bruce are a great bellwether. Everyone knows how news stories proliferate on social media platforms, adding weight and reach to the original targeted audience, and the same is true for commercial messages, so I'm really interested in how we can work with multiple partners to make the advertising we carry even more effective.
Wednesday
I chair the first meeting of the Operations Board in 2013 and we discuss some small, but hopefully very effective, structural changes, before grilling Karin's PA about all the gossip from the NI Commercial Christmas party. Commendably, she refuses to cave in and gives us nothing. Maybe there wasn't any?
Back into the Fitzrovia Media Wonderland for an afternoon meeting with Sean Meikle, managing partner at PHD. I have a great deal of time for Sean (largely because he also supports Liverpool), and he's another one everyone in media can blame Robert Ray (MD of PHD International) for bringing into the industry.
Thursday
I have a meeting first thing with Sean Adams, our recently appointed head of insight. He has a wealth of experience and is always good to bounce ideas off. Top of the agenda is an updated set of figures measuring our multi-platform audience across all brands. It's vital as a business that we have a clear picture of how we are delivering our content to readers across a multitude of devices, and can tell a story of growth to our clients. PwC validated this work with us last year and have made great inroads across a variety of publishing businesses in order to make this an accepted metric.
Two more internal meetings with editorial and HR respectively, and then out and about, this time to see Pete Davis at getmemedia, to get a better understanding of how that business has evolved over the last six years and how we can re-engage with our brands. On the way out, I bump into Simon Orpin, ex-ITV and now helping Pete run getme. We last crossed paths at the annual Christmas "CommReds" lunch attended by a terrifying list of LFC-supporting media luminaries. The "lunch" usually lasts about nine hours, and for lightweights like me and Simon, a strategy is required. Mine is quite simple – I don't get there until about 4.30pm.
Friday
Today is going to be Fabulous. A Fabulous research debrief. I love seeing how readers interact with our products and this work was far more insightful, useful and interesting than the usual "here's a 10-second vox-pop from a focus group" stuff that you still sometimes see in media. The two hours fly by and I agree to pick up learnings (and what we do with them) from a commercial perspective next week.
Lunchtime arrives and I realise I haven't really had lunch so far this week so, given that I don't have a contact list like Claudine Collins, I have to make do with popping round the corner with Dylan Wyn-Pugh for a sandwich. The glamour.
Head home to spend some quality time with the family. This usually involves me getting wrestled to the ground by a five-year-old in a Spiderman mask, while his sister takes the iPad off me to play 'Temple Run'. My mother's visiting, so I take advantage of this unexpected babysitting opportunity to take my wife to dinner in Weybridge and unwind properly.