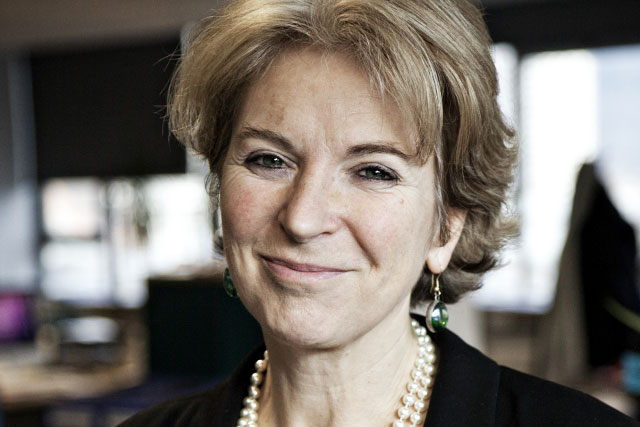 Monday
I wake at the usual 6am, make a delicious coffee and catch up with emails. It's going to be a busy, and as always, fascinating week. Media Trust works with more than 5,000 inspirational charities and community groups across the UK, and is supported by all the major media and communications companies. How lucky am I?
My first call is with Colin Byrne, Weber Shandwick's CEO UK and EMEA. We compare notes on the Cannes Lions festival, where Weber Shandwick won a coveted Gold Lion Award, and Media Trust won a prestigious Cannes Chimera award for our exciting new work with the Bill & Melinda Gates Foundation.
Weber Shandwick has just been announced as Media Trust's newest corporate member. Our media industry corporate members include leading media, communications and digital companies, from DMGT and Channel 4, to AMV BBDO and Google. They underpin all our work and with their support, we can amplify the voices of charities and communities across the UK, as well as giving them opportunities to engage their staff in creative volunteering opportunities.
On the way into the office, I pop into Boots to pick up a copy of Macmillan Cancer Support's 'Get Active, Feel Good Exercise' DVD, produced by Media Trust's award-winning film production team. The DVD (available in Boots UK stores free of charge) shows how physical activity can make a positive impact on your life when you're living with or after cancer.
Tuesday
I catch up with an old friend, Torin Douglas, who recently left the BBC after 24 years. Torin is one of our long-standing media volunteers and ambassadors, and now has time to do a lot more with Media Trust.
We have an interesting chat about media industry volunteering and how to tap into the huge resource of skills and creativity across the industry. Media Trust's challenge is to spread the word that in spite of the unprecedented work pressures on those in the media and wider creative industry, volunteering with charities, giving time to local community groups, or mentoring a young person is hugely inspirational at both a personal and professional level – it provides unique opportunities to make new contacts, to broaden your network and portfolio.
There's a buzzy atmosphere as always back in our offices (in BBC's Centre House in White City) where our 50-strong staff team, and our volunteers and freelancers, are organising training courses, running Community Channel, mentoring young people, and so much more.
Today a group of 16 charities is coming in for an all-day training seminar on 'Social Media Crisis Communications'. Many charities are struggling to keep their services going, so need to be prepared – we've all had to become more entrepreneurial in the current economic climate.
In the afternoon, Ann Brookes, fund development director at WAGGGS, the World Association of Girl Guides and Girl Scouts, is in to meet with Media Trust's creative director, Katie Lloyd. We're exploring a range of support for them – content creation, digital and broadcast distribution – increasingly we offer charities a package of communications support across our services.
This evening, The Marketing Society, with Media Trust as a partner, is launching 'Marketing for Good' to a packed audience of talented and senior marketers from clients, agencies and media. We want to encourage and enable marketers to "give something back" and to make a bigger difference in the world around them. Gavin Sheppard, our brilliant marketing director, is taking forward this initiative and much more of our work across the wide range of agencies that engage with Media Trust.
Gavin and I catch a bit of time before the event to plan our forthcoming visit to Scotland, where we'll be meeting with a number of the Scottish charities, funders, and media partners we work with.
Wednesday
At the crack of dawn, I'm heading to Lugano for the innovative 'Partnering for GIobal Impact' conference, a unique forum, only in its second year, set up by Method Investment's inspirational Gamil de Chaderevian. The forum brings together "impact investors" with social entrepreneurs, to share knowledge, engage with issues, to explore investment opportunities and partner with one another.
I have meetings with a range of potential investors from banks and fund managers working for companies, family businesses and wealthy individuals that want to use their money to create social impact, as well as financial return. I also meet with NGOs and social enterprises from around the world. They all want support with telling their impact stories, marketing their services and products, and reaching new audiences – this is an exciting time for Media Trust.
Thursday
Early morning emails still need doing. Tomorrow midday is the closing date of Column Idol, our flagship partnership with The Sun newspaper to uncover writing talent and give young people a voice. I drop a note to The Sun's new editor David Dinsmore to let him know how much I'm looking forward to meeting this year's finalists.
It's the fourth year that Media Trust and The Sun have run Column Idol, and this year, The Scottish Sun has become involved too. Ten finalists will be selected from across the UK, and matched to senior editorial mentors from both titles. One overall winner will be selected for each paper and have their opinions read by millions. Through Column Idol we see how the media really can make a positive difference to the lives of young people – building their confidence, broadening their skills and opportunities, giving them a voice.
I also do a thank-you note to Sainsbury's for inviting me to last week's Inspiring Women Networking Reception. Sainsbury's sponsors our 'Untold Stories' filmmaking initiative for their local store charities. I met with talented women leaders from a range of professions whose creativity, tenacity and ingenuity knows no bounds. These women are smart, funny and effective leaders who reach for opportunities and encourage other women to do the same.
Friday
Today we celebrate my executive assistant Katie Bourne's three-year anniversary at Media Trust. She seamlessly juggles my schedule, looking after, with total grace, our trustees, funders, clients and partners, whilst maintaining her cool.
It is also a chance to give our best wishes to Phillippa Brown, our head of fundraising, whose vision and dedication has transformed our fundraising, and is now off on her first maternity leave. Another Media Trust baby – we can't wait!
And it's a triple celebration, as we end the week with an all-staff meeting to talk about Media Trust's recently announced a three-year funding award from the Big Lottery Fund, which will enable us to continue to tell the brilliant untold stories of charities and communities from across the UK.
I end the day with a short run around my local park. On Sunday, I'm taking part in the British 10K Charity Run, starting in Piccadilly and ending at Whitehall. More than 60 Media Trust volunteers from our corporate members have signed up – including teams from The Guardian, Sky, Google, News UK and AMV BBDO – who are providing their staff as runners and lending their support to our fundraising efforts…better get an early night tonight.
Age: 57
Favourite media: Community Channel
My biggest inspiration: my sons Oscar and Isaac
Dream job: importer of fairly traded products from the developing world
One thing not a lot of people know: I'm a "social entrepreneur in residence" at INSEAD