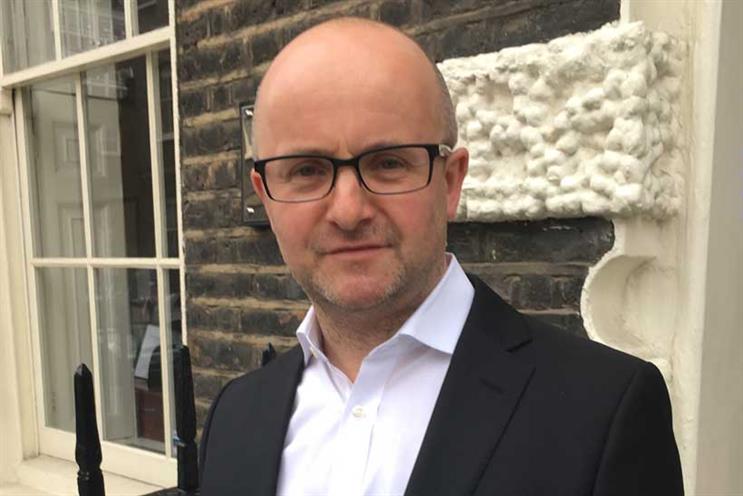 Monday
Mornings start with a 5.45am alarm call from my working cocker spaniel Bertie for our run along the river. Rain or shine the riverside by Kew is a great way to start your day, alongside other runners and rowers.
Back at the house, my 5- and 3-year-olds are up and ready for the day. We try to minimise screen time around the table, but the boys usually manage to sneak an iPad into breakfast time for some YouTube viewing or Ninjago gaming.
I try and catch Radio 4's Today programme by broadcasting it around the house every morning so I get fed the big news stories and discussions of the day. My wife has been working on the government's gender pay gap regulations at the Government Equalities Office in the Department for Education, so news that Ivanka Trump is supporting her father's plan to roll back Obama's policy on gender equality in the workplace is very disappointing.
I'm usually out of the house by 7.15am for my 45-minute journey to our office near Goodge Street. This gives me ample time to go through Twitter and read the latest sports news from my Sky Sports app. I arrive at the office in good time for the start of our 8:45am weekly sales meeting. The team are in a very positive mood today after a fantastic sales performance the previous week, which helps set a productive tone as we discuss the final details of our conference this Friday in Ascot.
The rest of the day ends up being internally focussed, with back-to-back meetings with Simon Grice, the company founder, and many of our investors.
Tuesday
Today starts with a meeting with Alan Brydon, our highly-respected chairman, and Matt Bourn, our very talented marketing and communications consultant. This week we have plenty to discuss about Friday's conference, and our first marcomms campaign starting in October. All exciting developments for a business that was only established in summer 2015.
I travel with Kanj, our strategy director, to a meeting with Lucy Cutter & Colin Bundock from Kinetic. We discuss one of their client's many campaigns at length for additional business across Q4.
After a working lunch with 20ten, our brand consultants, I head to Sky for a meeting with Andrew Mortimer, Sky's director of media. We discuss our investment plans across the UK, and the direction of our business over the next 12 months.
Sky is out-of-home's (OOH) highest spender so Andrew is extremely insightful about our media. Sky Central, their new campus-style building, is a wonderful place with plenty of buzz and excitement. Very fitting for the Sky brand which is at the forefront of technology.
Sky is conveniently a stone's throw from nearby Kew, so I'm blessed to be home in time for tea with my kids at 6pm. A rare occurrence and a real treat which is perfect as at 8pm I'm off to a gruelling session of military fitness in Old Deer Park.
Wednesday
I spend the day in Peterborough at our factory complex called Vision Park. 8 Outdoor has many sister businesses which comprise a digital screen assembly factory, a digital R&D centre, and a fibre optic business. I'm always in awe of what's being achieved here, and I'm inspired by the innovations in digital screen hardware and software the team are constantly developing. It's kind of geeky stuff, but great to see we are constantly developing tools anticipating the digital OOH industry's future needs especially in areas of accountability. It gives me plenty of food for thought as I sit with the team to plan our new technology launch.
The journey back to London speeds by with phone calls, emails and a bit of Apple Music for my music fix.
Thursday
It's an early start today after a day out of the office yesterday and the conference tomorrow. After an hour going through emails at the office I head to meet James Rodham, the commercial director at Rapport, for a discussion on his spend forecast for the autumn ahead.
Today we have the new Route version 24 release (Route is the OOH industry's outstanding audience measurement system) and it's great news for us as Route tells us that 8 Outdoor's 80-plus screens are now seen by almost 10 million, with 25% of this number incremental. Our strategy of investing into towns and cities across the country is clearly paying off.
A quick lunch with Robin Hall, Posterscope International managing director, is as enlightening as usual. We discuss the international marketplace as well as an upcoming trip organised by Andy Kelly from Open Outdoor where we are all walking the "Freedom Trail" together across the Pyrenees.
The afternoon is spent in a very productive meeting with Talon's managing partner Nick Mawditt where we discuss our new marketing plan and his presentation at the conference tomorrow.
The atmosphere back at the office is electric and the team are in high spirits given our outstanding audience numbers, and excitement about tomorrow's first company conference.

Friday
My Uber driver turns up precisely at 7am to drive me to our conference venue over in Ascot. Today is a celebration of our achievements over the last two years, and a focus on our company vision moving forwards.
We also have additional excellent external speakers including Karen Stacey from DCM, and Natasha Murray from the Guardian Newspapers. I am delighted by their perfect contributions to the day, and we all head to the hotel bar for a glass of wine.
The 3am finish hurts on Saturday morning as I am woken by a 7.30am concierge call. I have all the excitement of my eldest son's sixth birthday ahead of me at Legoland.
The Lowdown
Age: 46
Favourite media: The great outdoors, Twitter, Sky Sports and Amazon Prime
My biggest inspiration: Richard Schaps (Van Wagner), from New York City cabbie to billboard billionaire
Dream job: CEO of the Welsh Rugby Union
Not a lot of people know this about me: but my first name is John