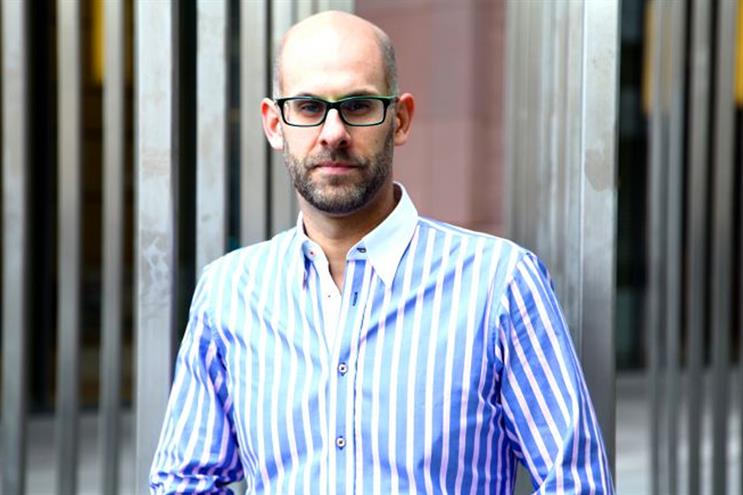 Monday
I'm up and out early doors for a trip to Dublin. Big meeting on Tuesday so meeting with the Irish team today to make sure we're integrated and fully prepped. Back of a cab means I'm listening to whatever the cabby wants – talk radio is inevitable, as is a conversation about The Donald.
Multitasking on the phone I'm torn between Facebook, email, an app that lets me blow stuff up and some Monday morning media circulars from Campaign,WARC and others. I meet Mick, JP and Stu in the airport for breakfast (which somehow I end up buying), then jump on board for the one-hour hop to Dublin.
Inflight magazines are still not doing it for me, but I'm repeatedly amazed at the quality of Bose's noise cancelling headphones. They are an essential on flights – they me nice and antisocial and I arrive happy.
Enjoyable day working with the team, everything seems on track for tomorrow, excited for the meeting. Literally zero further media consumption during the day.
From the Dublin office it is back to the hotel and dinner before we realise we are in the same hotel as a client. So we grab a few drinks with them in the bar (Guinness in Ireland, fantastic). All good stuff.
Tuesday
Crunch presentation day. I'm up early and ready for a run but I have a cold coming on and it's raining horizontally outside, so I decide to take another hour in bed instead.
Spotify eventually wakes me up and insists I get ready. Irish breakfast is followed by a final click through, then we head over to the client's offices and set up for the meeting.
It goes really well. Amazing knowledge and delivery from the team – the people I get to work with are genuinely brilliant.
We head back to the airport for the trip home. Liam, our Irish market CEO, kindly hosts us to some noodles (what happened to the traditional Irish fare?) before we fly.
The journey home was pretty much the mirror image of the journey over, although I caught up with some Saturday Night Live clips in the back of the cab.
Not sure SNL even need writers at the moment. They're being fed so much raw material by the Trump administration.
Wednesday
Back to my normal routine, which means up at 5.45am and out by 6am. Absolute Radio is my weapon of choice in the car – good combination of Christian O'Connell and "dad rock".
Driving into London has definitely increased my appreciation of radio, but blunted my view of OOH. There are too many press ads masquerading as OOH. There are some notable exceptions of course, but OOH definitely needs more creative care to get the most out of the medium.
I have a bit of a catch up day in the office. We go through the programmatic strategy for a new business pitch, complete an annual review for 2016 and consider the social product suite with the insight team.
My cold is kicking in a bit now (to be honest the drive in was a bit worrying as my eyes were watering all the way) so I head home early.
Thursday
I work from home today – great, as I got tonnes done on the agency's product strategy for 2017 and beyond. Plus I get to see the family a little bit more than usual.
However, this proves to be double-edged sword. While the school run was fine, lunch with my wife was fantastic, getting stuck into some algebra homework was challenging but doable, the meltdown when my 15 year old accidentally overwrites his entire Macbook with Linux was more than I bargained for.
Full complements to Apple's support chat services, but it was definitely an emotional night.
Friday
I'm feeling better so it's up and out early. I do my five-mile run in Regent's Park before showering at the office. My schedule is back on track.
My oldest son's laptop was back up and functional by bedtime last night and I even managed to find some old product keys to reinstall his purchased software so I'm now a tech hero.
I trawl through Twitter while having breakfast (brown toast with marmalade, still trying to be British) but to be honest, the social media echo chamber is too loud at the moment. I need to install some political filters.
I finally got around to getting myself a British passport to match my American one, but they've both largely become useless in the past eight months.
A client meeting is up first thing today. There are really interesting questions coming from them with implications far beyond the boundaries of media and marketing.
This industry is so exciting at the moment because the digital economy has changed our clients' businesses and customers almost beyond recognition. Real changes in approach are needed and that keeps things interesting.
I spent lunchtime with Rick (Carat's CEO if you don't know him) talking about the business plan for 2017. It's exciting and motivating stuff. Then we realised we'd powered through a tub of chilli corn nuts while we chatted which probably added around 500 calories each on top of lunch – that's going to require another bunch of miles in the park to work off.
I finished off the afternoon prepping for another new business meeting next week. It's a diverse cast of people covering lots of areas, but things are coming together well and it should be great.
In the evening I sat down with my wife and the (three) boys to enjoy a Marvel movie together before the maelstrom of weekend activities hits us on Saturday morning.
The lowdown
Age: 43
Favourite media: Radio (split allegiance between Absolute and Spotify)
My biggest inspiration: My dad – the Forrest Gump of engineering with buckets of grit – sadly lost in 2016
Dream job: Jacques Cousteau's
Not a lot of people know this about me... I'm a pinball wizard