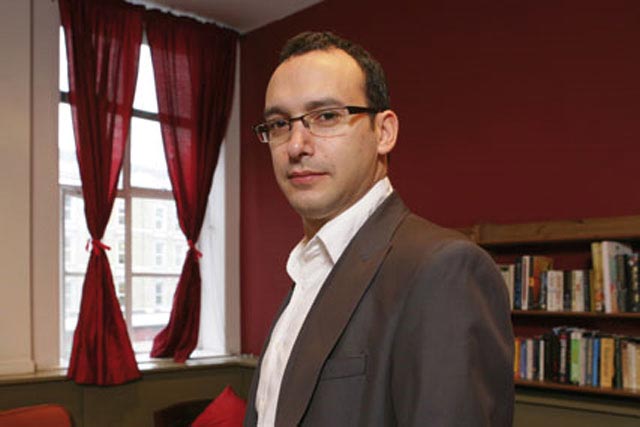 Monday
This week starts with a breakfast meeting with Frank from Posterscope. A nicer man you couldn't wish to meet, but watch out for the firm handshake.
I go back to the office for a review of the week with Cheryl, my PA and life-support. This time she adds to my to-do list by telling me I need to write about my week.
I make a few clients calls and join a meeting where a new technology is being demo'd. It's basically an app that brings print and outdoor images to life – a bit like QR codes, but better. Traditional media isn't dead, it's just getting going.
I have lunch with Kathleen from the Lighthouse Company (who is far too discreet for my liking) and spend the afternoon reviewing our performance business, which is our fastest-growing division.
The evening is spent at Rapier, who are hosting the Marketing Academy Gala Party where the top 30 young marketers are revealed for 2011/12. It's attended by the great and the good from marketing, such as Cilla Snowball, which is amazing as it's only in its second year. I was lucky enough to have been a judge this year and was delighted to see the candidates I put through.
Tuesday
Every Tuesday morning starts with a two-hour session with the leadership team. This week's topic is innovation, and Microsoft joins us for the last half an hour to talk about their data proposition – we are excited and concerned about addressable advertising in equal measure.
The rest of the day is spent with the ING Direct team, preparing for the launch of their new campaign, and appraising our head of digital. Appraisal season is always a busy time, but it's one of my favourite parts of the job.
I join Google in the evening for a 30 Club event, one of the only times in recent years that I've felt like a young man. Listening to the guest speaker, Dame Ellen MacArthur, talk about her sailing achievements and her more recent focus on sustainable commerce, was inspiring and gave the audience a sense of perspective that is easily lost in our business. Cilla waves and I'm wondering who's stalking who.
Wednesday
My morning starts with an 8.15am chat with Ian Paterson, our FD, to discuss contracts.
This is followed by a meeting with a consultant who wants PHD to partner with a creative agency for an imminent pitch. Rightly or wrongly, full service pitches don't happen very often these days and I spend some time considering whether we want to commit resource to a pitch where the result is likely to be out of our hands.
I then speak to a couple of potential new recruits I've been working on. It helps that we were voted agency of the year in 2010, but attracting talent from other industries can still be challenging.
Despite resigning myself to losing my daily email battle, I remember to confirm to one of our clients in the US that I've managed to secure two tickets to the Champions League Final. And then ask myself why I didn't ask for two more.
The afternoon is spent with our new eHarmony client and preparing for the next day.
I just make it home in time for the second half of the Cardiff versus Reading game. No Cilla tonight.
Thursday
Today I have breakfast with Frances, our new managing director. She's brought an empathy and energy with her that could only come from 10 years at PHD, followed by four years in Melbourne.
From there, I head to The Economist offices in St James's with Mark Holden (global strategy director) and Jo Rigby (global head of research). The Economist is a client of ours and we spend 90 minutes with Andrew Rassbash and his team discussing the advertising models of the future. The room was bristling with intellect, other than where I was sitting.
I get back just in time to start our board meeting, but have to leave 20 minutes early to make the 3.40pm train to Manchester. Tonight is an industry ceremony and PHD North walk away with two awards for the second year running. An amazing achievement.
Friday
Ok, it's not strictly Friday yet, but the celebrations took us from pub to bar until I made it back to our hotel at 3am.
The 9am meeting with the PHD North management team wasn't well timed, but it was surprisingly productive.
After making a call to Philippa, the group CEO and chairman of PHD, for our weekly catch-up, I make my way to Manchester Piccadilly Station with the best intentions of getting some rest, but Cheryl calls to remind me to write this piece and I start regretting last night's celebrations.