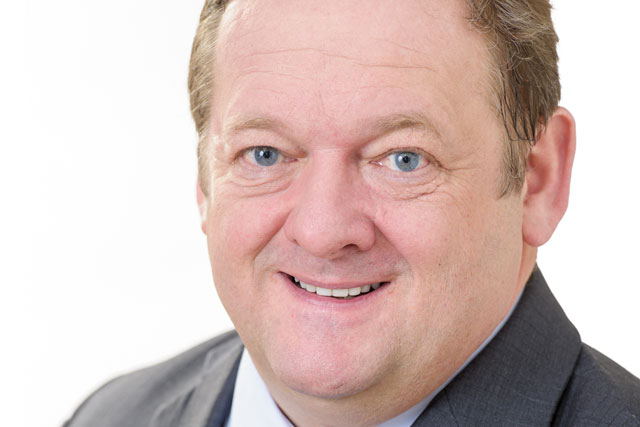 Monday
My week begins aboard the Sunday night red-eye from New York. I love my trips there – they are hard work but I never fail to leave inspired. I arrive at City Airport and the 11-minute timeframe it takes from deplaning to exiting the airport makes me wonder why more people don't come back via this route.
It isn't long before I am back in the groove and pass a visually stimulating Bentley ad that is clearly aimed at the City audience. And it's one of ours. Being in this industry as long as I have makes you appreciate all the relevant planning and targeting work that goes into out-of-home.
On my way to the office, I catch up with the latest media and business news via social media. Then, when I arrive, I take five minutes over coffee to see which stories are running on our screens from ECN Live and Amscreen.
I kick off the day with Transport for London. We have got together to discuss the future impact of developments across all their transport properties. TfL is regularly willing to engage in conversations around integrating OOH in their environment and the media owners do a great job developing these.
Tuesday
I wake up aware that my three-day charity bike ride in Cambodia is looming. Each year a group of us (called The Truants) harness pedal power for charity. We all pay all our own costs, so all funds raised go directly to our chosen causes, Teenage Cancer Trust, ChildLine and Nordoff Robbins Music Therapy.
I have been putting in the training, but you can't out-train a bad diet, so I opted to do Dry January too. I was delighted to exceed my personal abstinence record, managing about nine days before succumbing. Clearly raising money is the priority of the trip and having checked my donations, I am a fair way off my target of £10,000, so I ping out a request via LinkedIn and cross my fingers.
My first meeting of the day is with my partners at Ballpark Ventures. We invest in emerging media and are especially excited about a company we have recently backed, Future Ad Labs, which produces PlayCaptcha. This is a neat device that is starting to replace those awful codes you have to type in online (Captchas) to prove you are human.
PlayCaptcha turns this process into a game that can be branded – for example, squeezing Heinz salad cream onto a sandwich. Clearly this is a shared vision as a lot of significant media brands and advertisers are already on board, so watch this space.
By the time I get to the office, I am delighted to see that the team has amplified my plea for funds via our social media platforms – with impressive results. My friends and colleagues have already increased my total to £6,000. Feeling grateful, it's back to Didcot tonight for a quiet night in.
Wednesday
Today starts with a cold, wet training session in the dark, but the money I am raising keeps me focused. On the Tube across town, I was really impressed to notice that Exterion Media, the company formally known as CBS, has updated its name plates on its inventory. That was swift! I am also pleased to notice how many fashion brands are adopting OOH, including Jimmy Choo and Paul Smith.
First up today is a meeting with Piers Mummery at BrightMove, who comes in to showcase a new-format – digital taxi top. Their software has the ability to track and change ads subject to where the taxi is in London, as well as monitor the most popular routes the taxi takes. We love this.
Wednesday also marks the Talon 'Weekly Huddle'. This is a company-wide meeting where we bring the latest innovations, creative and thinking to the whole team's attention. Toshiba and Pepsi are doing some great work and it is interesting to see Chiltern Railways' tongue-in-cheek response to Virgin Trains' activity (our client) at Marylebone – it's a great example of brands using OOH creatively.
Tonight I am staying up in London, so it is back to the flat for dinner with my flatmate, City AM proprietor, Lawson Muncaster. Our friends keep trying to get us to have a house-warming and whilst it would be fun, would it be wise?
Thursday
The day starts well with no training (I fly tomorrow) and a positive piece in City AM on the success of Christmas retail trading. It provides a nice balance with the endless naysaying that seems to be prevalent on TV and in some of the national press.
The day gets better when I check my Just Giving page and see that I have hit my fundraising target. Not only am I relieved, I am very, very grateful to everyone who supported me – I just need to do the mileage now.
Over a coffee I take time to read Talon's latest blog, covering the 2014 Consumer Electronics Show that has just concluded in Las Vegas. If OOH continues to embrace the best of the new technology that is emerging, as it looks set to, our sector will keep evolving in a really exciting way.
The City AM feature proves a useful tool as I have back-to-back meetings to explore opportunities in retail for OOH. Retail is a new digital landscape that continues to see a convergence of shopper marketing and brand advertising and certainly an area where new thinking and opportunities will arise.
Next is a catch-up with the management team at BlisMedia and their stats are staggering. They deal with 1.5 billion data requests daily – this is equivalent to 800GB of uncompressed logs – or 38 days of non-stop YouTube videos. It has been fascinating to see how a technology company that trades mobile advertising in real time has integrated into the media planning and buying arena. There are more lessons to change the future direction of OOH here and we feel well placed to adapt.
Friday
D-day arrives for the Truants and our charity bike ride. Forty of us descend on Heathrow early for a 10am flight to Siem Reap, Cambodia, via Singapore. We are all big lads of maturing years and we are travelling in economy – suddenly a 20-hour flight, not the cycling, seems like the challenge. Oh well, wish me luck!

Age: 54
Favourite media: Any that capture people's attention in a place and time that allows them to absorb the message
My biggest inspiration: People being themselves
Dream job: Attendant at the pool bar in the Mondrian Beverley Hills
Not a lot of people know this about me... I've been the only civilian passenger on a container ship from France to Brazil