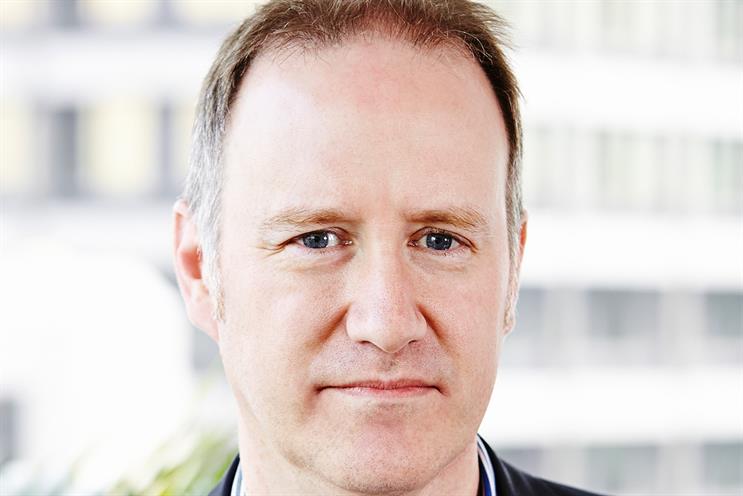 Monday
I live out in the countryside in Marlow, which means an early start and a train journey every morning into Marylebone, followed by a brisk walk to the office. However, this gives me a good opportunity to catch up on e-mails, news and podcasts. I started the week by listening to Radio 4's The Media Show, which featured a debate about the future of the BBC, to get me into work mode, but then immediately blew that by listening to Frank Skinner's Absolute Radio podcast.
I normally get into the office about 8.15am which gives me some quiet time for e-mails and planning for the day ahead. First thing every Monday morning is my most important meeting of the week, when I sit down with Charlotte, my PA, and together we look at how my diary's shaping up and what my priorities are. This week looks like a busy one with a lot of external and shareholder meetings. Freeview is owned by the BBC, ITV, Channel 4, Sky and Arqiva, so I spend a lot of my time working with some of the most talented people across the UK broadcast industry.
The rest of my morning is spent in internal meetings, and in particular catching up with Freeview's head of marketing, Owen Jenkinson. In the afternoon I have separate meetings with two of our board members from Sky and ITV, and update them on how successful the launch of Freeview Play has been.
At the end of the day, I catch up with Liz Reynolds, who looks after our public affairs, about the parliamentary reception we're hosting at the House of Commons on 23 November. We're delighted that the culture secretary, John Whittingdale, will join us at the event and are looking forward to introducing Freeview Play to MPs, peers and senior stakeholders from our industry.
Monday night in the North household features 'Nerd Hour', where my wife Helen and I pit ourselves against our two teenage children watching University Challenge and Only Connect to see who can answer the most questions. As long as there are a few sport and music ones I'm usually ok!
Tuesday
On the train this morning I'm good and read through a draft response to the BBC Trust consultation about the future of the BBC, before finishing off Rick Buckler's book about The Jam, who for me remain the best band in the world ever.
Once in the office it is straight into a Digital UK board meeting followed by a shareholder strategy day looking at the future of the Digital Terrestrial Television platform and the next steps for Freeview Play. While Freeview and Digital UK are separate companies, we share an office and support staff and work very closely together to protect and promote free-to-air television.
After that I meet the Freeview chairman, Keith Underwood from Channel 4, and Owen, to start planning for our next board meeting. Keith's been our chairman during the development and launch of Freeview Play, so it is a great opportunity to update him on how well our new TV ad has been received and the positive reviews that the new TVs and set top boxes have been receiving.
After a busy day I catch up on the first episode of ITV's Jekyll and Hyde to see if it warrants all the attention it's been getting in the media. It is quite punchy for pre-watershed, but great TV and I suspect I'll be hooked for the whole series.
Wednesday
Today doesn't exactly go as planned. After listening to Radio 4's Drama of the Week, Blue Glory, on my commute (which for a dad with a teenage daughter is brilliant and something Radio 4 does exceptionally well) I arrive at the office early to be told I can't go into the building because there is a gas leak in the basement. I have to quickly send an email to all our staff telling them to work from home if they haven't already set off and I decamp to the nearest Pret along with a couple of colleagues to plan for having no access to the office.
Arqiva comes to the rescue and gives us some space in their office to work from for the morning, until I head over to the DTG (Digital Television Group) for a meeting on the testing and conformance regime for Freeview Play in the future. Essentially that means agreeing what tests all equipment needs to go through to be able to use the Freeview Play trade mark, and will be a key part of our plans for the next few months as we look to get even more technology partners on board with Freeview Play.
With the office still closed I am home earlier than usual, but have to spend a lot of time finding out how likely it is that we'll be back in in the morning and keeping the team posted. In the evening I watched Cuffs on BBC One; I'm not usually a fan of cop dramas but I am enjoying this as it has a fresh feel to it. Every year I promise myself I'm not going to get addicted to The Apprentice but every year I do, so I inevitably then watch that at 9pm.
Thursday
Thursday starts with an early morning call informing me that the office is open again, so I have to make sure the team is updated and on their way in, although half of Mortimer Street is still being dug up and there is a very large hole directly outside our front door!
In the morning I catch up with Jon Steel, director of communications for Digital UK, about how our comms teams are working together and then have my regular Thursday catch-up with Charlotte to check how my priorities for the week are progressing. After the disruptions of the previous day they are slightly behind, but we shift things around to get back on track.
I am back over at the DTG in the afternoon, for the DTG council meeting which sees representatives from broadcasters, electronics manufacturers and TV platforms discussing where the TV landscape will be in 2020 and what the group can do to be at the forefront of those developments.
With the DTG offices being in Vauxhall next to the MI6 building I also find myself thinking of the dramatic scenes shot there in Spectre, which I saw and thoroughly enjoyed last weekend.
Friday
Fridays are usually my quietest day for meetings so I manage to crack on writing the agenda and papers for our next board meeting (which I'm thinking might need to include minced pies and mulled wine…) first thing.
There is a lot of talk in the office about the new John Lewis advert which was unveiled today and it's definitely a tear jerker. It's interesting to see how much buzz there is online now around TV advertising, which was certainly something we found when we launched our biggest ever campaign for Freeview Play last month. I saw our ad again during Fargo on Channel 4 earlier this week and despite seeing it hundreds of times during its development, the music from Les Miserables that we used still gives me goosebumps.
With fewer external meetings in the diary today I am able to make sure I catch up with the Freeview team. We base the structure of our team meetings around our company values, so instead of just working through a list of actions, we cover off things that have been 'great not good' and examples of 'smart thinking'. We also talk about what we're really enjoying as part of our commitment to being 'passionate about TV'.
After a busy week there is a bit of banter with Owen as Everton (my team) take on West Ham (his) on Saturday and I make a couple of tactical changes to my fantasy football team, before having a final check in with Charlotte and then head home. I indulge myself by listening to a new Jam Live collection and for 45 minutes leave behind the fast-paced world of media in 2015 and am transported back to Wembley Arena 1982 …..
The Lowdown
Age: Ask no questions and I'll tell you no lies
Favourite media: TV, of course
My biggest inspiration: Mr Shannon (my history teacher) and Paul Weller
Dream job: Chief executive of the England & Wales Cricket Board
Not a lot of people know this about me: I stand 6ft on my long leg and 5ft 10ins on my short one