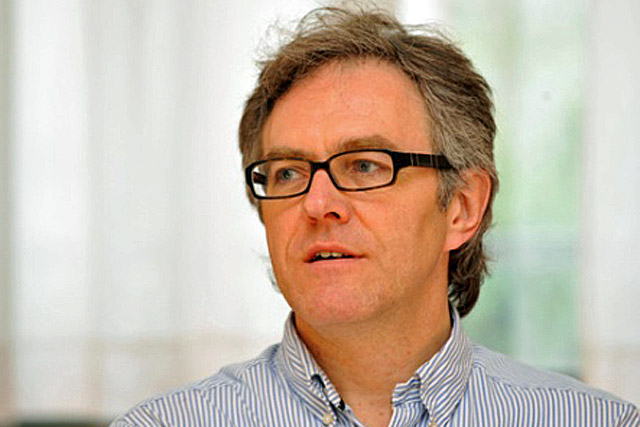 Monday
This is going to be a big week. The IAB MIXX conference in New York with Kevin Spacey, the IAB Global Summit, and a major 2015 planning session this morning with my own team in London, starting at 9am sharp.
So I'm up at 5.45am in Oxford, only to find my iPhone charger lead has been gnawed to pieces by our baby house rabbit, Lupin. That'll teach me to leave it at floor level. Better not nick the wife's, so I plan to buy a new one at the airport later. I can't wait for phones to charge by osmosis through the home and office Wi-Fi, so we can do away with chargers – it's coming, believe me.
At our 2015/16 planning session we review the IAB board's priorities – which centre around the major growth areas of mobile, video, programmatic and branded content. I'm happy we're focusing our resources where it matters most to help big brands get the most out of digital media.
Following a 20-minute call with Steve Hatch, the new Facebook GM, to discuss his debut speech at IAB Engage on 15 October, it's off to Heathrow for the 6.05pm to JFK (and a new iPhone charger!).
Tuesday
I stream last night's episode of The Archers on the BBC Radio Player before bouncing out of bed to a humid New York morning. Straight into an early breakfast policy meeting with charming global head of industry relations at Google, Carley Graham Garcia, along with the CEO and chair of IAB Europe, to discuss our arrangements in Brussels.
Grab my badge and it's into the IAB MIXX conference.
The best speaker of the morning is AOL's chairman and CEO, Tim Armstrong (ex Googler himself). He talks of wholesale disruption in the display market. In 2004 a mere 300 million impressions were traded automatically per day – that will rise to one trillion daily in 2015. At AOL, Armstrong has seen programmatic increase tenfold from 3% to 34% in the last 12 months.
Kevin Spacey is just brilliant. He recounts the story of Netflix and House of Cards – a brave first, making the entire series available to view online from launch. The water cooler moment is history, he says – and binge viewing is here to stay.
Enjoy a tasty Italian dinner on Lexington Street with Jon Mew, Steve Chester and Nick Stringer from my team, in the delightful company of IAB Ireland CEO, Suzanne McElligott.
Wednesday
Nice early morning walk down Park Avenue to the IAB Global Summit, which starts with a networking breakfast. All my global colleagues from 33 IABs around the world are there to share challenges and best practice, along with some great guest speakers.
Nick Law, global creative director of R/GA, is a gift to this industry. He describes 21st century agency planning Nirvana, with his teams structured around stories and systems – spatial thinkers and temple thinkers – to produce award-winning work for Nike Plus and Dr Dre Beats. The big idea is dead; now it's all about "the whole idea".
We spend the rest of the day discussing how we can leverage the IAB network to solve issues and grow the market across the globe, with inspiring contributions from The New York Times and IAB China. Do you know, they're running out of IP addresses!
Pre-dinner cocktails are at Dinosaur in Harlem where I make a short vote of thanks to IAB US, before jumping into a cab to JFK for the red-eye.
Thursday
I land at LHR after only three hours' sleep, so it's time to freshen up and get some breakfast with plenty of coffee.
I'd set time aside to judge the FT Weekend Awards today. It is quite an enjoyable process and there are some interesting entries.
The main event of the day is our VIP Dinner at Altitude, Millbank, to celebrate 10 years of IAB Engage. Although completely cream crackered, I manage to take in the table plans, clock the digerati, and write the structure for an amusing speech.
Guest of honour and queen of marketing, Roisin Donnelly of P&G, is seated next to our chairman, Richard Eyre, who makes an hilarious speech recounting tales of Engage conferences past. Plenty of gossip about Stephen Fry, Jimmy Carr and Bill Gates included, all under Chatham House rules.
I finally get home to Oxford at 1am, make a cuppa and sit down to watch Sheridan Smith in 'Cilla' before bed at 2am.
Friday
Somehow I manage a 9am spin class at David Lloyd before turning on the mobile tech to work from home.
Priority number one is to review the IAB/PwC digital ad spend figures for H1 2014.
Business is good – especially for display advertising, which is up an impressive 30%. That's great news for the ad industry which should enjoy at least 5% growth this year.
Clear my emails from the passenger seat of the Audi Estate as we head off for some well-earned R&R at our mill house on the Isle of Wight, with daughter Jasmine and baby rabbit Lupin in the back.
May the Indian Summer continue, I can't wait to put my feet up.
Age: 54
Favourite media: Jazz24.org, Front Row, The Archers, and Channel 4 Racing
My biggest inspiration: Johann Sebastian Bach (1685 - 1750) – revolutionised music through progressive harmony and genius counterpoint
Dream job: creative director at The Sydney Opera House
Not a lot of people know this about me... I was in the papers the day after I was born, in the wee small hours of New Year's Day, 1960