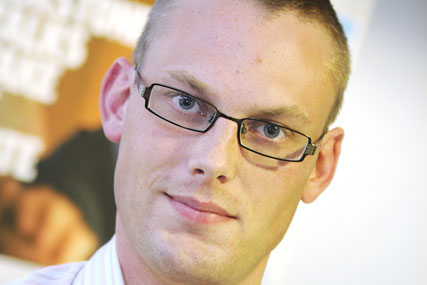 Monday
It should be 6.30am and I should be in Hampton, Middlesex, starting my commute to City AM's new offices in the Square Mile before taking a leads meeting at 9am. However, my managing director Lawson Muncaster decided that reporting on My Media Week in London would be far too predictable, so we agreed the best plan would be to fly to America immediately and carry out my working week from New York.
So I start the day somewhere far above the Atlantic, having managed to sneak my way into business class. Arrive in New York in pouring rain and take a cab into town, speaking to City AM's editor Allister Heath on the way - he often works until midnight, so for once our hours are in sync. We end up talking about the newly launched sections of the paper, personal finance/asset management and their relevance for clients over here. I order some room service at the hotel and trawl through thousands of TV channels.
Tuesday
Wake at 5am, buy the papers and work from the hotel in the morning. I think the NY Times is excellent but with such different commuter patterns there's simply no free press over here, except Metro. My finance director appears to have booked me into a hotel designed by an American while watching Four Weddings and a Funeral - it's called The London and is home to Gordon Ramsay's new restaurant. I assume Jens Torpe, chief executive of City AM, is aware of this so I promptly sit down to lunch. Lawson would approve!
Call City AM's sales director Jeremy Slattery, who originally employed me as one of his reps on the Express - we speak every day and have done for about eight years. I then spend the afternoon with multiple acronyms at a company called GARP in New Jersey, where we discuss their FRM qualification, before meeting up for dinner with former Media Week editor Steve Barrett, who is now editor-in-chief of PR Week in America.
We end up going to a place called Dhaba on Murray (Curry) Hill, where we have a good chat and swap stories. Steve explains how PR companies are really on the front foot of social media in the US, and microblogging and apps such as Foursquare are heavily used in New York. I think Steve might be Mayor of Dhaba, as we are treated particularly well.
Wednesday
Start the day with a quick breakfast meeting at MPG's offices on Broadway to discuss future NYSE campaigns, noting how media agencies look the same all over the world. Have a coffee afterwards and read my book, The Partnership, which is a history of Goldman Sachs - I'm as fascinated by the history of Wall Street as that of the Square Mile.
Meet up with an FX client for lunch at Zigolini's on Pearl Street and swap stories about FX/spreadbetting companies and people in London - it's a small community that I'm proud to be part of. In the afternoon, I have a meeting with an investment bank before heading to La Fonda del Sol by Grand Central Station to catch up with Tim Mickelborough, global head of brand for Thomson Reuters.
Thursday
Busy day today, starting with breakfast at Bloomberg and then straight to an early lunch with Boris Schlossberg, who is a regular FX commentator on CNN and CNBC and a columnist for City AM. He personifies a straight-talking New York trader - brilliant, but I fear I can't keep up with his macro-economics so instead we discuss the trading seminar City AM is producing in September.
We have lunch in a restaurant called Bobby Vans, which is housed among the deposit boxes in the old vault of JP Morgan, and afterwards I call Tomas Carruthers, chief executive of Interactive Investor, who is also a fan of the restaurant - we debate how the steak compares to the Gaucho. I also take a call from Stuart Rice, marketing director at Saxo Bank, which is the headline sponsor of City AM's inaugural awards event in October.
Spend the afternoon with local media agency Gotham Media, who offer some great insights into the market over here. In the evening I meet up with Thommo from M2M to see how NY is treating him. We go to the Perfect Pint on 42nd Street - it takes us a few pints but we agree it is pretty perfect!
Friday
Spend the morning with the GroupM press team on Seventh Avenue, where I present City AM and pitch for new business. Then it's off to lunch with another FX company at Fino on Wall Street. Lunching in New York always seems to start early - in fact, every lunch this week starts before midday. Spend the afternoon wandering around Greenwich and buy an iPad from the Apple store for my wife's birthday. Go back to the hotel and take a cab to JFK for dinner in the airport lounge. I always find New York inspiring and invigorating; perhaps I'll soon be able to do My Media Week in London, but on behalf of New York AM.