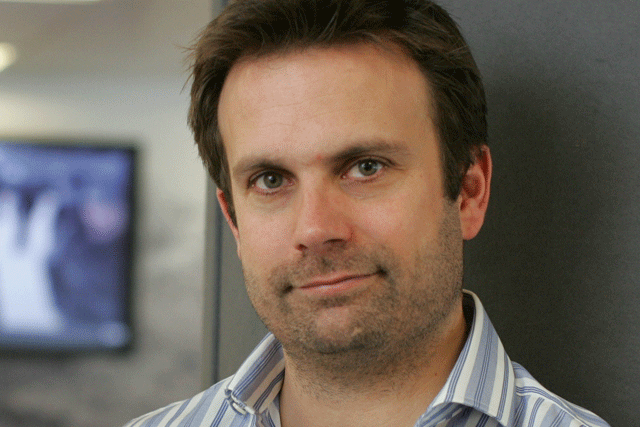 Monday
Very first thing on a Monday it's all about the mobile – enticed by that irritating flashing red light on my BlackBerry, I have no time to play on my new iPad.
I have the delights of breakfast with Pedro Avery, our MD. We're discussing plans for the week ahead. Most of the time, this takes place at our local Pret, but occasionally (very occasionally) it's at the Ivy Club. Ah well, Pret it is then.
With my brother, Simon Daglish, being group commercial director at ITV, brotherly relationships take a turn for the worse this morning, when he refuses to budge on a crazy "licensing fee" for one of our clients on Shazam (the clever platform that will allow viewers to interact with TV ads from their sofas). I'm always up for ensuring our clients are the first movers in new opportunities, but only after the right terms for all.
Passing through the Arena reception, I check the wall – a space that usually showcases our latest news, but which this week has been taken over by CBS Outdoor. CBS has created a sort of pop-up display that's transformed half our reception into a Tube platform, showcasing some impressive innovation that we can talk to our clients about. There's a wealth of information on audience insight, target opportunities, and Olympics information. Thought-provoking stuff.
Arriving home for the evening, it's back on the BlackBerry, catching up on email.
Tuesday
The day breaks with a catch-up on new business with Mark Craze (group chief executive of Havas), this time at the Ivy Club (his favourite place, but one that I'm far from reluctant to accompany him to).
Back in the office, I have a meeting with Laura Braithwaite, our client services director, to discuss talent management, and how we will celebrate our new CPD Gold Accreditation. I leave the meeting feeling amazed at how far we've come in this area since the days of Booth Lockett Makin.
Tuesday night is the most competitive night of my week – my weekly tennis match, a fierce, but sadly only rarely victorious, battle. In the morning, the team will have their customary blow-by-blow account.
Wednesday
Wednesday kicks off with breakfast with a media owner, before getting down to the business of judging our Grandees Awards entries. Our Grandees Awards are our internal awards. I've seen some great work coming out of the teams this year, with an especially exciting new partnership on the cards, as well as the Westfield Stratford launch, and ESPN being shortlisted for the Clear Channel Outdoor Planning Award. It's going to be a very tough one to judge.
Tonight I have the Sports Awards with our client, ESPN, at the glitzy Battersea Evolution. Many awards are given for simple but brilliant ideas, such as Betfair's Manchester 'Trash Your Tevez Shirt' campaign. I'm still surprised that so little comes from the media agencies in this arena.
Thursday
It's lucky I didn't overdo it last night, as today we're hosting the Arena Power Hour. This is our weekly session for media owners and emerging channels.
Today there are some very interesting presentations. Zeebox come in and make the most compelling argument on the changing dynamics of the living room, and how the ecosystem and hierarchy of devices greatly differs from household to household. People don't just watch TV anymore.
For a late lunch it's the standard sandwich at my desk, amidst various meetings. I squeeze in a quick check on what's going on with my team, Ipswich Town (www.twtd.co.uk).
This evening it's a quiet night at home in Earsfield with my wife Mandy, and our children Milly and William. I have my first experience of our new Virgin Tivo – what a clever piece of kit. I squeeze in some time on the iPad too, trying – and eventually failing – to stay focused on The Times; a difficult feat when 'Angry Birds' is so appealing.
Friday
On Friday we have our weekly meeting with all of our business directors, to capture the work for the next week. We uncover the fact that the new sponsorship between Monsanto and The Daily Telegraph has driven a 334% uplift in sales of their news round-up in the first week, and 307% in the second.
We decide to celebrate with a quick liquid lunch. I like to think I'm down with kids on agency gossip, but sadly I realise this is no longer the case.
Needing to catch up on a few things, I end up missing dinner, but given how much I've eaten out this week, I have a feeling I'll survive.
I can still see that red light flickering in the corner of my eye. Even with a great weekend ahead, I know it won't stop flashing – no rest for the wicked.