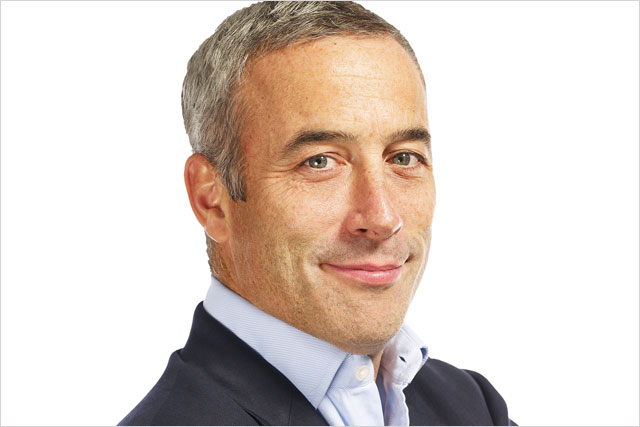 Monday
This is the one morning of the week when I don't drop off my two daughters at school, so I like to get in to work early and try to get a head start on the week.
I start today with a breakfast meeting with our digital trading director Elaine de la Cruz, who manages Autoexpress.co.uk and CarBuyer, to get an update and plan the week ahead. September is always a busy time for the motoring market, as the new registration plates are introduced and it is the last month of quarter three.
After various regular catch-up meetings with the editorial and advertising teams, I go for a meeting with our chairman Felix Dennis to give him a progress report on our new premium cycling magazine and iPad app, Cyclist.
We have been working on the project all year and, as always, he comes up with some astute observations for us to work on. That's why it says Dennis above the front door!
Felix is pleased that we have already sold more than 1,000 subscriptions and very excited about the launch on Wednesday.
Home in time to tuck the girls in, have supper and catch an episode of Jimmy McGovern's 'Accused'.
Tuesday
I make my daily check on emails, football transfer gossip on bbc.co.uk/sport and news on The Guardian's website in bed, before waking up my sleepy girls. It is our Motoring Board away day at Vauxhall Motors' head office in Luton today. This is halfway between our central London base and the Northamptonshire office of the publishing team of Evo, Octane and Land Rover Monthly.
We talk through the motoring business and kick around some ideas for 2013. It also gives us the chance to meet up with Vauxhall's chairman and chief executive Duncan Aldred, and marketing director Peter Hope, to find out more about Vauxhall and their brand new-vehicle launches, Adam and Mokka. We also get a tour of Vauxhall's wonderful Heritage Centre.
I'm in charge of picking up the girls tonight, so it's a dash back to north London, followed by the chaos which is "Daddy putting us to bed night".
Despite me having picked them up for over two years, they are always disappointed that it's not Mummy when I appear at the childminder's door. Tears are followed by bath, 'Room on the Broom', 'Peepo' and then bed.
Wednesday
Excitement today as Cyclist goes on sale for the very first time. We have made special plans to promote this internally with posters in reception, a copy on every Dennis staffer's desk and a 'Tell Me About It' session in the afternoon, where champagne will be served.
I look through this week's issue of Auto Express, hot off the press. It has a James Bond special with the editor-in-chief Steve Fowler driving the legendary Aston Martin DB5, which is featured in the new film, 'Skyfall'. It also celebrates 50 years since the birth of Ford's Cortina and has BMW's new MPV.
After the successful 'Tell Me About It' session with more than 200 Dennis staff coming to hear about the launch, I take the Cyclist editorial team out for drinks at our local pub to celebrate.
The feedback on Facebook and Twitter has already been extremely positive, so we leave the office on a high. Once at the pub, the team recount stories of grown men stopping at the roadside of various cycle climbs crying with the sheer pain.
I get home at 11pm after my eight-mile bike ride up the relatively gentle hill of the Finchley Road – I'm pleased to report that I didn't cry once.
Thursday
Up bright and early, I tune-in to the 'Today' programme while getting ready, before riding into the office via Moss Hall Infant school to drop off my eldest.
This morning is an operational board meeting, so I am in a hurry and of course she is not – tying hair bobbles in a hurry proves more of a challenge than expected! Good meeting discussing plans for the key brands for 2013 and beyond.

In the afternoon, we have a user-testing session at Wilson Fletcher, who are designing Auto Express's iPad app, launching next month. I ride over and en route drop off some copies of Cyclist at the wonderful cycling-themed cafe, 'Look Mama No Hands'. Good feedback from potential readers and then it's a dash to the home of football to see Tottenham take on Lazio. It's a great game, despite the 0-0 score line, with no fewer than three Spurs goals disallowed.
Friday
I catch a train to Coventry for a meeting with Jaguar Land Rover to discuss a special project. We also talk about next week's Paris Motor Show and Jaguar's plans for the unveiling of their new F-type, for which I have been lucky enough to receive an invite.
I get back to the office at lunchtime and it's largely a free afternoon to catch up on admin. I get the chance to see our managing director of digital, Pete Wootton, who has spent the week at a Google conference. Pete tells me that Carbuyer has just hit more than 22 million views on You Tube, a fantastic result.

Friday is a late one, as it is Auto Express press day. I look over the cover with Steve and our excellent art director Darren Wilson. I get home at nine to see my wife Tori, who I haven't seen much of all week. That means 'Dabbey' (aka 'Downton Abbey'), her choice not mine (he lies).