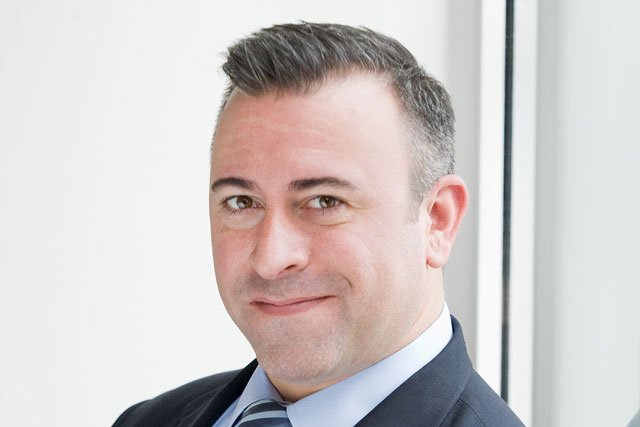 Monday
I start the week adjusting to the shower in our new flat. Transitioning from a house outside of NYC to a flat in North London has proven interesting, but exciting for my family of four. This is our third move in two years but I'm confident we've got it right this time.
When I'm not travelling I reserve Mondays to hold catch-up sessions with my direct reports, and set priorities for the week. It's now Q4 and this is a hectic time for all as we look to close the year as strongly as possible.
My commute to the office is taken up with an early conference call with my VP of sales for Asia Pacific. She's based in Singapore but is in Indonesia for the day.
She's updating me on her preparations for our 13th annual Asian Business Leaders Awards, which will be held this week.
This is a signature event for CNBC that honours the visionary executives who are driving and evolving business excellence in Asia.
I'm a bit jealous that I won't be joining her and the rest of the team for the show and gala dinner at the St Regis Singapore, but I've got a full plate in Europe this week.
Tonight, a delegation from the Hangzhou government in China is arriving in London. We're hosting the second stop in a three-city road show to attract investors that my Creative Solutions team is commercially producing in Sydney, London and Chicago.
Hangzhou is the city where Alibaba was founded, and given Jack Ma's decision to give his first interview on the morning of its IPO to CNBC on the floor of the NYSE, their message to promote Hangzhou as an investment hub will resonate strongly with our audience.
Tuesday
This morning is all about Davos. CNBC was one of the first broadcast media partners for the World Economic Forum and, as such, our presence and coverage at the annual meeting in Switzerland is dominant.
This event is the most unique and exclusive gathering of the world's business, NGO and political elite. The goal is to debate how to make the world a better place through concerted action.
The quaint, snowbound, alpine village provides a utopian backdrop for this high-minded effort and is not exactly a hardship posting for the week.
CNBC descends upon Davos like an occupying army, setting up two studios to broadcast live to our global viewership throughout the four-day session.
Last year our news team secured 65 first or exclusive interviews with elite attendees of the Forum and moderated some of the most well attended plenary sessions.
In my first year, I introduced myself to a European prime minister in our green room, only to be surprised when he looked me up and down, punched me in the chest (hard) and yelled, "CNBC is number one!" as he was led off to be interviewed on our signature show, 'Squawk Box'. I didn't see that one coming.
Because of our access, we're able to offer truly unique partnership opportunities to our clients both on the ground and across all CNBC platforms during Davos.
Much of today is spent with my sales, marketing and PR teams to review the plans we have and agree what else we can accomplish in January 2015. With year-end fast approaching, the clock is ticking.
Wednesday
I get in to the office early as I have to bring in my tux and black tie for this evening's Women of the Future event.
Getting in before 8am is painful in many ways, but the commute is less hectic and 'Squawk Box' is in full swing when I arrive.
Our London studio is one of the things that most resonated with me when I was joining CNBC two years ago.
When you get off the lift (I'm starting to feel less guilty about not saying "elevator") the studio is the first thing you see as it wraps around the building.
I love that I can have a water cooler chat with one of our anchors seconds before he or she steps into the studio to interview the CEO of a major company.
I have lunch today with my VP of sales for Western Europe and one of our closest agency partners.
In a time when the media industry buzzwords include "programmatic" and "big data," and a lot of media is selected by a nanosecond's scan by an ad server, it's refreshing to sit across the table and have a conversation with a partner about a shared vision of what your brands can achieve together.
Tonight's Women of the Future event should be inspiring. CNBC is the broadcast media partner and presenter of CNBC Meets, Tania Bryer, will be hosting.
As the proud father of two young daughters I will enjoy seeing dozens of young women under the age of 35 being honoured for having achieved more than many of us ever will.
I'm fortunate to be joined by some equally impressive women from some of our best and future (hopefully) partners as my guests of honour.
Thursday
Last night's event was fantastic, but it's difficult to reflect on it during my 5:30am ride to Heathrow. While it's painful now, I'm excited about the trip.
This afternoon members of my team and I have been invited for our annual meeting at Rolex's HQ in Geneva.
Rolex holds a special place for us at CNBC as they are our longest standing, international and commercial partner. The luxury category is key for us and my love of all things horological has often rendered me useless in the presence of gorgeous timepieces.
The meeting goes well, the sun is shining on Lake Geneva and the snow-capped mountains are teasing me.
Sadly, my next opportunity to get on a snowboard may not come until March when my kids are on half-term. But all things considered, there are worse ways to spend a day at work.
Friday
I'm back in London today and am in early once again for the convergence of our Innovation Council.
Our CEO believes strongly that the future success of our brand will happen as a result of the ideas that are generated by our people.
As a leadership team we're experimenting with ways to bring the best ideas to life. It's a work in progress, but honestly...what isn't?
As Friday comes to an end, I'm looking forward to the culinary tour de force I'm preparing. I marinated a few racks of lamb before I left for Geneva and will be decanting one of my favourite Lebanese wines to accompany them.
I brought back some Swiss chocolates for the girls, guaranteed to bring smiles all weekend. Now, on to tackle that new shower. . .

Age: 40
Favourite Media: VoD, binge-watching a great show is the bacon of delicious content
My biggest inspiration: My daughters. They rock my world every day
Dream Job: World-renowned chef and master of wine
Not a lot of people know this about me: I have two webbed toes on my left foot, so I can only swim in circles