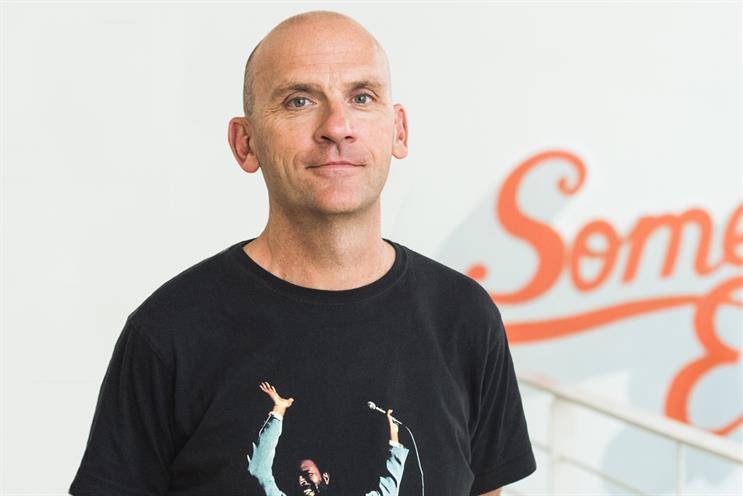 Monday
Each week begins with an early sales meeting for the senior team. We are pretty hardcore about this as it's the one time we get to all meet and share news.
The session begins with a celebration of an award we have just won for Best Branded Content for a short film we made for Topman. It's the directorial debut for Game Of Thrones' star Raleigh Ritchie and the first in a series of short features we're making for them – so a great result.
I'm then in to a meeting with our chief strategy officer Ben Kerr. Ben's an amazing guy who goes home at night with a client challenge eating away at him and comes in bright the next day with some annoyingly clever way of cracking it.
Right now he's fully immersed in two of the biggest pitches in the company's history and he updates me on progress and we talk through how we engage the whole company in the process.
In the afternoon I meet with a major publisher who is looking for a video partner to support their amazing range of magazines. It's a dream gig for us and it seems to go well.
Tuesday
Breakfast with Jon Wilkins who is a good friend and a non-exec. We share a love of music so spend much of our time talking about jazz and old hip hop.
I take him three or four things that are on my mind and I always leave with fresh thoughts and inspirations. He's one of the nicest and cleverest people I know.
Mid-morning I brief the entire company about the new opportunities that are about to explode at the BBC thanks to charter renewal.
Director general Tony Hall has introduced a strategy called Compete or Compare, which means that the BBC will now put vast amounts more of their content out to competition.
We work across all areas of the BBC. We're the retained social agency for most of the broadcaster's national radio networks and produce around 30 radio shows a week - so this represents a massive opportunity for us.
Managing partner Mark Rivers fills me in on our new work for Orangina. We've got one of our crack young teams on the project who are working at pace to deliver a huge amount of video across loads of channels and platforms. The good news is that the early signs are positive. The audience is enjoying it, and our view-through rates and engagement levels are high.
In the evening we throw a party on our Old Street roof terrace for all staff and their partners and friends. It ends at 1am when the booze runs out and the council complain.
Wednesday
Breakfast with Gilles Peterson who is one of my oldest friends. We produce Gilles' show for BBC6Music. He's just done a very smart thing and launched his own radio station, Worldwide FM, so we catch up on ways we might work together on that.
We're currently making a new Somethin' Else showreel, which is a challenge because our content is so diverse, so I head in to the edit to catch up on progress. We've shot loads of stuff with our teams as well as around our various productions and it's lovely to see the way it's fitting together.
The afternoon is spent with our managing director Steve Ackerman preparing a pitch for a major new client. I spend more time with Steve than my wife so it's important we get on and have a laugh, which we do. Although my wife is better looking now Steve has a beard. Steve and I love a pitch and are always egging each other on to raise the bar.
In the evening I head to Jazz FM to record my weekly show, also called Somethin' Else. I've had a radio show consistently since I was 18 and I love it. Jazz is a real passion and the music is in brilliant shape.
Thursday
The day starts with my weekly call with our chairman, Tom Barnicoat. Tom used to be the chief operating officer of Endemol globally so he knows a thing or two about running a media business. He has razor-like focus and a wisdom that I feel lucky to have access to.
We're joined at the end by Lindsey Clay, our newest non-exec. Her agency and Thinkbox experience is a massive boost and we discuss the new audience project we are working on.
I then hook up with Sadia Butt, a brilliant exec producer who, with me, runs Guitar Star, the entertainment show we make for Sky Arts. It's the first time we've met since the close of the last series and we talk through how it went. Which thankfully was very good.
In the evening I pop down to the Hammersmith Apollo to see our social media team at the Mercury Prize. We have worked with the BPI for many years running the digital activity for The Brits, and for the first time this year have taken on the same role for the Mercurys.
It's the first in a series of major new TV social marketing gigs we have won and it's great to see our on-the-spot "newsroom" in action.
Friday
If your name is Liam Fox or you hate name-dropping then look away now.
I have recently taken up golf and I spend the day playing with Brian Johnson, the lead singer of AC/DC, managing partner Ian Sharpe, and two senior Sky Execs.
We are making a series presented by Brian talking to some of the world's biggest rock stars about life on the road. Brian is both hilariously funny and good at golf so it's a fun day out.
He tells us a rude joke that won him a $1,000 bet. I laugh and drink too much and go home happy. Sorry Liam, it was work, honestly.
The lowdown
Favourite media: Too political a question for me to answer
My biggest inspiration: Family and Sun Ra
Dream job: Pianist in 1960s miles Davis quintet
Not a lot of people know this about me... I once sold drugs for a living