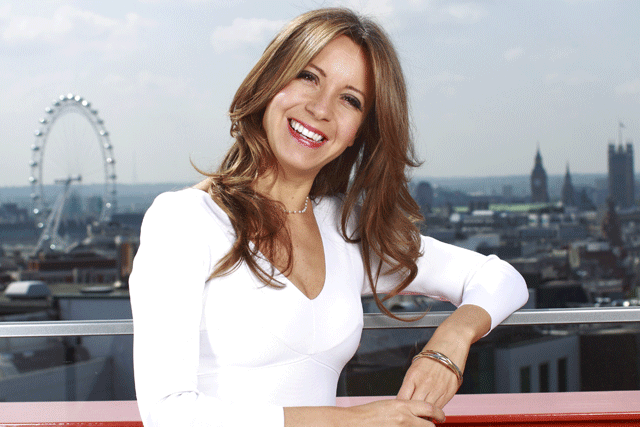 Monday
Have recently moved from Kent to Hampstead, so my BlackBerry wakes me up at 6am to ensure that I get my two beautiful children (Ned, 14 and Nancy, 13) woken from the teenage dead, to school (in Kent), and me at my desk in Charlotte Street by 9am.
I mostly spend the journey taking my BlackBerry apart as the emails have ceased somewhat and I arrogantly fail to accept that nobody wants to communicate with me – or Living Social haven't at least offered me a fish pedicure or a two-for-one at a tattoo parlour.
Straight into our Lighthouse status meeting with the team who I have not seen for a week as Rowan, my business partner, and I have been at Ad Week in New York, talking talent and scaring Americans – pretty easy even with my slight cockney accent.
I have a minor tantrum about a search that seems to be taking too long, grab a mini Crunchie from the sweet box (breakfast) and set to work on my to-do list. I ask Natalie, our head of operations, to see what is up with BlackBerry – my cold turkey has truly commenced.
Interviews with candidates for an MD position, a commercial director position and an EMEA chairman position go uneventfully, as nobody cries and the day finishes over a drink at the Sanderson with a new business director, followed by a rare dinner with my brother, Kendall, who hasn't been to London for 20 years. The BlackBerry is silent.
Tuesday
Up early for a run around the Heath – training for the marathon next year and I am literally as fit as Les Dawson.
BlackBerry has finally delivered some messages–13 hours late, but the internet still isn't working and my Facebook friends think it must be me that has died and not RIM.
Calls to the children, clients and candidates all the way in from my cab and the day starts with breakfast at Charlotte Street Hotel with a creative agency client, and then off to take a brief from Warner Music.
I lunch with my accountant Bobby as we prepare to forecast for year three at The Lighthouse Company – excited and proud of what we are building.
The afternoon is spent headhunting new ideas and calling known candidates for a long listing that is troubling me – progress is made.
Catch up with Rowan in the car on the way to Fru Hazlitt's Prince's Trust evening and am moved to tears as I hear of young ladies who have turned their lives around after suffering abuse and neglect – and watch as Fru clears all of our wallets – and rightly so.
Blackberry delivery remains tardy.
Wednesday
Breakfast with my chairman Nick Horswell, which is always a hybrid of 'Dragons' Den' and a fireside chat, then straight into a client meeting delivering a long listing for a commercial director.
The salary survey causes a stir, along with a growing number of senior leaders who have neglected to feed their digital learning – a tidal wave of well-paid but soon-to-be obsolete operators is coming and I fear for their professional futures.
Long call with Stephen Haines at Facebook who really ought to be in my business – he, along with Bruce Daisley, are privately the harshest critics of media people I have ever met – but they are accurate and save me lots of time shortcutting to the talent.
Headhunting for two hours solid on an MD role and then off to lunch with our resident coach Carol Fox, before heading straight into a short listing for a business which represents my favourite medium – wireless.
Call with Gilla who is simply the best employment lawyer in town (and is assisting a candidate of ours as he looks to enter a new business) followed by a call with Tapjoy, a new client of ours in California – jumping around from topic to topic keeps my brain wired.
Late-night conference call with Matt Scheckner from Ad Week in NYC, who we are looking to partner in a new venture, and then post-11pm cheese and biscuits end my day – Gillian McKeith would never approve.
Thursday
Morning of interviewing. I use my "when were you most vulnerable" question to try and stem a load of baloney from a well-known commercial operator who I diagnose as having narcissistic personality disorder – his answer confirms my suspicion.
No week would be complete – or truthful – without a visit to the Ivy and Tom (Vick, my partner at The Lighthouse Company) and I enjoy lunch with "Joe McElderry" from Mindshare, who we represented last year. What a brilliant man.
A verbal arm-wrestle with a client about his structure on way back to office – he needs to be braver in his approach if he wants to attract the best. I have to offer to step off the search and hand his money back to prove how passionate I feel about my advice and, thankfully, he doesn't accept and we move forward.
Meant to be going on a blind date tonight but just don't feel in the mood, so naughtily call it off and instead see Lehvashnee Naidoo, my DJ partner, instead. If only I were as good at finding romantic talent for myself as I am at finding professional talent for my clients!
Friday
Early meeting with an EMEA CEO who is looking for alternative thoughts for his answer. Tom and I love this kind of search and are scribbling names all the way back in the cab to a media agency to deliver a shortlist for an MD with the CEO.
We share candid feedback about each other's businesses before diving straight in to debating names and talent. Meeting over, I then go and see his head of strategy to see if we can help find him a head of research too. It's so fulfilling when we build super teams.
Lunch is with one of my favourite integrated agency CEOs who is looking at the future – we debate network agencies and start-up options. My risk profile is very high – I love to make a leap, but he needs a little more persuading.
Just replying to the final client emails of the week back in the office at 6pm and receive a call from a heavy breathing Marc Boyan (CEO of Miroma Group), which initially raises my spirits, until he disappointingly confesses he is actually on his running machine in New York.
He has a brief for a new business he is acquiring and we agree The Lighthouse will be the search firm to help.
Lights out, cab to Shoreditch to dress as a horse rider and carry eight amaretto jellies to a dinner party with Gary Hollins (don't ask) and home at 11pm to my gorgeous children – and a flashing BlackBerry.