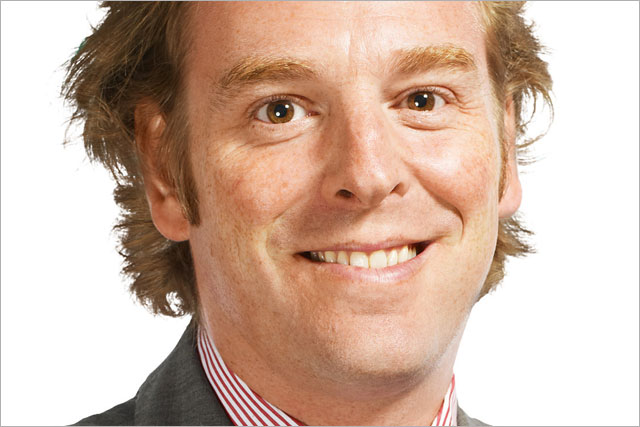 Monday
It's 5.30am and I'm awake. Any rational response would be to try and go back to asleep, but technically I've just had a lie-in as I'm in America.
I manage a little longer in bed, then get up and start the week. I'm in New York to visit The Week US office to discuss digital cooperation, and glean some publishing tricks.
I spend the day catching up with my colleagues in all the different departments. The editor Bill Falk gives me a magazine update, and I demo our app back to him. I also spend some time with its talented publishing team – Jessica Sibley and Alain Beguin – talking through the market and our joint international ad development.
In the evening my friend and colleague, The Week's president Steven Kotok, takes me to the Halloween parade in Soho. It's a madhouse, loads of ghosts and ghouls but only one solitary Osama Bin Laden. Presumably since his death, his image no longer conveys the fear it once did.
The hotel fire alarm goes off at 2.30am. Someone has set fire to a paper bin in a bedroom.
Tuesday
I spend most of the morning reviewing our new UK website with Dale Hraba, The Week US's online editor. Dale came up with the highly successful format of TheWeek.com, and he's full of little tips and ideas on how to drive traffic and improve the site.
Later I catch up with Sara O'Connor, who is the marketing powerhouse behind The Week's huge increases in the States. The current circulation is more than 500,000. She's always got new stuff in development that we can pinch and try in the UK.
I've just got time to have a quick beer with Matthew Sullivan-Pond, our local Dennis expat who reps the UK titles, before going to the airport. He became a new dad two weeks ago, so he's more exhausted than me but grateful for the ale.
Felix Dennis uses his own London taxi as a car in New York, and I'm lent use of this and the driver to wind through the traffic. I get the red-eye flight home. Eye shades on, blanket up and lights out.
Wednesday
The plane arrives early, and I scoot to the Heathrow Express. Fortunately I live in Bayswater, so I'm able to go home, drop my bags, shower and change.
My 18-month son Wilf runs delightedly past my arms and starts exploring the straps on my suitcase.
A local black cab driver, Mick, then greets me with a V-sign as he pulls up. I congratulate him on his Churchill impression, and jump in the back. Mick is one of the funniest people I've ever met. This morning he launches in a long, and extremely amusing, story about the actor John Hurt.
Most of my morning is taken up with sorting out digital integration for our advertisers in The Week's app.
We've created an editorial integration for Rolex, and while it's going to be great, it's a complex thing to build. Making simple things seems to be both complex and challenging.
I'm taken to lunch by a friend, the osteopath Simon Freedman, at the Ivy Club to mark his win as the British Inventor of the Year. Simon has dreamt up a way of designing a chair that might revolutionise how we all sit down.
I say hello to the wonderful Alvin Cauldwell, who hosts our The Week Literary Lunches at The Ivy.
In the afternoon, I briefly catch up with our head of advertising, David Weeks, who's full of good news and ideas.
Then the remainder of the afternoon is spent pouring over spreadsheets looking at a three-year investment plan to further grow print subscriptions for The Week.
Our subscribers are our lifeblood, and we take their management and development very seriously. We're also beginning to develop separate digital subscription plans.
I finish with a PR meeting, and head home to crash.
Thursday
The day starts well with a meeting with DraftFCB to review some creative ideas for The Week in 2012. We're working with them to develop some new marketing approaches.
Their creative director, Mark Fiddes, talks me through some of their thoughts – It's smart, on brand and exciting. I can't resist showing off our app, and the DraftFCB folk make nice encouraging noises about the design and ad integration.
This week's issue arrives and it's one of our strongest of the year for advertising. The Credit Suisse ad looks terrific next to the Vermeer review.
Lunch is a quickie at a local tapas joint to wish our creative solutions manager well before she leaves to join Grazia. Later in the afternoon I visit Felix Dennis at his private office in Kingly Street to give him a trading update.
In the evening, I celebrate my 40th birthday by eating at The Ledbury in Notting Hill with my wife. I've never been to the restaurant before, and the dinner is my wife's gift to celebrate my official ascension into grumpy old man status.
We are a bit late though, as I passed that milestone in February. Still better late than never, and the experience is amazing.
Friday
Friday begins with some work on the draft 2012 budget, before our weekly digital planning meeting begins.
There is a review of the short promotional film we've produced, and the magazine editor is nominated (in his absence) to provide the voiceover.
Our developers Kaldor then join the meeting for another extensive round of technical box ticking before we send the final version to Apple.
Dennis Publishing's HR Director Alison Hunter is about to take maternity leave, so there is a lunch to wish her best of luck that I attend. Tapas again. Is Spanish food becoming the goodbye grub of choice?
In the afternoon, I finally get the chance to breathe a bit and finish off some admin, read some emails and generally catch up.
The last thing I do is write this diary for Media Week, before going home to eat crisps and drink wine on the sofa while watching crap TV.