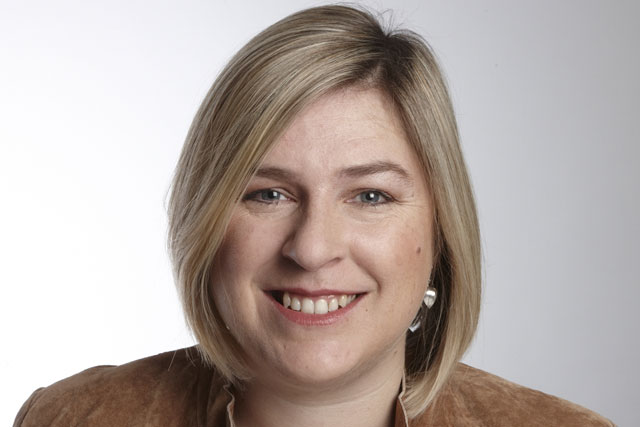 Monday
6.50am. Wake up to my kids bouncing literally on my head – "Morning Mummy!" And so the multi-tasking begins.
8.30am. Cue lots of loud shouting from me as I try to get the kids into the car to go to school while loading the washing machine with some of the four suitcases of holiday clothes that need to be washed (only got back yesterday from 10 days in Sharm El Sheik – lovely and hot, thanks).
When I get back from the school run I grab a coffee (large) and boot up my laptop to begin working through more than 1,000 emails. My holiday haze is bad (feels like walking through thick treacle).
I call the office and catch up with my team. The UKTV network brand refresh is still going strong with our new identity now visible on screen. I discover that my marketing manager has been kept busy while I've been away, creating the new network trail.
She's had to manage multiple opinions on what shows to include (and with 10 channels there are lots to choose from) but eventually 'Dynamo: Magician Impossible', 'Suits', 'Dara O Briain: School of Hard Sum's, 'Castle', 'David Attenborough's Natural Curiosities', 'Rizzoli & Isles' and 'Miranda' won.
Lunchtime and there are more emails to wade through – the joy of returning from holiday. Some are from the UKTV Innovation Team, Social Committee and a new internal Secret Skills Team who are all on a recruitment drive – I wish I had time but I've got to keep cracking on.
By 3pm, I have finally caught up and I have a full working week plan all sorted. Time to pick the kids up from school, then it's swimming and by 5pm, I've completed email holiday hell.
Tuesday
6am. "Morning Mummy" early morning wake-up call again – not so funny this time.
By 7.45am I'm on a caffeine-fuelled, 50-minute train trip from Thame to Marylebone. I tackle a draft work contract, no interruptions. Very productive.
I go straight into TMM (Tuesday Morning Meeting which the whole company attends) and the CSR team are explaining their ambition to raise £10,000 for Pancreatic Cancer UK by doing a 270-mile London to Paris bike ride. They are canvassing for money and with a gruelling three-day journey in the saddle, I think they richly deserve every penny they raise.
I spend the rest of the morning in a meeting with our controller, Emma Tennant, and the general managers, taking them through our new on-screen presentation concepts as we plan to update our in-junction menus (on-screen menus seen between programmes) across the network. It goes well and everyone is on board.
The afternoon is spent catching up with my team on UKTV's VoD branding strategy to align network and channel-branding principles across the myriad of VoD platforms, including TalkTalk, Sky On Demand and BT Vision.
It feels like a dynamic maze of programming choice where each platform offers similar services, but their consumer journey looks and feels quite different. I need to pull it together before it gets too piecemeal. We discuss sign-posting consumers with strong branded channel content and then delivering it via a fast on-demand service sub-brand.
On 6.13pm train from Marylebone and back to family life.
Wednesday
5.53am. "Morning Mummy. Can I switch on Radio 1 on your clock radio please to see if it's going to wake you up at 6am?" Uhhh?
I start writing up my VOD branding strategy paper on the train, truly putting my PowerPoint skills to the test.
First morning meeting is a quick catch-up with the marketing managers to discuss campaign-planning process improvements.
I then visit the HR department to help them with a UKTV induction video for new starters. Comedian Tim Vine has filmed an incredibly funny video for us, walking new recruits through the UKTV office and local Hammersmith highlights to familiarise them with their surroundings. It's pretty much in the can and we are just updating a few shots with our new branding.
After lunch I have a series of status meetings discussing the sonic branding of our UKTV logo and the merits of different compositions, along with VoD branding strategy and scheduling our media agency, Rocket, to come in to talk to us about "how to get the digital marketing and media mix right".
I head back to Thame on the 6.50pm train, clear my inbox on the way and pick up my nine-year-old from Cubs.
Thursday
5.45am. "Morning Mummy. Can I have some breakfast?" At 7.49am, I'm on the train again reviewing latest OSP creative concepts.
At my desk I start working through my to-do list and then attend the junctions on-screen production team meeting to collate all feedback so we can go back to the creative agency.
Lunch becomes a meeting with HR to discuss marketing team roles. Then I visit Rocket to listen to a 2012 competitor media review. Share of voice looks like it's holding strong despite some new VoD players in the broadcast market.
It's also interesting to see investment levels behind some key competitor campaigns and the variances between different genres. Being able to benchmark ourselves is vital and it's particularly useful to have figures to hand when quizzed by the finance director at the next investment committee meeting.
My final meeting of the day is with Red Bee, one of our creative agencies (a weekly status) and then I jump on the 6.50pm train home. My working week is done.
Friday
Day off – I work a four-day week. I throw myself into my "other job" and navigate the school run, speak to estate agents, organise a kids' party and host a stargazing night in our garden during the evening for some village fete prize winners. It'' a hobby I keep under my hat from people at work…well, until now.
Next week I have to prepare for an annual agency review. We take this seriously and I get the marketing team together to rate service levels across different attributes and give me specific feedback on campaigns.
I'll also be planning for phase two of UKTV's network brand refresh. It's important to keep the momentum up and keep the team focused on powering the brand forward, working with the channel teams and internal departments to continue to be as imaginative as possible, and ensure we communicate effectively with external partners on what makes UKTV unique in the marketplace.
So, while I might have Friday off, I've certainly got another busy week to look forward to.
Personal CV
Age: 43
Favourite media: TV – what else?
My biggest inspiration: My grandfather… an incredible Irishman with a strong work ethic.
Dream job: Starting up my own TV branding business
Not a lot of people know this about me...I'm a secret stargazer and my maiden name was Bebe.