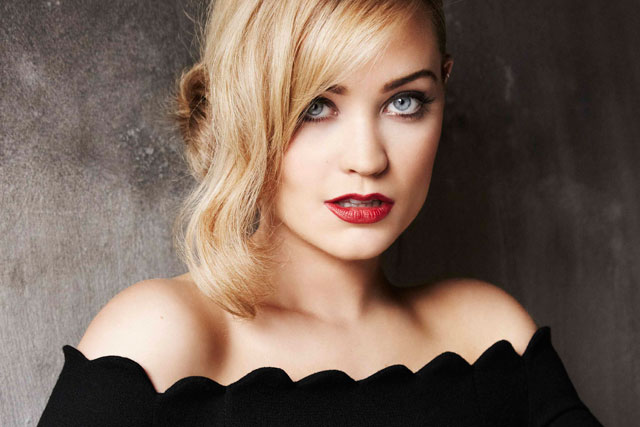 Monday
I'm not really a morning person (probably due to the fact I'm more of a night owl and early mornings are more connected with trying to get home for me).
I wake up at a very respectable 9.45am and head into MTV studios in Camden for 11am, where I go through the schedule for the day and scripts for our 'MTV News' record.
Midday, we're in the studio where we record two bulletins that will go out across MTV channels that day. The one thing I love about being a TV presenter is that every day is completely different. And the schedule throughout can change...a lot.
After 'MTV News', I grab a quick lunch from Camden Market (the hazards of having the studios based there means I have waaaay too much choice for stuffing my gob).
I go straight back to my desk in studio and start researching [American singer/songwriter] Demi Lovato who is in town. We have a one-on-one interview slot at her promo junket in a central hotel.
We get there for 2.30pm, but are told it's running an hour late, which means we have an hour to drink lots of tea in the snazzy hotel. Not all bad. Demi is one of the few artists I haven't met before. She's a lovely, down-to-earth yet highly professional girl.
Got a great interview and afterwards we return back to MTV to hand our tapes over to our editor, so that they are cut for 'MTV News' tomorrow.
I then head into Regent Street to meet Joseph from Snow PR who is kindly taking me to the Guess Store to pick out something to wear to the 'MTV Presents Titanic Sounds' event happening at the end of the week.
You always need to think a few days ahead for events coming up, as I style myself, but thankfully being in the public eye, I've been very lucky with sourcing lovely garments. Yes, I am a girl and I love clothes.
I meet my friend and old MTV work colleague Sarah for drinks and dinner in Camden.
Tuesday
I pop into my agent Jess in Soho for a catch-up before my MTV News record – I talk to her almost every day, but around once a week I go in to see her if I have to sign off a contract and collect any post sent there.
I'd be lost without Jess, she's like my fairy godmother who looks after what I need to do, where I need to be, and goes way above and beyond her duties as an agent.
After 'MTV News', I head to a showcase for a new indie band, The Coronas, in Soho, where I catch up with a few old friends.
Glen and Danny from The Script are there and I haven't seen them in ages, so it's a bit like a massive Irish reunion. It turns in to quite a late one.
Wednesday
I get woken up at 8am by a call to say my bed is on its way. I just moved home a few weeks ago and had been sleeping on a mattress since move-in day – but the bed is worth it!
My home transforms from student bedsit to princess palace in no time, although apologies to the poor delivery man who had to deal with an 8am cranky Laura.
My body clock is all over the place, but it survives on whatever it gets. When I worked on ITV2's 'I'm a Celeb Get Me Out Of Here' in Australia, my alarm clock would go off at 10.30pm and we'd be in studio for just after midnight. As it was a live show, we had to coincide with UK time, so at 3pm I'd be asleep in bed.
I have the ability to sleep anywhere – including my dressing room in MTV – for 20-minute power naps. Anyone in this industry knows you take your sleep when you can.
After my not so glam morning, I head into Nyumba Hair Salon in Mayfair to have my hair injected with some, er… glam. I've been going there since I first moved to London and they always look after me really well.
Following my wash and blow-dry, I'm back at MTV, I look through the Wednesday midweeks before the 'MTV News' record.
After filming around 2pm, I meet up with our head of marketing to discuss the final plans for' MTV Presents Titanic Sounds' in Belfast tomorrow.
I'm covering the event for MTV News and interviewing the artists, as well as hosting the event in front of 16,000 people. Eek! I try not to shit my pants thinking about it.
I also have to be interviewed by the press out there – which is strange as I'm more comfortable interviewing rather than being interviewed.
I quickly head home to get changed as I'm being picked up in an hour to appear on 'Celebrity Juice' on ITV2. They film at Riverside Studios and I haven't seen the host, Keith Lemon since we co-hosted the Brits pre- and after-show together. He's absolutely mental, but a pure genius.
It's an Irish special and I'm on the gorgeous Holly's Team along with Kian from Westlife. Amanda Byram is also there who is an amazing lady and I love to bits. She's a real inspiration – an Irish lady who has done so well. She's with Fearne Cotton ,who is lovely and really funny, and then of course, the charmer that is Paddy McGuinness.
After hair and make-up (I normally do my own make-up for MTV so it's great to get pampered), we record for two-and-a-half hours.
It was probably one of the most fun shows to do. The copious supply of white wine may have helped.
Thursday
Car arrives 5.15am. Yuck.
I catch up with the team at Gatwick Airport and we fly to Belfast. We go straight to the Hilton where it's straight into press interviews to promote the 'MTV Presents Titanic Sounds' we are filming on Friday night.
My boyfriend Danny has flown to Belfast to see me and I catch up with him over lunch (no one said it was easy dating me).
After that it's straight to the new Titanic Belfast tourist attraction, where I meet the mayor of the city and am given a personal tour of the attraction. (Yes, I got my photo taken at the famous staircase which Jack and Rose stood on in the movie!)
After some more press photos, I head to our MTV studio that's set up at the top of the building where I catch up with Jordan and Harley from Rizzle Kicks. These boys make me laugh so much that it's hard to get through the interview for MTV.
I just about manage to catch Pixie Lott's sound check – she sounds ace. It's dinner with the fella and an early night, as I'm wrecked from the early morning and tomorrow is going to be a long day…
Friday
It's an early start to sound-check on the stage and go through a few links.
Afterwards 'MTV News' has interviews with the other artists Olly Murs, Sean Paul, Pixie Lott and Katy B. Two years ago, I co-hosted a Brits show for MTV with Olly Murs and we travelled to the O2 in a boat where, under instruction from the producer, we had to recreate the 'Titanic' scene on the boat.. you know the "I'm flying" one. Yes, cringe.
Olly is an amazing sport and I love interviewing him, so we had a laugh about our previous 'Titanic' encounter, but decided best not to recreate again.
After interviews, I go to my dressing room for touch-ups and then it's stage time. People have been queuing since early morning and by 6pm, the place is jammers.
I stand on stage in front of the 16,000 people and tell them they are being filmed by MTV for its 'World Stage' music series, which will be broadcast on MTV around the world. This seems to make them very happy!
The whole show goes down so well and the party continues throughout the night.
Saturday
I get the train from Belfast to Dublin, as I'm about to launch Cinemagic, an International Film and Television Festival for young people. I have a few phone interviews with local and national press that evening.
It's also my little brother's 17th birthday, so I get to catch up with my family and celebrate with them. I don't get to see them as often as I like, so I jump at every chance.
The night ends with family charades. Yeah, we cool.
Sunday
At midday, I have a photocall at the Burlington in Dublin for Cinemagic.
Cinemagic is a fantastic organisation and the previous two years I've held workshops with young people who would love to get into television. It's a very rewarding festival to be involved in.
Because of work conflicts, I can't hold a workshop this year, but am delighted to help with the launch.
They have a fantastic line up though – with the likes of presenter Dermot O'Leary, actress Suranne Jones and Hubbards Casting Agents all holding workshops.
This afternoon, I head to the filming of the live talent show, 'The Voice of Ireland''. My boyfriend Danny's band are performing on it and I go to support him.
One of my mates Eoghan is the backstage host on the show and my other mate Bressie is a judge, so it's a great catch-up.
It's also Eoghan's birthday, so we go and celebrate after the show. It's another late night and I have an early flight back to London in the morning, so I may need to catch a nap tomorrow in my MTV dressing room.