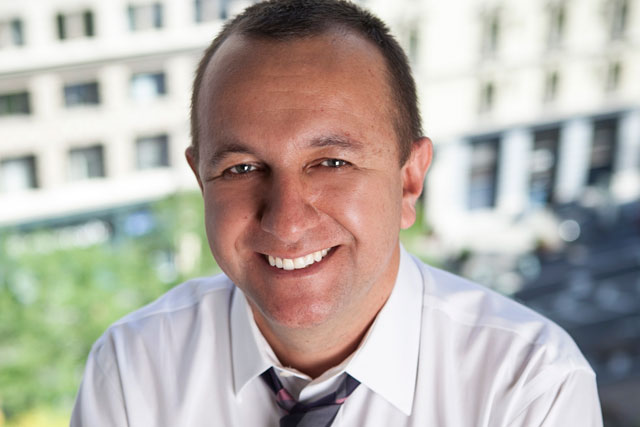 Monday
Today I'm in Hong Kong, where I arrived yesterday from London for two days of market reviews. I'm staying at the Harbor Grand Hotel, which has amazing views over Hong Kong's harbour.
I'm incredibly jet-lagged after my long flight, which can be the only explanation for how I end up watching sumo wrestling on my hotel TV at 4am.
The first day of the market review is devoted to China. China is a really exciting market for Kinetic, one with huge potential that's already seen tremendous growth.
It's in the midst of a boom in digital screens, which is offering advertisers new flexibility and expanded creative possibilities.
Dinner is with my colleagues from Kinetic APAC at the Hong Kong Club. It was nice to get a little window into the city's history. The clubhouse was built in 1897 and is filled with art and memorabilia donated by guests. I was surprised to find an autographed portrait of Whitney Houston.
Tuesday
Today I'm working with my Kinetic APAC colleagues on revisions to our three-year plan for India.
While the size of India's out-of-home business is only one tenth that of China's, it's a country with enormous potential.
One challenge we face in India is the fragmented media owner landscape. There are more than 2,000 vendors in the country, which can make coordinating media buying difficult.
It's also challenging to achieve good geographic coverage, in such a large and diverse country with so many different cities and provinces.
Despite these challenges, I'm satisfied with the work we're doing on solutions for our clients.
We finish the day with a market review for the Philippines and for Aviator's APAC division. I'm particularly excited about the potential I see for Aviator in China.
China is projected to have 230 airports by 2015, and both domestic and international air travel is growing rapidly.
After wrapping up the Aviator APAC review, I head to the airport along with the APAC leads.
On the way there our driver makes a wrong turn and we find ourselves caught in the middle of a flood of people who are participating in the pro-democracy demonstrations.
Though tens of thousands of people are in the streets, everyone is totally peaceful. It's amazing to see.
Eventually our driver is able to extricate us from the crowd and we arrive at the airport just in time to catch our flights to Bangkok.
Wednesday
I start the day with a Thai massage, which helps undo some of the effects of my busy travel schedule.
No spa day for me, though. I'm in Bangkok for two days of market reviews for Southeast Asia. Today we're tackling Malaysia and Thailand. We see great potential to expand Kinetic's operations in Thailand to participate in the greater Indochina economic community.
I also meet our new office head for Malaysia and Singapore.
After a long day of meetings I end my day with a delicious meal at Celadon, one of the best restaurants for Thai food in Bangkok, and a visit to Vertigo Moon Bar.
Vertigo Moon Bar is on the 61st floor of the Banyan Tree Hotel and has amazing views of Bangkok. I don't have time to explore Bangkok on this trip, so it's fun to see the city from above.
Thursday
Today's market review subjects are Singapore and Indonesia. While Kinetic is well-established in Singapore (formerly our APAC headquarters before our recent move to Shanghai), Indonesia is our newest country.
The two countries are very different and looking at them together in the course of one day reminds me again of how diverse the region is, including both Singapore's skyscrapers and Indonesia's jungles.
On my way to dinner tonight I get to see a little more of Bangkok than I anticipated. My taxi driver, who doesn't speak English, gets lost and takes us to the wrong address. He keeps insisting it's the right place, and I start feeling like I'm in the second Hangover movie.
Fortunately things get sorted out and we eventually arrive at our real destination - Baan Klang Nam 2.
Baan Klang Nam 2 is right on the banks of the river Chao and appropriately serves amazing fish. But my favourite dish has to be the mango sticky rice dessert. A nice way to end the day.
Friday
Today is my last day in Asia. Before I head to the airport I have lunch with Kevin Clarke, the head of Group M Thailand.
After two days of Thai food I'm ready for a change, so we get Chinese at Man Ho.
Kevin tells me about his career in Asia, and the life-changing decision he made when he asked the group to station him in Bangkok after many years of travelling as a regional executive. It's a great last meal in Asia.
I have one more stop before I head to the airport - a visit with my friend and former client Jorge Lopez.
Jorge is the CMO of AJE Group, the fourth largest manufacturer of dark soda in the world, as well as a recently appointed Zen Master.
After a short visit to AJE's soda factory in Bangkok, I head to the airport to take the overnight flight to Dubai.
I fly a lot, so I've become something of an expert on airlines. Emirates is one of my favourites, and I'm glad to be flying them today.
I'm only in Dubai for a quick stop-over on Saturday before I fly to London on Sunday, but I've made sure to schedule a meeting with one of the UAE's biggest media owners.
It's just a lunch, but it's good to start opening up relationships in this market so that Kinetic can potentially begin doing business there.
It's been a very busy week, but I finish the day excited about everything Kinetic's accomplishing in Asia.
Age: 51
Favorite Media: Other than out-of-home? Radio. I'm fascinated by the influence radio hosts have over their audience
Biggest Inspiration: Apple's "think different" commercial
Dream Job: My entire professional career has been a dream. This is what I love and I don't want to do anything else
Not Many People Know: I walked four kilometers each day to go to school in Granada, the small town in the mountains of Colombia where I grew up