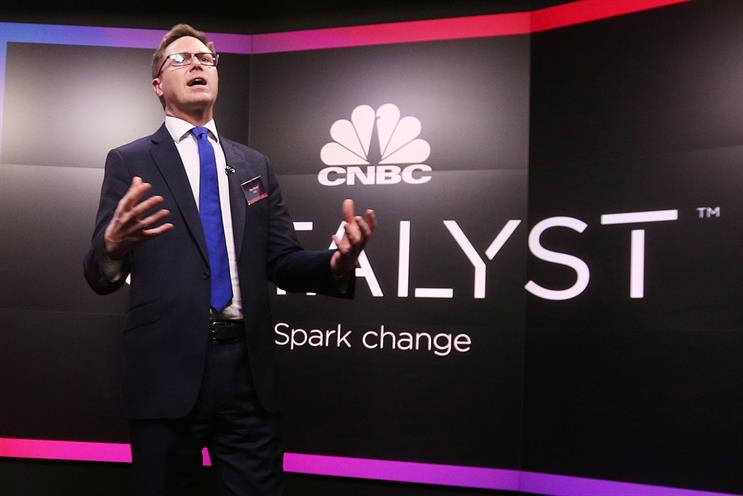 Monday
It's an early start this morning as I rush to get to Heathrow to make my plane to Zurich. My plane lands in Switzerland just after midday. After collecting my bags, I start the long journey to the top of the Swiss Alps for the World Economic Forum's Annual Meeting in Davos.
Davos is the Super Bowl of business. The week sees more than 2,500 business leaders and 40 heads of state convene in a tiny town at the top of a mountain to discuss world issues, from the future of the economy to global political uncertainty.
They're joined by the world's most influential companies as they shape the business and political agenda for the next 12 months.
The number of clients we work with at Davos grows year on year. Brands are seeing the impact they can have with this hugely influential audience and the power CNBC Catalyst has to spark that conversation.
Over the next few days, we'll be helping a plethora of clients, from GE and the future of digital disruption, to the Astana Kazakhstan Expo 2017, exploring the future of energy. It really is a diverse mix.
First on my agenda though is CNBC's annual CMO Connect event, hosted by the anchor of our Marketing.Media.Money show, Carolin Roth.
The reception is an opportunity for the CMOs attending Davos to meet, connect and talk about the week ahead. As part of the event, I'm sitting on a panel alongside Lindsay Pattison, global CEO of Maxus, and Steven Althaus, CMO of Credit Suisse.
As part of the panel we announced a new partnership between CNBC and Credit Suisse that will see the bank partner with us around a new content series called The Brave Ones, launching in March.
The series charts the rise of some of the world's most successful entrepreneurs through intimate one-on-one interviews. Steven spoke passionately at the event about the work he and his team are doing to showcase the bank's support for entrepreneurs, and I'm delighted we are working with them.
After working my way around the packed room, I manage to slip out and grab some dinner before making it to bed shortly before midnight.
Tuesday
It's another early start this morning as I head into town to meet one of our key clients on the ground here in Davos and our partners in the Davos Sanctuary.
The CNBC team have transformed Davos' Freie Evangelische Gemeinde Church into a live TV studio complete with room for a studio audience. We'll use the space to host three days of live debates and panels for the influential leaders gathered in Davos.
After meeting with the team, I grab a seat for the first Sanctuary sessions. The first is with Arianna Huffington who talks at length about the need to get eight hours sleep. I'm not sure that will happen for many of us all assembled in Davos this week.
Next up, a CNBC conversation with Tania Bryer and Hollywood legend, Forest Whitaker. Forest speaks about his work in Africa and the impending inauguration of Donald Trump.
Although I'd have loved to have stayed at the Sanctuary all day, I hot foot it to the CNBC lounge in the Belvedere Hotel to meet with our wonderful Astana clients in advance of their event with us.
I then head to our CNBC GE event within the Belvedere Hotel for a fascinating discussion on digital transformation. We're very proud of the quality of the panel and attendees at this year's event and it is standing room only, just like last year.
Wednesday
My alarm rings loudly. I'm up early for a breakfast with a very interesting NGO that may be a future commercial partner. As I step outside, I'm hit by the -18 temperatures, which reminds me we're at one of the highest points in Switzerland.
After swinging by the Davos Sanctuary for the filming of a special Davos edition of Marketing.Media.Money with Maurice Levy (Publicis), Lynn Vojvodich (Salesforce) and Keith Weed (Unilever), I swiftly head to the Belvedere Hotel where my team have organized the debate on the future of energy with our client, "Expo 2017, Astana Kazakhstan".
CNBC Squawk Box host, Steve Sedgwick hosts the panel that includes the inspirational co-founder of Hyperloop, Bibop Gresta. I leave excited about the prospect of being able to travel between San Francisco and LA in 30 minutes.
As the event wraps up, I then head along to a press conference and meeting with an important Asian client, and then off to another event we've organized in partnership with Citi on Fintech and the transformation of financial services, another tremendous, packed event.
After grabbing a quick bite, I head back over to the Belvedere Hotel for the annual CNBC Night Cap in partnership with the FT. With Jamie Dimon, CEO of JPMorgan Chase, to my left, and Tom Farley, president of the New York Stock Exchange, to my right, I pause to take in the scene around me. The room is brimming with almost 500 of the most influential business and political leaders on the planet.
As I move my way through the room, I am greeted by a host of familiar faces, many of whom are regular on-air guests in London and New York. Since joining, I've become accustomed to the high calibre of business leaders we see come through our doors in Singapore, London and New York day in, day out.
Being at our event in Davos, it really is amazing to see so many of these regular guests and contributors in one room.
Thursday
Feeling a little blurry eyed from the night before, I grab some breakfast and head over to the Sanctuary to watch Carolin Roth film a CNBC Conversation with the CEO of Credit Suisse, Tidjane Thiam.
Thiam passionately tells Carolin that business has a responsibility to make sure globalization works for everybody, so people don't end up taking extreme political options.
Explaining that business had done a poor job of communicating the delivery of its benefits to broader society, Thiam added, "we have to behave better…and become more effective at articulating what we do and the positive things we do." A real lesson for us all in and outside of the business world.
After the conversation, I head outside. As part of the week, CNBC has organized for lunch to be cooked on open fires outside the Sanctuary by Brazilian chef, Patrick Honauer, it is incredible.
Friday
The last day in Davos. Morning meetings with CMOs from two of our important global partners, and then after lunch, I head down the mountain to Zurich to get a flight home. I leave Davos feeling very proud of what the CNBC team has achieved for our partners, and looking forward to how we can make it even more successful for 2018.
The lowdown
Age: 43
Favourite media: Anything from NBC Universal of course. I loved the new Universal Pictures movie Sing with my wife and boys (aged 8 and 11)
My biggest inspiration: Sharing whatever my kids' latest obsession is. Currently Elon Musk, magnets, f2freestylers and Lord of the Flies
Dream job: Maybe a music producer one day, though being part of one of the world's biggest media companies is pretty close to a dream job
Not a lot of people know this about me... and they are not going to know it now either