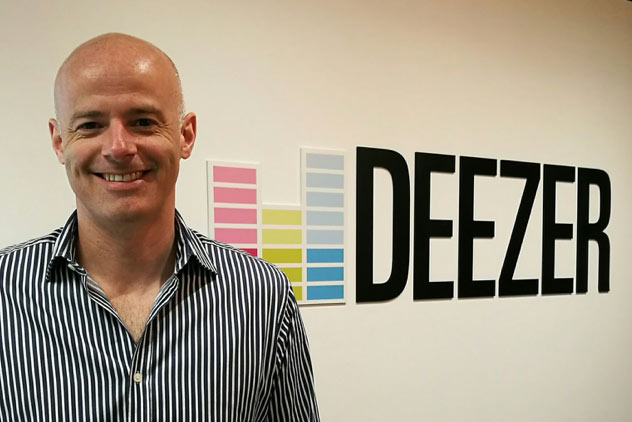 Monday
The alarm usually goes off at 4:50am on a Monday morning (unless I have an early flight to catch). I shower and shave before jumping in the car for the 25-minute drive to the train station to catch the 6am service from Birmingham International to Euston. Wi-Fi is great on trains these days so I can spend the 75-minute train commute checking and amending my diary, answering emails, making notes on forthcoming meetings and reading up on business trends and news to get myself prepared for the week ahead.
Then I have a short Tube journey from Euston to Shepherd's Bush, always with my headphones in and using Deezer to listen. I arrive at the office no later than 8am, and as one of the first, it means I get the Sonos Music system to myself so I can play whatever music I am listening to, to get me in the right frame of mind for the coming week.
Mondays are team meetings, report analysing, planning and preparation. The better prepared we are, the better we can handle any situation which gives me and my team the ability to be more proactive in driving the business forward.
Later in the day, I head into the city for an afternoon meeting with a marketing company with which we are potentially looking to work. This is potentially a new venture for Deezer and one that I am keen to drive.
Over dinner, I meet up with one of our hardware partners where we discuss technical opportunities, marketing planning and how we can expand the existing relationship to bring our users closer to our content and improve their overall experience, either through exclusives, new customer journeys or commercial offers.
If I am lucky I may get the chance to hit the gym in the hotel and check in with my wife before getting to bed around 11pm.
Tuesday
After an early breakfast, I head into London for a meeting with a potential B2B partner. As music streaming and Deezer are still in rapid growth, we are always looking for new partners with which we can work closely to bring our unique product and content to new customers.
I am back in our Shepherd's Bush office by lunchtime for a marketing meeting analysing our current campaign and how we can make improvements moving forward to deliver even better results.
This is followed by an introduction to a media company that is producing some fantastic new Deezer Original content. If you haven't listened to the podcast Strong & Stable with David Schneider already, you need to check it out.
I catch the 5.30pm train and usually arrive back home about 7.30pm for a chilled evening with my wife and our two cats, Macallan and Monty. An early night though, as I have to catch the first flight out of Birmingham International Airport the next day.
Wednesday
Landing at Paris Charles De Gaulle airport first thing, I grab a cab into the city to the Deezer head office where I have a couple of quick internal alignment meetings followed by a product presentation from one of our HiFi partners with whom we are working to launch our new Deezer HiFi proposition.
This is a great opportunity to test the limits of our product and to demonstrate just how much better the sound is through the best hardware on the market. I have a real passion for HiFi hardware and how you can appreciate the fantastic content available on our platform much more when played through great quality devices.
In the afternoon I have a meeting with one of our largest telecoms partners, talking about new products and propositions and about how to bring them to market to drive new market segments. We discuss everything about the business from the content that we distribute, how we can localise to the relevant market, how to utilise the local Deezer Next "up and coming" artists to the best effect and in which areas we should be focusing moving forwards.
The flying visit to France is over, and as I catch a cab back to the airport for the flight home, I listen to more new tunes including tracks or artists in which my content team is interested. They are all determined to broaden my listening habits and, so far, most of it is landing well.
Thursday
Down in old London town again today, I split my time between a morning in the office and an afternoon in the city with one of our agency partners and a record label partner.
During the morning, I hold one of a series of development sessions for my team, which focuses on how they want to develop and how we can support them with mentoring, training or working on new exciting projects that will stretch them.
In the afternoon I meet up with a creative agency, which is keen to show off some new product and proposition thinking that we may be able to utilise over the coming months on our Deezer Original content or on some live sessions that we are planning.
I finish the day with a visit to an independent record label with which we are collaborating and we share ideas on exclusive content, "money cannot buy" competition prizes and how we can maximise our combined social reach to drive engagement with the label's fan base.
On the way to catch my train, I call into a great vinyl store I know and treat myself to some new additions to my record collection. Although I love streaming, I also love my record collection – both of which I enjoy with a nice glass of single malt scotch in my hand.
Friday
It is a rare treat today as I am able to work from my home office. I only have a couple of conference calls and modern technology and Internet speed makes this so easy these days.
A day at home also gives me the ability to plan ahead, to look at what the team needs to focus on and to catch up on the backlog of work and emails. I then finish the week on a high, with confirmation of some fantastic artist collaboration opportunities that we have been exploring to drive even more engagement with our record label and Deezer fans.
Friday evening usually finishes with myself and my wife in our favourite local watering hole with great food, good local music and an easy walk home at the end of the night.
Lowdown
Age: 48 (no laughing please)
Favourite media: Music all the way, usually something by the likes of Above & Beyond. I would much rather have music on in the background than the TV.
Biggest inspiration: My mother. She is unique and set the agenda for my attitude to life, love and work...the more you put in, the more you get out.
Dream job: I would have to say a chief operating officer. I have a great passion for putting things right and making things work better and more efficiently in my life as well as in business. Combining that with my passion for music means I am in the right place now.
Not a lot of people know this: I love cooking and do most of it in our house.