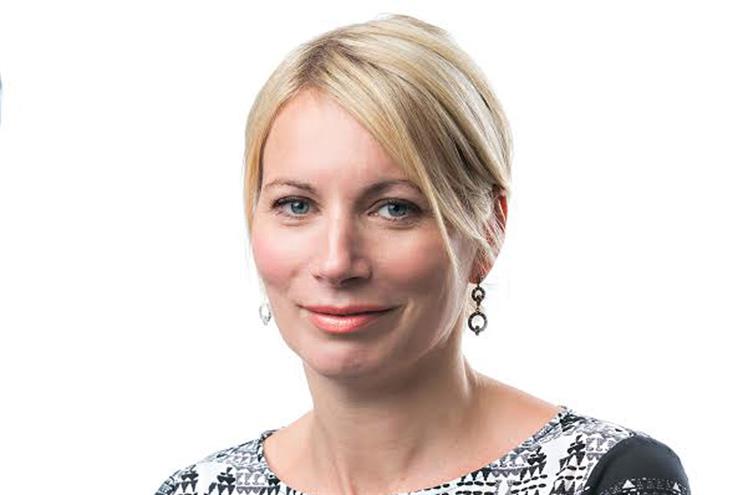 Monday
I'm not a morning person but am always (reluctantly) up and in the office fairly early to prepare for the day.
Following our recent move to new swanky offices in Farringdon, I'm adapting to life as a regular commuter. There's a direct train there from where I live in Wimbledon but they only go twice an hour, so I bid a hasty farewell to my husband Michael and two sons and race to make sure I catch the 7.30, arriving in the office just after 8am.
This morning I'm interviewing – one of my favourite parts of my job. Talent is the single most important part of our industry and at Starcom Mediavest Group (SMG) we ensure we have a regular pipeline of new and diverse people to meet.
Straight after, I have my regular catch up with the Starcom senior management team – a focused session to get set for the week, ensure everyone is on board with what's happening and aligned to our priorities.
The big focus this week is on 2016 strategy work across all clients and a European pitch for which the UK is a key market.
Our new client Lidl, which we won in August and took on officially from 1 September, takes up a fair bit of this morning's discussion. Not only do we have a new team on board working on this fast moving client, but in the world of supermarket retail, it's not long until people start thinking about the Christmas turkey.
Lunch is a Pret salad eaten in the pitch "war room" discussing the overarching strategy and approach for the pitch. Still lots to do this week but we're making good progress and the team is buzzing with smart ideas.
Pitching is tough but you have to love it, as I do. It's a fundamental part of agency life.
I end the day interviewing a really strong candidate and leave feeling inspired by the prospect of working with them, then hurry off to dinner with some good mates at Bob Bob Ricard in Golden Square – my first visit there and I can highly recommend it.
Tuesday
Every Tuesday starts with a power hour with the wider SMG leadership team. Steve Parker, my co-chief executive and I run the sessions. Talent, clients, new business and commercials are the key agenda items every week.
This week we have to add party planning to the list as we are organising a belated celebration of our Lidl win at the end of this month – estimating how much champagne (from Lidl of course) we'll drink is harder than you think (answer: a lot).
I join a client conference call which overruns so unfortunately I arrive a little late to a Channel 4 review session. Jonathan Allan, Ed Chalmers, Damon Lafford and their team give us an overview of their year and a look ahead to 2016, followed by an interesting discussion on our partnership as well as key ideas and client initiatives for 2016.
Lunch is that same Pret salad at my desk (note to self as I write this - remember, variety is the spice of life) followed by a quick blow dry at the hairdressers in preparation for tonight's WACL dinner.
In the afternoon I have some much needed time not in meetings but catching up on things and with some SMGers – we have a flexible desk policy to encourage collaboration across teams so I can move around the building with my laptop as needed.
And, so to the highlight of the week. A WACL dinner where Sir Ian McKellan (only bloody Gandalf) is our guest speaker. It's a complete sell out and great to see so many friends, clients and contacts there in anticipation of an incredible evening.
As you'd expect, Sir Ian doesn't disappoint. He is wise, funny and truly inspiring. He even makes his way round every single table for a chat. I'm vice president this year, the current WACL president is the brilliant Lindsey Clay. She's only gone and set the bar seriously high by securing Sir Ian as a speaker. Thanks Lins. No pressure then.
Wednesday
I join a breakfast session organised by our out of home partner, Posterscope, in a series of inspiring speakers they've called The Pioneers.
This morning's guest is Justine Roberts, the chief executive and founder of Mumsnet. She certainly meets the pioneering brief, sharing her vision for the phenomenon that is Mumsnet, and filling us in on the many twists and turns along the way. A great way to kick off the day.
Back at the agency I catch up with Steve and Liz Nottingham, our HR director on talent, diversity and L&D plans for 2016.
We're really proud of what we do in this space. It's the best place I've ever worked on that front – but we're always looking to build and improve on what we do, most importantly by listening to what the business wants.
I check in with the team ahead of an important client meeting on Friday then spend time on pitch work, as well as weighing up another new opportunity, which has just come in.
Next up it's a conference call with Samsung UK's chief marketing officer and head of media and then I'm collared by Rupert Smith, our communications director, who reminds me I'm on deadline to submit my profile for The Drum's Digerati 2015. He'll be chasing me for this diary submission before long.
I grab five minutes to call Steve Hatch, the managing director of Facebook UK to catch up on the Advertising Association's Media Business Course, of which we are co-chairs this year. The course is in its 52nd year.
It's an industry institution and a huge honour to be involved. We've got a brilliant and focused committee so it's no surprise we're now completely sold out. We're just putting the finishing touches to the speaker line up and client brief. It's set to be an awesome few days.
I head home to a much needed night with the family – my eldest son has been away on a school trip for a few days and it's lovely to have him home. Plus, much excitement as it's the first night of The Apprentice (although sadness too as it means Bake Off is finished).
Thursday
I have a long overdue catch up over breakfast at Soho House with the delightful Kevin Brown hearing about the exciting stuff he's up to since leaving Bartle Bogle Hegarty.
When I arrive at work I head straight to the fifth floor – a creative and collaborative space we have created, where our NextTECHnow team are holding a genuinely inspiring Tech@Turnmill event with several of our startup partners.
The prospect of another Pret salad for lunch is just too depressing so I drop an impromptu email to Camilla Harrison, chief executive of Anomaly to see if she's free for a cheeky lunch.
Having been here for almost a year, she's got the inside track on some of the cool places to eat in Farringdon – by some miracle she is free, so we do a power hour catching up over a delicious lunch in Granger & Co.
October is "programmatic month" here at SMG. Earlier in the year we brought all our programmatic skillset in house and so this event is another way to build more fluency in the business and demystify the notion that programmatic is a dark art.
Yes, it is complex, but no longer a small opportunity or adjunct component of "the buy", it needs to move upstream closer to the strategic planning process and therefore closer to clients.
So, I join a fascinating session led by Adam Hancox, our programmatic associate director.
In the evening, to celebrate our global partnership, the NBA and our SPORTS at SMG team throw a fantastic party on the fifth floor.
Friday
Today is a game of two halves. Most of the morning is spent in a working session with a key client with a few muffins for sustenance.
It's a long session going through the detail of this year's performance and our strategic recommendations. A productive and positive meeting. Happy clients are what it's all about.
After, I work with Jodie (Stranger) and Steve (Parker) on the content of our weekly staff email, "Turn it up at Turnmill." It's a really good way of highlighting all the news and work that is going on across the agency. We just manage to hit our self-imposed midday deadline and send the email out.
The rest of the day is spent in the war room with the full pitch team refining the content for our story. I make sure I'm home by 7pm for a Friday night family dinner. It's the boys' choice this week and they've opted for a new burger restaurant. As long as they've got a licence then it gets my vote.
The lowdown
Age: 47
Favourite media: In this job it changes all the time. But right now I'd have to say Channel 4's Gogglebox – just hilarious.
My biggest inspiration: For very different reasons, my mum and dad.
Dream job: The owner of Chelsea FC (and as rich as Roman Abramovich).
Not a lot of people know this about me: My surname is Czech. It means happy and lucky