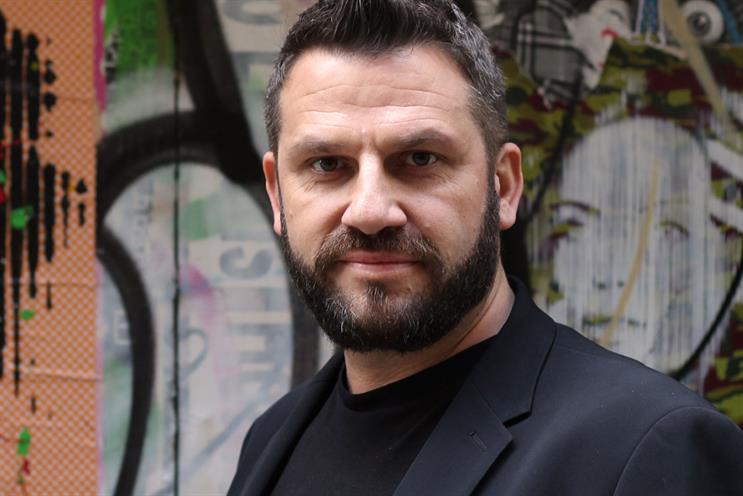 Monday
Right let's go. Mondays usually start with me waking around 6am. A quick glance through BBC news from my mobile while lying in bed, ending on the football gossip section to hopefully see more rumours about new players for Manchester United.
I get the tube to work (quick scan through the Metro) then most weeks I meet my business partner and managing partner Alan Fayolle at the Hoxton Hotel for some brekkie and to outline what we need to achieve that week.
In the agency for 9am. We're all sat together here open plan, so it's very easy to read the pulse of what's happening. Most weeks at this time we're buzzing and the teams are getting stuck in.
I re-read and critique a business proposal drawn up by one of our planners. In January the agency is moving to a bigger space in Old Street. As part of the move we are launching a co-working space alongside us, as an incubator for start-ups. It's called Betaspace and we are excited about opening our doors to entrepreneurs.
Tuesday
Today starts with a very young and impressionable member of my team asking me to "sit down". My five-year-old daughter Ava.
She recounts a story whereby teachers at her school have been told they aren't allowed to tie the children's shoe laces. So instead, Ava asked her grandad to teach her, so she could help all the children in her class tie their laces.
I ask her how many she has been doing. She gives a light shrug and mutters erm, probably 9-10 a day. I'm part super-proud dad, and part surprised by the school system.
Later we have a new business meeting that was probably our best of the year. Very exciting chemistry between us and the client. We discuss the need for innovation to be part of a brand's strategy, fast creative sprints and new ways for people to collaborate. Transformation briefs are ones that get the agency developing its best thinking.
Afterwards I jump on the tube across to Claridges for a Results International round table dinner with various other company founders and CEOs. We discuss common themes and share our experiences. We all discuss how important it is to put your people first. It's a war for talent at the moment.
When I eventually get home I review a Co-op campaign and design work for a meeting at 8am.
Wednesday
This morning begins with a 5am start. A run for 25 minutes followed by a selection of weights to get me feeling that I have done some exercise before another back-to-back day.
I have a call with two inspirational Co-op clients to discuss next steps for 2017. I must say I have never been more inspired by the company I keep at the moment. My teams and the Co-op team have the best intent and it's a very exciting time.
We have some amazing clients (Co-op, Google, Cheapflights, Wiley) and all their leadership are world class operatives.
America opens for business at 1pm so I have a quick call with a partner agency about a new joint proposition. A way for HR directors to train the whole organisation on how to be more innovative, something that we feel could help large businesses with their training.
Later on, it's a meeting at Google. We cover various products and services. We have learned so much from Google and the team. They have been so open and collaborative.
Their global people operations director Laszlo Bock has a great quote I often repeat, "If you give people freedom they will amaze you''. Afterwards I head to a parents evening to discuss Ava. I am told she is doing brilliantly which is great to hear.
When I get home its Google hangouts time with new managing director candidates for our New York office. I wince at some of the salary expectations and lack of interest for equity. The US is a great market so we need someone who is hungry to grow the business and who has the same ambition and values as us.
Thursday
Start the day with a meeting with my Manchester MD on pushing the Beta Labs proposition out of our Manchester office. There is a strong digital/innovation agenda happening north of Watford and we want to be a part of it.
Our Beta Labs proposition has three main areas. We help big businesses behave like start-ups, we build and develop tech campaigns and we manage innovation units for our client partners. This year our innovation lab for Absolut was named the top lab worth emulating in 2016 by Forbes. Which makes me very proud.
At lunch I call one of my dear friends to share a few work problems and get some objective opinion. It's great to have a strong network to call upon when you need it. We are all facing the same challenges so the time was never riper for our industry to "lean in".
I regularly chat with other CEOs and old bosses to make sure I'm making the right decisions, as well as sometimes doing exactly the opposite.
In the afternoon I review some TV scripts with our ECD Matt Saunby. He really can present. Saunby is brilliant at getting you excited about the work.
Friday
I wake up and reflect on the week. I do this every Friday morning as I have Gadsby's download at 10am with my business directors. Gadsby's download was created by my team to encourage me to share my weekly challenges with the intent of lightening my load.
There is nothing I value more than people who genuinely care about the role they play in our business. So unfortunately my week signs off with someone I hugely rate leaving us – one of our business directors that makes it look easy. She's personable, bright, funny, strong and truly awesome. The lovely Leila de Koster who is finally going home to New Zealand.
And so as it goes, we're off to take her to Hakkasan so, until the next time…
The Lowdown
Age: 43
Favourite media: Instagram
My biggest inspiration: My daughter Ava. She has empathy and intuition that can change the world
Dream job: Manchester United Manager
Not a lot of people know this about me... I have saved two people's lives. And been in a boyband.