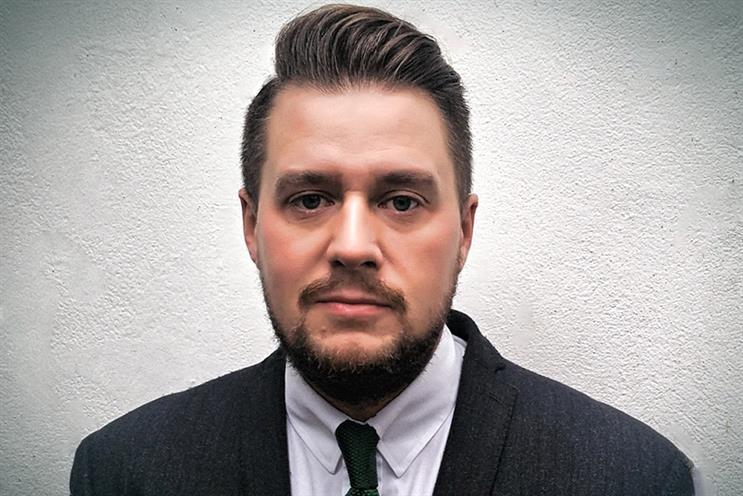 Monday
It's the first day after half-term so I am up early with my wife and two daughters. I'm on auto-pilot while they watch the cartoons and eat breakfast. My daughters, Mia and Valentina, always choose my socks, which are often some crazy colour – today they've gone with orange. The cartoons are actually useful: if I'm not out before Bob the Builder finishes, it means a quicker walk to the station.
The commute gives me a chance to listen to music and check social media. Twitter gets me in work mode, as I scan for market knowledge, better ways of leading my department and anything that might spark new ideas.
I've learnt that the right songs can make a big difference to my day: that last five minutes is like a ring walk. Today it's the NME 500 greatest songs playlist so I arrive listening to T Bone by The Rakes which has a great 90-second intro and I'm ready for the day ahead.
I have two big meetings today with our start the week in the morning and strategy session for 2016 in the afternoon, which I chair. We all leave with lots of actions, but also with a really strong idea of our goals.
Tuesday
6.30am and I already have an email from Lizzie Hempshall, my head of project management. Tonight we launch the campaign for the NME Awards 2016 with Austin, Texas where The Maccabees will play live. After Kasabian in 2015, it's the second year in a row we have a festival headliner playing to less than 400 people. It really highlights NME's ability to access musical talent for its partnership events.
I leave the office at 6pm to head to Chelsea on the tube. I meet Andy Minnis, my head of market, at the pub where we are greeting clients and he introduces me to Scott Mitchell, associate director from MediaCom. I then head over to greet our headline partner, Julie Chase, chief marketing officer of Austin Convention and Visitor's Bureau. The room is full of clients, agency partners and 100 fans waiting for the band.

I have three tequilas with Scott, who by this stage shows me his Chelsea tattoo, and I timidly admit I'm a Spurs fan. A few drinks later I convince a rabble of my staff to avoid fried chicken and take them to eat a posh kebab in South Ken. There's lots of laughs and it's one of those moments you realise there are far harder ways to make a living.
Wednesday
I wake up and I am struggling. I check my diary and I have a full back-to-back Wednesday. This is what happens when my life-saving PA Kelly Litten has been out of the office. My mood improves as the playlist delivers Everyday People by Sly & The Family Stone, followed by Notorious BIG so it's not long before I arrive at the Blue Fin Building. I'm straight into a FaR presentation about digital innovation. Henry Rowe from FaR does these every quarter and they are excellent.
Over lunch we have a presentation to update my whole department on Q3 and what's coming up. Robina Shahid, head of market, tells us about highlights across Horse & Hound, our cycling brands and Country Life. Digital is up 28 per cent year-on-year and there's a lot up for grabs in Q4. She ends with the best typo ever, turning £1 million into £100 million of new business secured. I'm glad the managing director isn't here to immediately put the number in next year's budget.
Jemma Rumsey, our head of sales training, tells us about the new Pathways training her team has created and will be delivering in 2016. This is a key part of our department culture and investment in staff development. We give out the quarterly awards for exceptional performance and all get back to the sales floor.
My day finishes with a look at technology that can automate some of our print trading, which we already have in equestrian and shooting markets but needs a better mobile booking process. I arrive home at 7pm and thankfully my wife, Tania, has taken pity on me and it's a takeaway and feet-up evening in front of the TV.
Thursday
I'm up early and on a train to the North East to meet clients at Barbour. I'm with Rosie Archer, the head of market for Country & Shooting, and we discuss Country Life's Gentleman's Life supplement out with the issue this week. It's a great example of a brand using its heritage and credibility to open up new content opportunities. It's a theme we discuss with Barbour and come up with some promising ideas for early 2016.
On the journey back, I conference into our weekly NME update meeting with chief executive Marcus Rich to cover off recent wins and plans for the 2016 awards campaign. From Country Life and Barbour to NME and beer sponsors for awards, I do love the very varied days in this role.
Friday
I have a spring in my step this morning as I'm handed my free NME at London Bridge. I people-watch for 20 minutes as it's really interesting to get a view of those new readers we are adding every second. People of all ages are taking copies and I can see that plenty of the older millennials in their late 20s and early 30s are re-engaging with the brand. This week's issue is a live music special so the team are out delivering copies to Live Nation and AEG in the West End, as well as to Adrian Francis and Jim Faint at Sold Out in Islington.
After a long week, I have organised a trip to our client, E.J. Churchill's shooting ground in High Wycombe. Marcus Rich, Sam Finlay, MD of advertising, and Oz Grady MD for our specialist brands, are hosting a day with a wide spread of our agencies and clients. Chris Dewbury, marketing manager at Hunter, and several others are pretty good shots. I bail out, probably for the best as I'm more of a novice. With my tweed on and green socks I'm probably a bit 'all the gear, no idea'.
Lowdown
Age: 34
Favourite media: Outside of Time Inc, Spotify, Twitter and Instagram. I love Sky Atlantic as well
My biggest inspiration: My family
Dream job: Owning a bar on the beach in Italy
Not a lot of people know this about me: There is a reason I never told anyone…..