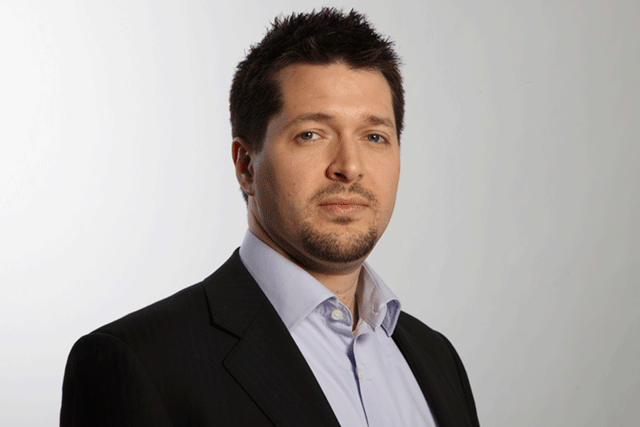 Monday
Switch off the 6.30am alarm and sneak a peek at my email, much to my wife's disdain. A worrying sign of our times that we check-in with our mobile devices before our loved ones.
Thanks to a mix of PC, iPad and iPhone (note to self – charge batteries), I use the commute into London to make a dent in the 2000+ emails accumulated in my inbox.
Spend the day at Wallacespace in Euston exploring new territories for UKTV marketing. The passion of 30 other colleagues sees us through a challenging but fun day. Less fun having to step out to deal with an ongoing contract negation, but no less productive.
I get unexpectedly nabbed for a creative presentation at the end of the day, but still make it home (Evening Standard devoured) in time to put my two sons to bed.
Tuesday
Make it into the office on time despite suspension of the Bakerloo line. Spend the commute reading the legal contract on my phone (forgot to charge those batteries).
Tuesday is mostly regular meetings, but the highlight is an unusual two hours spent with our network controller, and three of our digital gurus, drafting a new digital marcomms structure, intended to set us up for long term success in this area.
We all agree that "digital" is not a holy "other", rather a medium, or technical capability that we simply need to integrate into everything we do. Some 27 incremental heads later this is easier said than done.
The "Plan B" session is next week. Leave for home, avoid the Bakerloo line, but get stuck on the train outside Wimbledon, thanks to a "faulty rail".
I miss the kids' bedtime, but do get to polish off the back issues of Campaign, Marketing, and Broadcast in my bag. Every cloud…
Wednesday
The contract strikes again. I surrender my youngest's sports day to meet face to face with the other side.
We're in violent agreement but English doesn't translate well into legalese. Some four hours later, I emerge to find a plate of jam sandwiches and iced biscuits, saved for me by the rest of the team following a leaving tea for a much loved member of my department, which I have now missed.
After a mad dash to Wasabi (the sandwiches had curled), it's onto the afternoon's challenge - standardising job descriptions across the department, whilst putting clear air between levels, creating a career path for all, and doing the right thing by everyone.
My director of network marketing and I do not treat it lightly.
My evening is spent with an old friend and chief executive of a media company. He knows me well, has also walked the corridors of both FMCG and media, and has clearly been more successful than me - making him an invaluable sounding board.
We chew the fat over dinner at Cay Tre and a night cap at Milk & Honey, and I get home at silly o'clock.
Thursday
The company away day and summer party. Wish I'd got an earlier night.
I leave for St Paul's, armed only with my iPhone. Feeling naked without the usual paperwork and PC, it gives me an excuse to read the Metro for once. I still prefer the Evening Standard.
The day kicks off in Plaisterers' Hall with a speech from our chief executive, before moving on to the executive board "Question Time" with Krishnan Guru-Murthy.
He's a lovely man, but he's not letting us off lightly. The killer question? "UKTV Digital Strategy in less than 25 words".
The supposed holy "other" rears its head again, and Krishnan goes in for the kill.
The day progresses with some highly entertaining, departmental dramatisations of their "moments of pride", and a truly inspirational lecture by two-times Olympic Gold medallist, Steve Williams.
We wrap up with a Ceilidh, sweaty for all, and temporarily debilitating for many.
Friday
Working from home. The opportunistic product of an uncharacteristically clear diary, rather than foresight but thank goodness.
Not the hint of a hangover, but I am mercilessly woken by the boys at 6.30am. They're thrilled that I can take them to school, especially as it's their last ever day of infant school and pre-school respectively.
The rest of the day is spent with that contract, with email thrown in for light relief. My mum arrives for the weekend, a bonus for the boys, who hate me working at home.
I wrap things up at 6pm to play with the kids, and introduce mum to the phenomenon that is 'Dynamo' (thanks Sky+). I couldn't follow on Zeebox this week, but Thursday's episode drew one million viewers, and Twitter is still alight with comments.
Goodbye week, hello weekend. It's been a good week at UKTV.