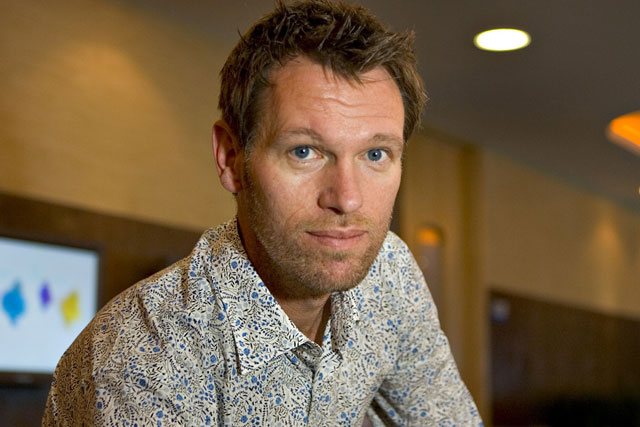 Monday
It's all systems go this morning after what was a rather blurry end to last week. Last Thursday we were at the Media Week Awards (and so on Friday most of the office were sporting rather epic hangovers).
We hosted clients from Blackjack, Your M&S for Business, Bauer, Marketing Society, Draft FCB, CBS, Nestlé, Weetabix and Multiply, and were the proud sponsors of the award for innovation, which was won by Vizeum.
Pick up on a conversation with one-half of last week's Grand Prix winners, Simon Wells at Drum, about a potential talent-led project that could tie in brilliantly with our celebrity agent partners at John Noel, before planning for meetings next week with The Guardian, among others.
Next up, a conversation with a major newspaper group about developing an integrated partnership with Getmemedia.com, including the hosting of the next stage of our GMM Insight programme with Sainsbury's. GMM Insight is a bespoke training programme providing media and marketing knowledge to brand managers, agencies and media owners.
After a tour for new potential office space (we've outgrown our current offices), I meet for lunch with Pete Davis, founder of Getmemedia.com, to review a shortlist of candidates for the new agency account director role as we continue to expand the business.
This new role will manage our existing agency relationships, as well as develop new ones and manage the Getmemedia.com briefing service.
Then next up is a meeting with our website designers to discuss how our new-look website, launched in July, is shaping up. I also agree to sign off for our new e-bulletin, part of our outbound marketing strategy to our client database of 15,000 brand managers and agency planners.
To round off the day, I hear some good news about a great mate's well-deserved promotion at Trinity Mirror – a talented and funny guy who attempted an ambush call to my mobile just as presenting the Innovation Media Week award on stage last week. Fortunately thwarted as phone was on silent – nice try David.
Tuesday
First on this morning's agenda is a meeting with the Bauer Group, which hosts many of its opportunities for brands through Getmemedia.com. We're showing them some of the new content we're adding to our website, designed to help drive even greater interaction with the brands that visit us.
Next up is a conference call with our PR agency to review recent press coverage surrounding last week's event we facilitated with Amscreen and DraftFCB. The event promised much and delivered even more.
Expertly hosted by DraftFCB, a fantastic turn out from advertisers, engaging content from Martin Talks (DraftFCB) and Jamie Lindsay (Amscreen), and a stunning star turn from Lord Alan Sugar ensured that everyone went away knowing it was time well spent, many things learnt and even more to tell people about.
Lord Sugar is, I have to say, as formidable in the flesh as he is on TV, but his opinions on the future of the TV industry were fascinating. You'll be able to read a roundup of the event on the Getmemedia.com blog shortly, just as soon as I find a second to pen something!
I round the day off with a meeting with Haymarket Group to give them a brief introduction to our 2013 trade marketing plan, then squeeze in a renewal meeting with Brand Connections Global.
Wednesday
Today starts with a brief catch-up with Getmemedia.com's insight director before our review meeting with the PPA, our current insight sponsor for magazines on the site.
Lunch is with Steve Cox from JC Decaux Airport to talk about new business opportunities and old acquaintances from back in the days of Anglia TV. It was many moons ago, but the memories are as fond as ever.
Dash off to a meeting with Sky Media after lunch, to review any new advertising and sponsorship opportunities they can add to the website and discuss the ISBA event we are co-ordinating and they are hosting on 7 November.
Next stop is Kingly Street for a meeting at BBH with Kevin Brown, the arch proponent of a "top skills" philosophy. A jubilant air hangs in Kingly Street following their deserved success at last week's Campaign Big Awards and we lay down odds on Adrian (you know who you are) sorting out a much-promised dinner.
Thursday
Arrive to hectic scenes at GMM offices due to three different client briefs closing today, with all the media-owner responses being coordinated by the team across a range of opportunities direct from a major supermarket, a new children's toy (that has to be seen to be believed), and for a lifestyle client looking for bespoke ideas across one of their major ranges in 2013.
It's then off to leafy Kew for a renewal meeting with Hot Cow experiential agency. You've got to love the creativity the experiential guys show to briefs, really great stuff.
Jump back on the Tube and bump into another good mate, Jason Trout, chief executive at Columbus Travel Media, heading to a meeting in Charlotte Street. We catch up on the news of our "mum" happily remarrying (we both worked for Heather Hughes at STV, who recently wed Matt Shreeve trading director at News International).
Next stop is the refurbished office at ITV Towers in Grays Inn Road. After battling through the usual cavalcade of news readers outside the building, meet with cheeky Scouser Mark Trinder to discuss new opportunities across the Getmemedia.com portfolio and the date of the annual Xmas 'Liverpool' lunch with the usual media rabble. It's a real institution that dates back to the Champions League final in Athens [2007].
Friday
Meet with the Guardian Brand Partnership team to discuss new content for the site and also how the briefing service can best work for them. Mia and the team have some great ideas so watch this space.
It's then back to Getmemedia HQ and a chance to look forward to next week and plan around various client meetings with Disney, Cheil and Harrods among others, before clambering on a train back to the Buckinghamshire countryside and a weekend with the family, beginning with a cinema trip to see James Bond finally back in action in 'Skyfall'.