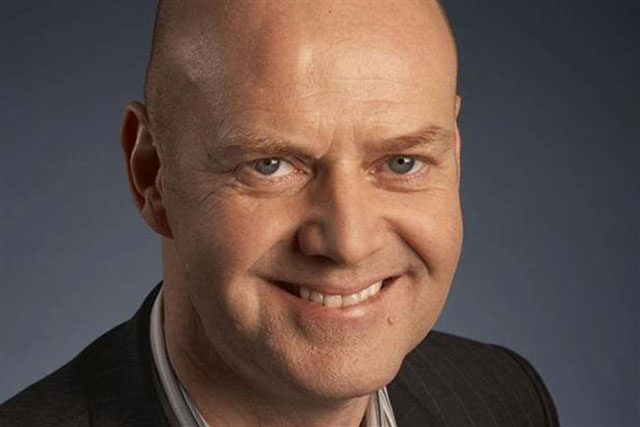 Monday
At 06.20am my alarm goes off and I jump out of bed full of the joys of spring, ready for the challenges of the week ahead. Turns out that was a dream – it did feel too good to be true. In reality, I wake up at 06.25am, rubbing the sleep and lingering hangover from my eyes. I spent the weekend with a few media chums in warmer climes and it was a bit of a heavy one.
Mondays tend to be in the office, this is the beginning of week eight at Channel 5 for me and I'm quickly learning that it isn't like anywhere else I've worked before. It's a really entrepreneurial business where innovation and risk-taking are encouraged.
After my large black coffee, I head straight into the directors' meeting, chaired by commercial sales director Nick Bampton.
It's a good meeting: Channel 5 is going great guns, and we've just got the consolidated figures through for our latest series of 'Celebrity Big Brother'. It's the best-ever 'Celebrity Big Brother' on the channel, with 21.1 million viewers across the series and an average episodic audience of 3.13 million, which means viewership is up 5% year on year. With our viewing share so high, we are currently experiencing huge price deflation making us an advertisers' dream.
Following the directors' meeting, I have my own sit-down with Howard Norton and Luke Duffy, the heads of trading. We talk about agency negotiations and the partnerships we have in the pipeline. There's a full schedule of agency and client direct meetings in the week ahead, so we need to prioritise.
I work on a presentation to a client about our digital offer. Our VoD player Demand 5 is available on 22 different platforms, only bested by the BBC iPlayer, and I was surprised to learn that we were the first TV station in the world to embed our VoD player on Facebook.
I finish the day with a visit to Zenith and a meeting with Chris Hayward to discuss his new role. At the end of a long day of meetings it's back home for a well-deserved early night.
Tuesday
The day kicks off with a revenue meeting with our business managers, where we discuss forecasts and targets for the next three months.
Being owned by Viacom has opened up a host of fantastic commercial opportunities and we've already started tying things up on the content side of the business, a director's cut of Channel 5's new series '10,000 BC' is being aired on MTV.
Deputy commercial sales director Ross Belcher and myself prepare for a meeting with Mark Collins, who runs broadcast trading at Group M. It's fascinating how broadcast trading is evolving and the potential for partnerships. Channel 5 is a pioneer of new ways of working.
Wednesday
Start the day bright and early meeting Jon Horrocks at Walker Media to discuss their recent new business wins.
Kirsty Baker, our head of sponsorship, talks to me about the initial results that are coming in from the partnership we had with Gumtree during 'Celebrity Big Brother' and it's looking good.
The partnership allowed Gumtree users to put forward pieces of furniture to feature in the show, select numbers of which were bought by the 'Celebrity Big Brother' design team and placed in the house. Now the show is over, furniture from the house is being sold on Gumtree to those who want to own a bit of 'Celebrity Big Brother'. The demand has been massive and a side effect has been that there is a pile of cushions next to my desk waiting to be sent off to their new owners.
This is all good to know as I'm seeing the7Stars this afternoon to take a brief.
Thursday
The day kicks off with a breakfast meeting with the independent agency Concord Media and a client. I try to stick to fruit in the hope it will perk me up and in the knowledge of upcoming long lunch meeting.
It's a great breakfast, the client is keen to try something new and is pleased to see how flexible Channel 5 is, and we kick around a few ideas and come away with a draft proposal. I have good feelings about this.
And then to lunch with M2M. Lunch consists of a mix of media gossip and football gossip, I'm relentlessly quizzed about Channel 5's reported win of the Football League rights and whether the highlights will really be on at 9pm on Saturday. I can't confirm or deny anything at this point and I feel a bit like a manager on transfer deadline day dodging reporters' questions!
I work on an upcoming deal with Ago Di Falco – our other deputy commercial sales director – where we will provide free ad space for a successful British entrepreneur. The deal came at a fortuitous time as we are finalising our plans for an ongoing initiative cultivate new business. It's a great concept supporting embryonic British businesses that feeds into Channel 5's entrepreneurial culture and we're looking forward to kicking it off later in the year.
Friday
I'm on a course today. It's strange being away from the hustle and bustle of the office and media land. I realise that I need to do this a lot more – you are never too old to learn. In fact every day at Channel 5 so far has been a brilliant learning experience.
I'm checking my emails as I come out of the course and I see that our audience share in January has gone up to almost 5%. It's our best month in six years and the trend is continuing into February.
Lowdown
Age
: mental – 28 physical – 51
Favourite media:
TV, of course
Biggest inspirations:
John Maynard Keynes and my Dad
Dream job:
I've just landed it
One thing not a lot of people know about me...
when I had hair, it was ginger