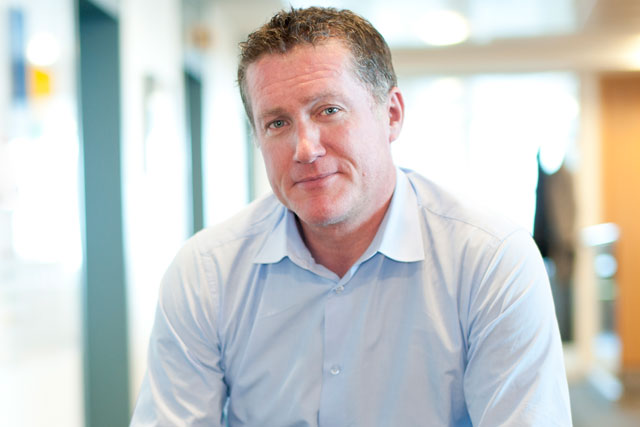 Monday
My morning alarm routine varies. Depending on how long my wife, Sarah (nee Perry), has been able to keep our nine-month old-son Charlie under restraint.
I am awoken between 6.45am and 7am by him clambering all over me, pulling my hair and/or clouting me in the face. This is an effective and (once the initial shock has subsided) generally amusing start to the day.
Downstairs for a quick glass of apple juice while watching Charlie cover his head in porridge as he and I watch Sky Sports News on the iPad. If you haven't got Sky Go I highly recommend it.

I download The Sun (best football transfer speculation bar none), Metro and refresh the excellent new Mail Online app so that I have enough entertaining reading material for my relatively short commute.
Thanks to Walker's excellent 'Get Ahead of the Games!' campaign I now have two commuting options to choose from.
The original starts with a 10-minute walk to Clapham Junction followed by the Overground and Underground. Or (thanks to Walker) I could take a nearly 20-minute walk to Clapham South for a purely Underground experience.
They both take about 40 minutes, door to door, but since the Olympics, the 10-minute walk generally wins.
The weekly Monday morning meeting establishes what we've done, what we're doing and what we need to do for that week (and beyond) and is always a positively charged inclusive exchange.
As well as sales it includes our client services team, headed by the excellent Tristan Summerscale, in order that the right and left hands know what the other is doing.
After this meeting I attempt to coordinate diaries with Sultan Khan, our chief executive and one of the architects of the AdMaxim platform, in order that we can get out to see our key agencies and clients to present and demonstrate our proposition.
Tuesday
I leave the house around 8am looking like I've been attacked by a feral cat as Charlie's nails need cutting.

This morning includes a two-hour session led by Sultan titled "Knowledge Transfer", in which he attempts to impart his more technological expertise and wisdom to the entire sales and client services teams. Despite our caveman-like "man make fire" expressions, a lot of it goes in.
Late that afternoon I make my way over to Sony Music in Derry St, Kensington (which inspires all manner of flashbacks to my many happy years at Associated) to see the bright, witty and annoyingly handsome Seb Weller (digital strategy and marketing director) and discuss the excellent results of our Chris Brown campaign. He was very pleased.
Wednesday
Charlie, shorn of fingernails, resorts to waking me by demonstrating his impressive drumming skills on my eyelids before jumping up and down on my chest to the tune of the Disney Channel's 'Jungle Junction'.
I get into the office at about 9am, field a few emails and head off to see the erudite Grant Millar who is tanned and relaxed after his holiday.
Lunch today is with Walker's managing director Simon Davis who is on the very best of form. We cover mobile, digital generally, outdoor and print in two short hours while still managing to shoo in some very amusing media tittle tattle.
The evening is spent at Stamford Bridge as Chelsea host Reading. I get a last minute invite from the positive force of nature that is Sky's Graham Appleby to join him in their box from where, along with the very excitable and passionate Chelsea fan, (Arena Media chief operating officer) Pippa Glucklich, we watch the Blues cruise (eventually) to a 4-2 victory.
Thursday
Charlie sits on my head and Thursday is here.
A mainly office-based day follows, during which I chase a multitude of people to get more meetings in over the coming weeks.
I have a newfound respect for every PA I've ever had. Until I joined AdMaxim and have been doing it myself, I had no idea how hard managing my diary/work-life is and how much goes into making sure I'm out as much as possible seeing all the right people. PA/EAs I salute you!
The evening entails a few "gentle beers" with the enigmatic Mark Middlemas of UM. We meet, perhaps unsurprisingly, at The Marquis of Granby at the bottom of Charlotte St and four hours later we're still there having been joined by the Standard's Matt Batchelor.
Home and in bed by 11.30pm seems a reasonable result.
Friday
A colossal head butt to the bridge of the nose is not necessarily the best way to be woken up – but it does the job.
Today is my last day in the office before a much looked forward to holiday. Sarah has outdone herself securing a two bedroom villa with its own pool (and staff!) for a very reasonable price (she assures me).
I spend most of the day setting things up for while I'm away and equally importantly, for when I return, so there is a lot of diary management, appointment making and general admin.
Anyone who knows me will know this is not the kind of day I relish but it has to be done.

I head home relatively on time realising that I still haven't packed.