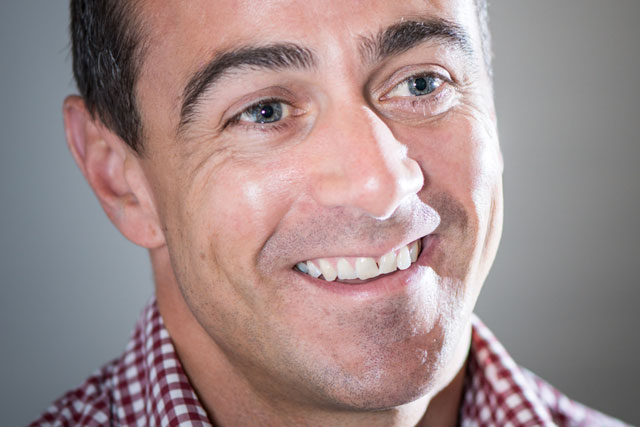 Monday
I know it's generally accepted that the world of media has moved on from the days of long lunches and media jollies, but a Monday spent in wellies, head-to-toe in mud seems like a little too far removed from those media glory days and can only mean one thing.
Yes, it's bank holiday Monday. So whilst I'd love to start the diary with a more glamorous anecdote, it's instead a day spent filling a skip with what looks suspiciously like the work of some previous dodgy builders, who seem to have hidden the remains of an entire house under my garden. Rather than help me out, my three otherwise lovely kids decide to stay in the house and occasionally point and laugh.
Tuesday
The week ahead is going to be a familiar blend of new starters, internal product sessions and meetings with media agencies. Rockabox is growing quickly in terms of reputation, product and number of employees and having moved into some great new offices in Victoria only a few weeks ago, it is a really exciting time to be part of the team.
Our rescheduled Monday 8.30am management meeting brings together an impressive and diverse team including founders James Booth – the godfather of rich media technology – and Torie Chilcott – TV and content guru and recently Woman of the Year at the everywoman in Technology Awards.
Also present is our scarily good chief creative officer Seb Royce, formerly executive creative director at Glue. Highlights of the meeting include an update on a hugely exciting content production and distribution partnership with a major fashion brand that will allow us to showcase our unique range of content production and distribution services.
First priority of the day is to spend a couple of hours with our new senior product manager Anna Hamzah, who is helping us further accelerate our product development and output.
Next up is some more time with our new sales director Ben Barker. Ben joined us last week from Absolute and brings with him some great experience and relationships from his time on both the agency and media-owner side.
Finally, I manage to grab some time with Dan Sleath who is two weeks into his time at Rockabox so has now successfully ditched his 'new boy' status'. Dan and I discuss current and pending content partnerships with media agencies. It's an area that continues to grow quickly as increasing numbers of agencies look towards more engaging and content-led campaigns.
Wednesday
It's an early start as my alarm goes off at 5.30am and after resisting the temptation to squeeze in some much-needed sleep, I slip into cycling Lycra and head into the garage for an hour of turbo training pain. Yes, I am one of many sad old media men who have replaced the traditional mid-life crisis of a sports car with a marginally cheaper cycling obsession and its associated paraphernalia.
This morning's session has a slightly different objective as I'm currently training for a 100-mile cycle challenge in August. I'll also be riding alongside a group from Rockabox who are raising money for The Stroke Association, so I'll be in good company.
Today kicks off with an internal meeting to plan the launch of a wave of exciting new creative formats. It's always fantastic to see what our exceptionally talented creative team has come up with and they certainly don't disappoint with some lovely new HTLM5 multi-device opportunities for brands.
Wednesday evening I leave promptly to pick my eldest son up from a trial for a new football team. He's had to endure a season of me managing his football team, but with my under-seven management responsibilities taking over next season, I have nobly quit this role (I jumped before being pushed if truth be told).
Thursday
I start the day by firing off a few shameless requests for Cannes party invites to make sure I don't miss out on any of the fun (sorry, I mean key networking opportunities) in a few weeks' time.
Thursday afternoon is a pre-client meeting preparation session with Pete Robins and his team at Agenda21. You cannot help but be impressed by Pete's boundless energy and desire to do great quality work.
I stroll across Oxford St (anything to avoid the Tube) for one final agency meeting at Starcom, before heading back to Victoria to squeeze in a couple of interviews with potential sales candidates.
Friday
More early morning cycling training – I really need to sleep more, which is confirmed this week by two unconnected incidents where I've been told I look really tired. Always delightful to hear.
Friday morning is usually made up of a series of individual meetings with my team. These include developments on the weekly sales numbers, an update on the publisher-facing side of the business, technology progress and product roadmap updates.
Friday lunchtime I have the pleasure of lunch with one of my long-time media friends Patrick Affleck – global head of innovation at Vizeum. It's really interesting to hear about some of the exciting projects that they are working on and we talk about joint content opportunities, before inevitably drifting into some reminiscing.
Fridays at Rockabox usually finish with some late afternoon office beers to help everyone wind down after another busy week and one final meeting for me, a progress update with our founder and CEO James Booth.

Age: 41 (although it's getting harder to be certain)
Favourite media: Strava, Twitter, The Guardian
My biggest inspiration: Carolyn McCall was incredibly impressive when I was at The Guardian
Dream job: Head of Team Sky Cycling (or any role that doesn't involve mending punctures)
Not a lot of people know this about me... I once DJ'd at Brad Pitt's party, but he kicked me off the decks because I refused to play reggae.