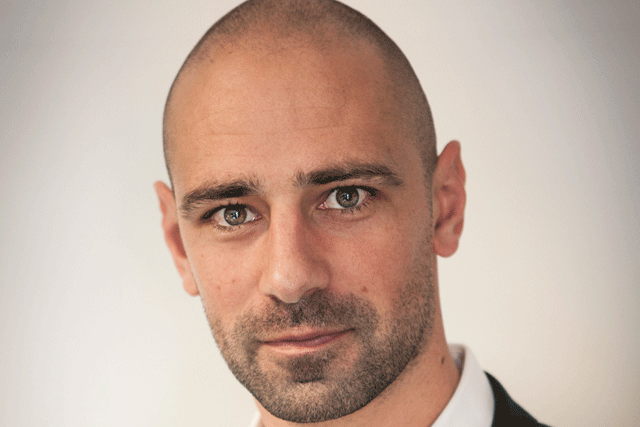 Monday
The week I've been asked to write this column I am already three weeks into abstaining from alcohol. I'm feeling great. Really great, actually. I work in media, so I like to drink. I'm pretty good at it, too. However, when I don't drink I seem to get better at other things instead. Like work.
If I can get to Sunday without a drop, it'll be four weeks, and I'll be really pleased with myself. There is one entry in my diary on Thursday where I can forsee a slight issue with this, though – the Media Week awards.
The alarm goes off at 6.22am (22 is my lucky number). I'm up and at the gym at 6.45am. I live in Clapham, and that's where our offices are, so I haven't known a morning commute for 10 years.
I bump into one of our sales directors, Mike Berrett, at the gym. He's already travelled in from Essex and been hitting the treadmill for the past hour.
He doesn't ever sleep. I tell him I've been working on "important documents" at home since 5am and am now going to smash out a huge weights session. I think he buys it. I go and stretch a bit upstairs, then decide to get some scrambled eggs and toast.
The week ahead is all about forward planning. Our commercial director Mike Gluckman has lined up a series of sessions with different groups from the office all about our digital products, which are all undergoing a new round of development.
The most exciting of the meetings for me is on our newest brand, Festival Baby. I love festivals, so a site which contains information, videos and news on all the best music festivals around the world is always going to be fun to brainstorm. A nice way to start the week.
Tuesday
6.22am. Feeling really good again this morning. Not drinking is bloody awesome. I'm starting to feel very righteous.
Finance management meeting chaired by our FD Steve Cole to start the day off. The focus is on Foodism – we launched it as a digital food brand for Londoners at the start of the year and we now have a website and a newsletter subscriber database of over 70,000.
Sales director Alex Watson joins the meeting to discuss the next evolution of the brand. On 1 December we are launching in print - in a big way. The new magazine will be distributed primarily in Zones 1 & 2 with a circulation of more than 100,000.
The day ends well. We were in to present to Manning Gottlieb OMD last week and they have just called in to book Starbucks into the launch issue. It's crucial to get big name brands working with Foodism from the get-go.
Wednesday
6.22am. Alarm goes off while I'm on the way to the gym – ha, beat you! Why would anyone drink?
Lunch is at Bodega Negra with Des Gunewardena, owner of the impressive restaurant business D&D London.
I''s the first time we've met – and won't be the last. He's a top bloke and we spend most of the lunch talking about life rather than business. The way it should be. Hopefully we can help all his restaurants through our media over the coming years.
Next meeting is with the marketing team from Gap. They have some exciting plans for the next six months and we talk about potential collaborations with Square Mile and a couple of our other brands. I finish the day back in the office planning for tomorrow's quarterly meeting.
Thursday
6.22am. I might carry this on for another month. I feel even better than when I do this in January.
At our quarterly meeting this morning, I have lots of good things to say. We are 36% up on last year. We have new launches to discuss, and we've recruited some great new talent into the business.
Long may it continue. The office is busy today. The latest issue of Square Mile comes back from the printers – Clive Owen is on the front cover, and it looks the nuts. It's also the first issue that we've hit a 60,000 print run.
I see emails between the Hugo Boss crew – Alistair McCallum and Liane Corbett – and the team. They are sorting final details for the event we are hosting together tonight with our readers from Hedge magazine. Sadly it clashes with the MW awards, so I can't attend.
Before leaving the office I take a call from Stephen Noble at Mindshare. As well as talking about specific clients and future plans, we discuss having a few beers. I don't drink, so it won't be for a while.
Friday
6.22am. That's strange. Why is my alarm clock going off in this black taxi? Odd. Never mind – I feel great. Can't believe people who don't drink. Do they never have any fun? I'm going to smash it at work tomorrow. Today. Whatever.
8.22am. I feel like shit. What has happened? I'll work from home this morning while I figure it out.
I was a judge this year for the Media Week Awards, so it was only right that I had one or two drinks to celebrate the achievements of our industry last night. I was sitting on a table with Jon O'Donnell from The Standard and Eric Newnham of Talon Outdoor.
I saw loads of the OMD crew – Tara Mendelsohn was on great form, giving me stick about an upcoming presentation we are due to give to her team in a week or so.
I remember having a good chat at approximately 2am with Arif Durrani, the editor of Media Week. Is there a nicer guy in media? Even if I thought so, I can't really say any different here.
The PHD guys cleared up on the night with the Lego campaign – and deservedly so. But in all honestly, what a fantastic night it was – well worth falling off the wagon for.
For the rest of the day on Friday I did some stuff. I'm sure that most of it was really important and well executed.
I ended the day by going to the pub. Thanks for getting me back to normal, Media Week. I'd become a boring bastard, anyway.
Age: 33
Favourite media: Annie Mac's Radio One show, the sports section of the BBC website, the travel supplements from the Sunday papers.
My biggest inspiration: My old man. He taught me and brother how to be good blokes.
Dream job: Something whereby I get to work with David Attenborough and knock around with penguins.
Not a lot of people know this about me...* Aged 10, I became the youngest person to walk from John o' Groats to Land's End (*That's a lie – I tell anyone who'll listen...).