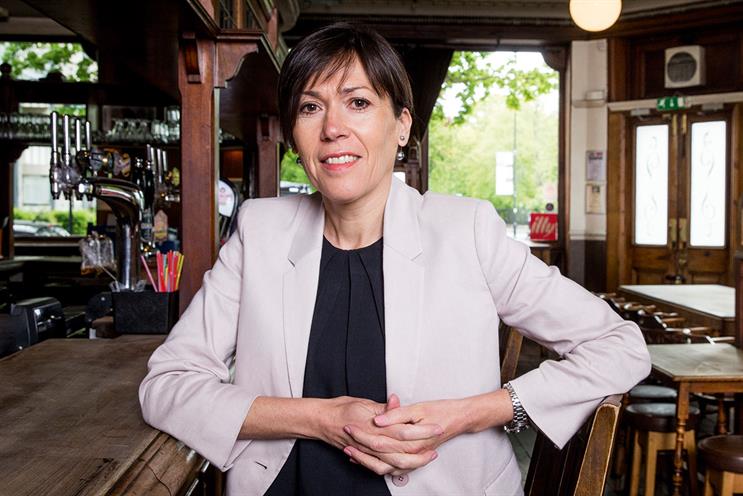 I have the best job in the world. I get to be creative, help businesses grow, look for new business and work with a very talented and diverse group of people. However, like many chief executives, the competing demands of our role can often take us away from what's important. This year, I made a commitment to focus my time and energy on things that matter most – our clients, our people, our culture – as we accelerate into the digital economy. There are weeks when I strike a better balance than others.
Monday
Having worked client-side a long time ago, I enjoy spending time with clients and I start the week meeting Shop Direct chief executive Alex Baldock at KPMG's club, Number Twenty, in Mayfair. Alex is an inspirational leader with a real understanding of his customers and a digital-first approach to business and marketing. Shop Direct is a great success story, having achieved four consecutive years of record sales and profit, and we have recently created a unique partnership called PACE. It's a new integrated team with a shared vision and values, and brings together the best of our media, programmatic, content, mobile and insight capabilities in dedicated spaces at Shop Direct's Liverpool headquarters and Dentsu Aegis Network's Triton Street home in London.
In the afternoon, I see Matthew Hook, our chief strategy officer, back in the office to review our approach and strategy for an upcoming pitch. I always enjoy the buzz of pitching as it focuses our ability to think differently and use the breadth and depth of our capabilities in new and innovative ways.
Tuesday
It's off to meet MyKindaFuture at the South Bank Technopark with members of our communications and HR teams for an update on The Code, a schools programme that we launched in February. Created by us and delivered by our teams, The Code encourages creativity, opportunity, diversity and empowerment among young people. About 65% of the jobs our children will do in the future have not yet been created. We have a vested interest in helping to shape a more diverse and digitally savvy talent pipeline, and our people are keen to play their part. In the first month since launch, 450 of our staff have signed up to deliver the programme and we have already gone into more than 40 schools, reaching 1,500 students. We are also considering how to encourage more organisations to get involved and make a bigger impact that helps inspire and educate our future talent.
Wednesday
A little-known fact: we now have more than 400 people working in creative businesses across Dentsu Aegis Network UK. Jason Gonsalves, our newish chief executive of Mcgarrybowen, is looking at how we can grow and better connect all of these skills to create something even more meaningful for our clients. Brands are operating in a faster, more connected ecosystem and creativity needs to adapt to that. Having worked in the media world too, Jason understands this.
I enjoy the conversations we have; Jason feeds my inner creative. Over breakfast, our conversation spans brands needing style, Charles Bukowski's poetry and Zaha Hadid's approach to architecture. Oh, and the need to be more punk. We share the same view on creativity: the need to democratise it and how everyone has a role to play. Jason says we need to be "fruit salad, not smoothie". We all contribute in our own unique way and creativity is the coming together of emotion and algorithm to create something beautiful.
Continuing my creative quest, I spend the evening at the theatre, catching Tom Hollander in the revival of Tom Stoppard's Travesties.

Hadid's Dongdaemun Design Plaza
Thursday
We see the acquisition of businesses with digital at their hearts – bringing new or complementary capabilities to our network and clients – as being a key accelerator of growth. I sit down with my mergers and acquisitions team in the morning to review our pipeline of potential businesses to bring into our ever-growing family. As well as adding new capabilities to our network, new additions can help transform our existing agencies. Three acquisitions we've made in the past three years – Fetch, John Brown Media and Merkle – are starting to transform the way we think about media. They have helped us to be even more focused on real people and, with some of the challenges our industry is grappling with, surely that can only be a good thing.
In the afternoon, I spend time reviewing the feedback from our quarterly leadership meeting. Every three months, the leaders from all of our UK and Ireland agencies, capabilities and functions come together to discuss the future and our client priorities, and share work that we are proud of. An important part of these meetings is to step outside of the day-to-day and spend time in a new location that inspires fresh thinking. Our latest meeting is at The Bike Shed, a motorcycle club in Shoreditch.
We all come from different worlds and bring different perspectives, but we are all aligned behind the same values and vision: innovating the way brands are built.
Friday
Whenever possible, I try to work somewhere different on a Friday. Today, I base myself at 360i's new offices in The Heal's Building. A simple change in environment can give a new perspective and help you think differently, which is why we're supporting more of our 4,500 people to work in a more agile way. The Motivii app helps our people review the week that was and prioritise the one ahead in a quick and easy way. It also means we can stay connected with our teams without the need to be always present in the office.
I also use Fridays as a chance to check in with colleagues and friends from around the industry. Today, I have the pleasure of catching up with Ali Hanan from Creative Equals during lunch in Soho. Ali has been one of the leading voices on gender equality in the creative industry. She sat on my creative renaissance panel at Advertising Week Europe and I enjoyed delivering a talk on bravery at her latest Creative Equals forum #CEFutureLeaders. We talk about gender stereotyping in advertising and more exciting opportunities to work together to drive positive change.
Weekend
This weekend, I am swapping pitches for pitchers… of beer, that is. My husband and I co-own The Prince Regent, a great little boozer in Herne Hill, and we're popping down to help build the profit with a pint or two!
Tracy De Groose is the UK and Ireland chief executive of Dentsu Aegis Network