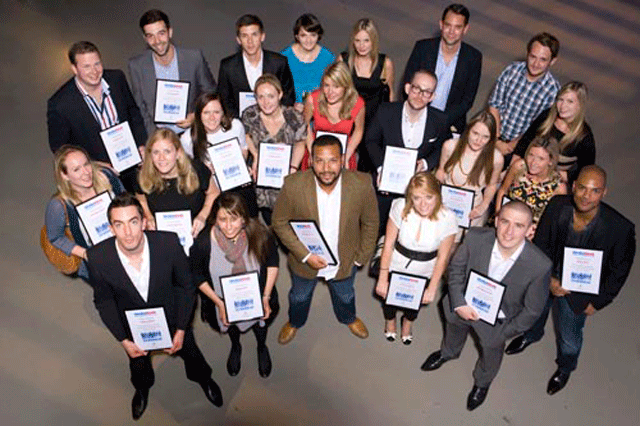 After receiving more than 100 nominations for this year's 30 Under 30 list the Media Week editorial team has compiled the 30 media professionals who best matched the criteria asked for.
The list is a good representation of media agencies and owners with a sprinkling of clients and provides an insight into the future of the industry with many of the nominations exceeding what was expected of them for their age, while also demonstrating great entrepreneurial spirit.
The 30 who have made the list were chosen after demonstrating that they best met the following criteria:
Greatest achievement in the media arena
An example of problem solving for one of their clients
What they hope to achieve in their jobs by the end of the year
What contribution they have made to the media industry
The talented 30 for 2011 are:
John Barton, co-founder and managing partner, Testify
Jennifer Burnage, media manager, PHD
Elizabeth Candler, research manager, Initiative
Rebecca Carverhill, advertising director, Fitzgerald Shurey Tarbuck
James Connolly, managing director, Fetch Media
Alistair Crane, CEO, Grapple Mobile
Celine Davies, associate director, Carat
Milton Elias, head of mobile, Starcom MediaVest Group
Carl Fernandes, seo and analytics manager, iProspect
Heather Findley, advertising manager, Hello Magazine
Ashley Golding, solutions manager, News International Commercial
Jon Hook, client services director, Just International
Bridget Hopkins, activation director, MEC
Emily Humphrey, senior account director, Orion Trading
Alexis James, director advertising solutions, Blinkx
Franziska Kaiser, account manager, Mediacom
Ryan Kangisser, head of digital, Mediasense
Alexandra Kozloff, senior mobile manager, IAB UK
Genevieve Lett, group advertising manager, Hearst Magazines
Celine Marshall, associate director, Mediacom
Claire McAlpine, research manager, Mediacom
Martin McGuiness, account manager, Primesight
David McNiven, affiliate director, MEC
Charlotte Mullan, account manager, Initiative
Joshna Patel, affiliate marketing manager, Red Letter Days
Janna Reddig, communications planning manager, OMD UK
Emma Searles, activation director, MEC Global Solutions
Alexander Warsop, group head, Yahoo Europe
Rob Weatherhead, head of search & digital response, Mediacom North
Chris Whitnall, press manager, Initiative
A video and picture gallery of the event, which was supported by Vinopolis and Lipton Fleming, will be on the site in the next few days.