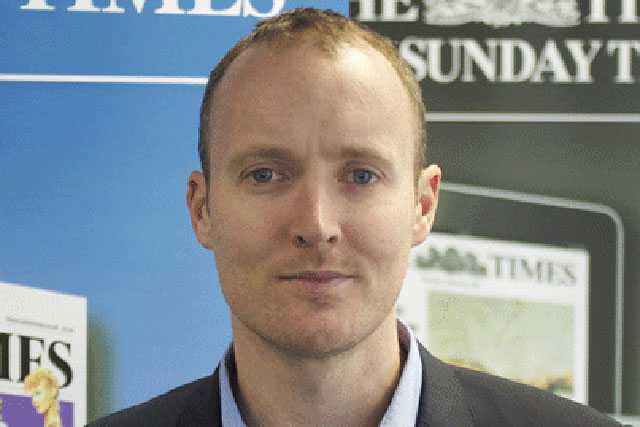 I have worked in the media since…
Parachuting in from banking in early 1999. I'm pretty sure it was the right move.
I was attracted to this particular role because…
The Times and The Sunday Times are fantastic brands and are changing their news delivery model so much that I'm faced with new and interesting challenges every day.
Not many people know that…
I was born in Sierra Leone, back when it was a beautiful and peaceful country. Hopefully it's on its way back.

My worst experience in the media was…
A head-on collision with a van on my way to work. The job itself isn't life or death, so nothing else has been that bad.

If there's one thing I've learnt in the media industry it's…
Have an opinion and stand by it. It's fine to change it, but you'll get nowhere in this industry without one.
The best bit of media business I have been involved in was…
The 'Let's Grow' partnership The Sun did with Morrisons. It was a really worthwhile message that taught kids about where food comes from. An eight-month campaign where all parties got a lot out of it.

The one thing I can't stand in media is…
Hot air disguised by rude manners.

Outside of work I spend my time…
Hanging out with my dog, endlessly training for events and trying to get all my married mates to come on surf trips with me.

If I could do it all over again I would…
Start as a digital buyer, not a press buyer. I'd probably be a millionaire by now – maybe.

The one event I would never miss is…
That thing I said I would go to.

If money were no object I would…
Retire to help people less fortunate than myself in areas of the world where there's really good surf.

The next 12 months will be…
Tough economically, but a really exciting time for newspaper brands, with the (even) further proliferation of digital across tablets and smartphones, presenting a great opportunity for us to grow our audiences.
If I ruled the media world I would…
Do a lot of delegating and spend my time sitting in TED conferences learning from people who are considerably more intelligent than me.

If I could switch places with anyone in the media world it would be…
Whoever is in charge of the extreme content for Red Bull! Escapism meets reality. Awesome.