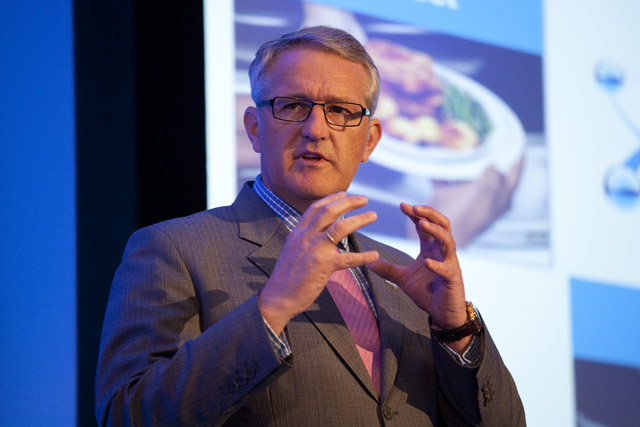 Speaking at Haymarket's Media360 conference this morning (17 May), before jetting off to Athens to collect the Olympic flame for the London 2012 Games, Van der Post admitted to the challenges facing the airline when he joined a year and a half ago, to once again become a "service organisation".
Van der Post said BA was at the "top of its game in the 90s", a time when its motto "the world's favourite airline" rang true. However, world events including 9/11, SARS and rising oil prices rises meant the 2000s was "quite a turbulent decade which had not left the airlines untouched".
After a career in the hotel industry, Van der Post was able to use his customer service experience to help BA transform from a company that flew "tubes from place A to place B", into a "service organisation".
He said: "We started to make sure people understood what we were doing. We were supporting this with a £5bn investment so we could go out there publicly and say we know where we are – this is what we're going to do in the next five to six years."
The 'To Fly. To Serve.' campaign, by Bartle Bogle Hegarty, reached more than four million people over TV, outdoor, print and digital, and 70,000 to 80,000 people saw the ad on Facebook in the day before it was first shown on TV, Van der Post said.
He said that premièring the ad on Facebook helped BA drive a different audience that it needed through social media.
"And it allowed us to build a engagement platform. It is very important these days for brands to engage with their customers," he added.
The traditional BA crest was also updated. Van der Post said: "I asked the team to pimp it up a bit to create a contemporary version because that is exactly what we needed to do. We needed to reach out to a different clientele."
British Airways is one of the official sponsors of the London 2012 Olympic Games and immediately after Van der Post's speech at the conference, held in Terminal 5 at London Heathrow, he boarded a plane to Athens to bring the Olympic Flame to the UK.
Follow Maisie McCabe on Twitter @MaisieMcCabe