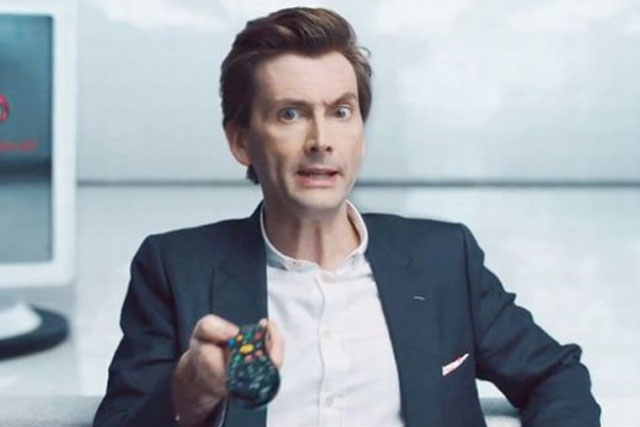 "We knew he'd be good but we didn't know quite how good," Gilbert said of the former 'Doctor Who' actor, who has appeared in three ads for the brand since the end of March.
"Millward Brown tell us it's the most successful use of a personality that they've seen."
Gilbert was speaking at Haymarket's Media360 event on Friday (18 May), where he was asked whether the brand had lined Tennant up to appeal more to women.
"We didn't specifically choose [him] because of women, but we wanted someone who was really engaging and who wasn't commonly used in advertising," he said.
"He's only ever done ads once before and that was 10-years ago before he became famous.
"It was an opportunity to choose someone who has quite broad appeal but who was able to deliver and be believable in delivering these kinds of stories."
Despite Gilbert's approval, the ads have not been entirely problem-free. One had to be pulled after BBC Worldwide, the commercial arm of the BBC, complained that featuring Tennant, a 'Doctor Who' programme logo and Virgin founder Branson using a time machine, implied that the long-running BBC sci-fi series was endorsing TiVo.
Gilbert also indicated he was very happy with the brand's first sponsorship of 'Britain's Got Talent' with production companies Syco and Fremantle Media and broadcaster ITV.
The cross-platform sponsorship included broadcast sponsorship of all 'Britain's Got Talent' programming, online sponsorship, mobile and off-air licensing opportunities as well as sponsorship of 'America's Got Talent'.
"It has been a really good experience and we'll probably do some more of that," he said.
Gilbert credited the sponsorship with helping create internal advocacy for the brand, explaining that Virgin Media invited a large number of staff and customers to get heavily involved.
"We put them in the idents," he said. "Some of those idents with people showing credits are actually customers, some are staff and one or two of them are famous people."
There are further plans to involve Virgin Media staff with the brand via an internal communications programme, Gilbert revealed.
"We are beginning to do a roadshow around sharing the work that we've been doing. We have a programme that will be kicking off either later this year or next year."