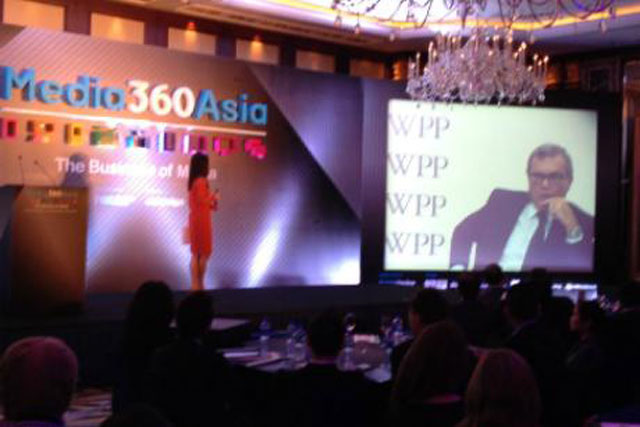 Speaking from New York and addressing nearly 200 delegates and 30 speakers at the Island Shangri-La, Hong Kong, Sorrell adopted a cautious note on the growth of the media sector this year.
He said: "While degrees of confidence have improved, we don't see that translating into any significant change in client behaviour. My colleagues at GroupM are forecasting nominal growth at 4.5%, so while there's a better mood, it hasn't translated into behaviour, and I don't think it will until 2014."
Sorrell said that rates of growth, of course, differed around the world, with Asia-Pacific and Latin America leading, along with Eastern Europe, Africa and the Middle East,
Asia-Pacific, too, had growth spots.
He said: "China has been doing pretty well, we've been seeing quality growth in Greater China and potential in new markets Indonesia and Myanmar, along with markets like Pakistan, Bangladesh and India."
Japan was "worrying" and Australia "challenging", Sorrell added. But while he maintained a cautious approach, as a whole he was "bullish on Asia". Strongest sectors of growth for the industry were FMCG, technology and telcos, along with automotive and government.
Sorrell said: "The worldwide market for cars has changed dramatically. China is now the world's largest market, buying 18 million units. America used to be 18 million and has slumped to 10 million, but is expected to recover."
Patterns had changed, but overall, the absolute level of consumption was still around 60 million units, he said.
"Another area I find fascinating in terms of growth in the past two quarters is government, which seems counterintuitive, considering the pressure they're under, but the government bodies are very focused on getting their messages to constituents," said Sorrell.
Perhaps the biggest change for the industry was the source of competition faced by the agencies.
Sorrell said: "Clients don't care where the talent comes from, as long as it's the best. They're not interested in our verticals and geographies, and the rise of procurement by IT and finance post-Lehman has been to the detriment of marketing."
The greatest competition for agencies no longer stemmed from each other, but from new areas such as "frenemies" (Google, Twitter and Facebook), consulting businesses and big data players.
"We find it uncomfortable that it's moved from the days of 'Mad Men' to the era of 'Maths Men'. We in our industry have to find new ways of engaging with clients and developing new revenue streams and approaches," said Sorrell.
Media investment would shift away from traditional channels and towards new media, he said.
"In five or 10 years' time, three-quarters of our business will come from non-traditional areas, in fact, today we only derive about 25% of our business from traditional, and 15 years ago that would have been nearly 100%," he said.
Agencies had to change their approach and engage clients in a "totally new way", Sorrell concluded.
He said: "New ways of engaging, not just with clients and media owners of the legacy kind, but of the new kind, or we'll be increasingly disintermediated and fall behind."