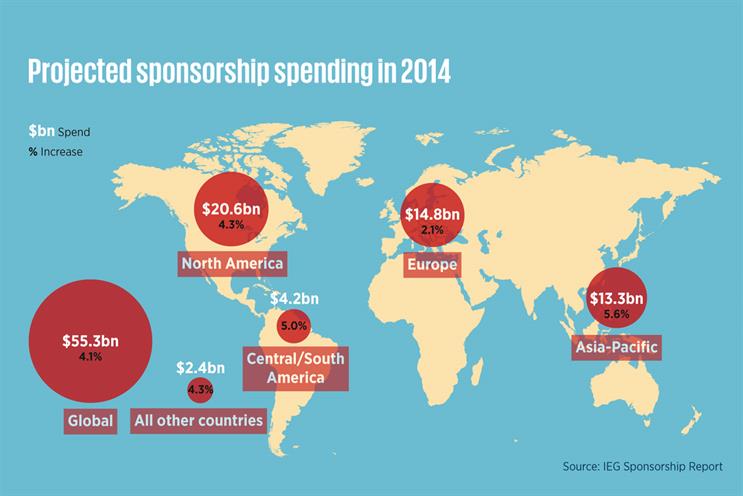 The tools are being developed in the MediaCom Sport UK division and will be rolled out globally in March ahead of the Fifa World Cup.
They include an algorithm that calculates the marketing value of a sponsorship package by working out the equivalent advertising spend for elements such as hospitality, access to talent, the use of a logo and exhibition space.
A second tool will weigh the different benefits of the sponsorship, such as category exclusivity, as a percentage of the total package, so a brand can select a sponsorship that is a strategic fit based on its priorities.
James Hough, the managing director of MediaCom Sport UK, said sponsorship had historically suffered from "a distinct lack of measurement" and the tools would create "a very robust marketing value rather than a finger in the air".
Global spending on sponsorship has risen steadily in recent years and is predicted to increase by 4.1 per cent to $55.3 billion in 2014.
However, other executives questioned whether it was possible or desirable to measure sponsorship in this way.
Steve Martin, the chief executive of M&C Saatchi Sport & Entertainment, said: "This is a smart play by Media­Com, but I don't believe having a single robust way of measuring effectiveness of sponsorship exists, nor should it.
"What you can't measure is the creative impact of a sponsorship being activated fantastically, which will make your product sales go through the roof."
Havas Sports & Entertainment, which is managing Coca-Cola and Atos' sponsorship of the Winter Olympics in Sochi, reassesses its tools for each brief.
Lucien Boyer, the president and global chief executive at HS&E, said: "We are in a new world of complexity that goes much, much beyond media value and metrics like awareness or even brand perception or consideration."