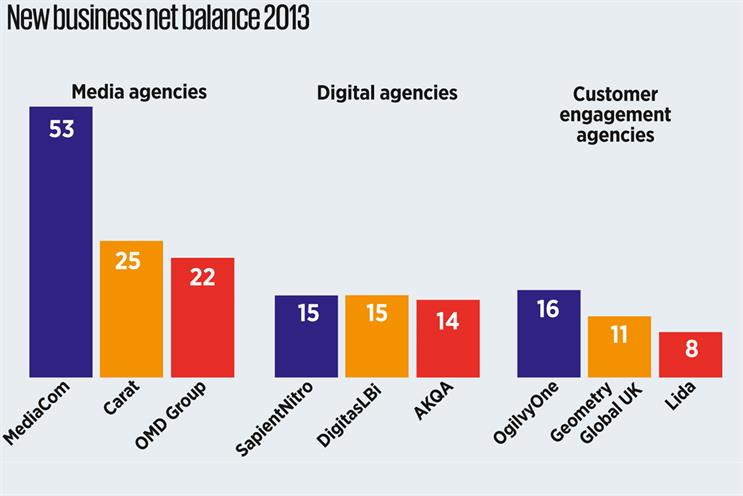 In 2013, the WPP-owned shop secured 54 new clients and only lost one, leaving it with a net balance of 53 new pieces of business. Media-Com was well ahead of the second-placed media agency, Carat, which won 26 accounts and lost one.
OMD Group landed third position, winning 30 clients and losing eight.
In the digital sector, SapientNitro and DigitasLBi had a net balance of 15 new pieces of business – DigitasLBi won 16 but lost one. AKQA landed 14 new clients and retained all of its accounts.
See the top 100 agencies, top 50 media agencies, top 30 regional agencies and top holding companies in our School Reports 2014 league tables. Click here »
Meanwhile, OgilvyOne was crowned the best-performing customer engagement agency, with 16 wins and no losses. Geometry Global UK and Lida landed 11 and eight new clients respectively.
Angus Crowther, a managing partner at Oystercatchers, said the findings tallied with his own experience of working with agencies in pitches.
He said: "OgilvyOne can be relied upon for an extraordinary pitch. The agency has an almost psychopathic desire to get itself across the line. Its ability to listen to what a client really needs is extraordinary."
Among the digital specialists, Crowther said he saw a divide between agencies focused on digital communication and those that could provide digital transformation within a business. SapientNitro, DigitasLBi and AKQA are in the latter group.
In media, the sheer size of MediaCom undoubtedly plays a big part in its success.
"MediaCom is seriously impressive. It is the biggest and has massive scale. Its buying ability is well-known," Crowther said.
The average number of new accounts per agency in 2013 was six in the ad sector, 11 in media, eight in digital and five in customer engagement.